Final picspam segment on InFANity's coverage of Stargate Atlantis, season 4, featuring Joe Flanigan, David Hewlett, Rachel Luttrell, Jason Momoa, Jewel Staite and Jason Momoa. Some minor spoilers.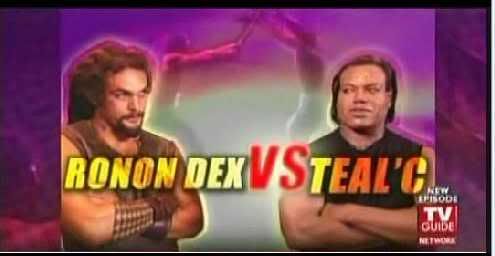 How long as Joe been playing? Too enough, judging by David's expression. ;) "I'm trying," Joe said of the guitar. He's been playing a couple months."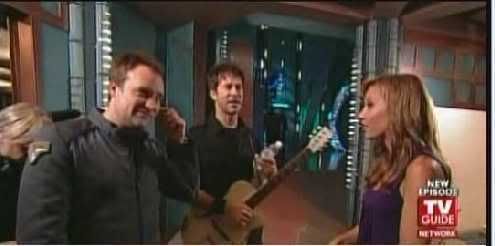 Jason says "I started August 13th (a year ago), the day Robert Johnson died. I found this guitar in Seattle." The guitar he's got on hand there is a 'beater' which Joe and others play. He keeps the good one at home. He just loves it, being able to express himself and sing a song. When asked who was better, Jason grinned.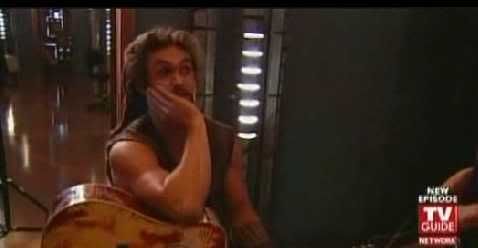 "See, I knew this was going on happen," Joe says in mock dismay. "I knew if I interviewed last, this was what was going to happen. Jason's been playing for like twelve years, right? I've been playing for two weeks – and I'm almost as good as him."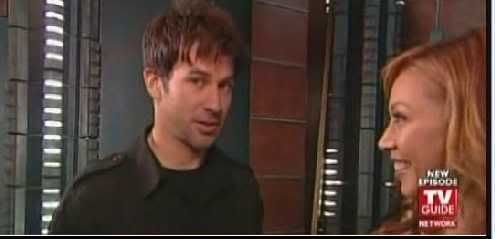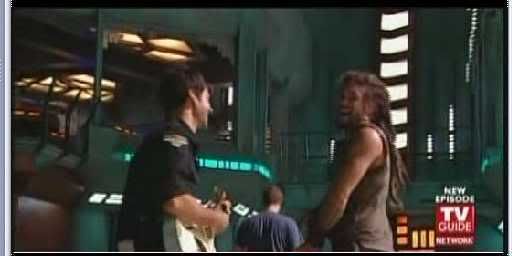 "Twelve years, my ass," laughs Jason. Jason wrapped that segment by singing a little ditty about Infanity.
Valerie Halverson, costume design, talks about how much is handmade and how much they enjoy it.
Teyla's tie from REUNION!
Most wraith are 6'4"-6'8" as the costumes are so heavy. Valerie spoke about the details on the leather jackets the team wears offworld. The below 'bullets' were 'whipped cream' containers. They shop at the Kitchen Korner and Home Depot for supplies. Lisa Joyner tried out Rachel's Teyla outfit, which looked quite good on her.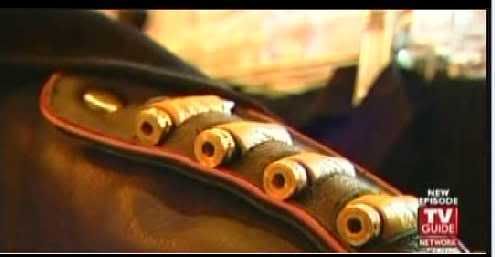 David Hewlett and Amanda Tapping give InFANity a tour of the set.
"The DHD for the nerds," says Hewlett.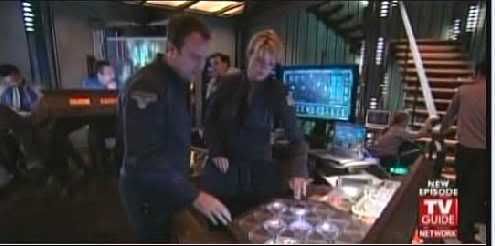 Photos in Sam's office. Of course, it's not a sharp picture. Darn.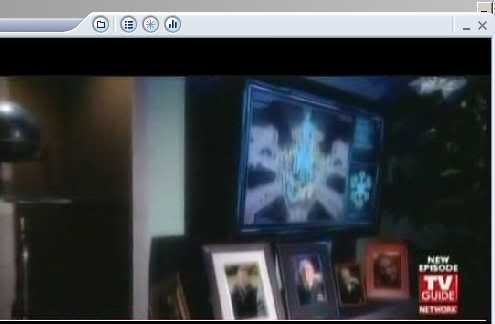 Amanda holds up a cup from the Waterkeeper Alliance, one of her favorite charities. It's used on the set.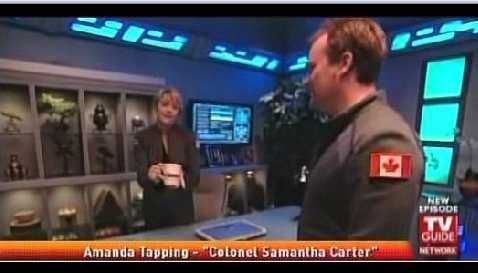 "Me and Jack O'Neill fishing," says Amanda.
They talk about the conference room, where's there's a lot of angst, and the balcony they go to when something goes wrong, "the main characters will run out here, and look worried," said Hewlett.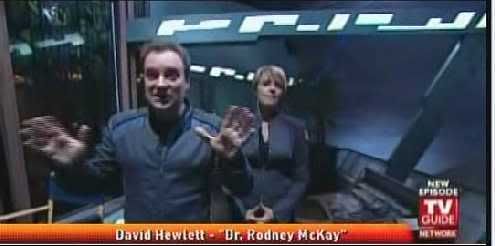 David and Amanda thank InFANity for coming, unaware of Joe Flanigan sneaking up behind them like "Evil Sheppard" from DOPPELGANGER.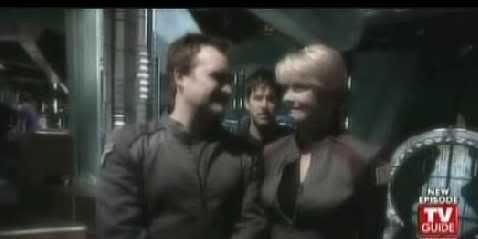 Amanda clowns around around: "I avert my eyes."
And she turns right into Joe.
And they all laugh and Joe goes off.
Jewel does the 'coming back' segment.
Todd Maters, Special Effects/Makeup, talks about doing the Wraith and the mutant bug-men from "Vengeance." They work on lots of movies and shows, explaining the odd items used to create creatures. Scifi gives them a very flexible medium to work within. The wraiths are usually around 3 hours to apply to the actor. The dentures are done first so they can do the lips afterwards.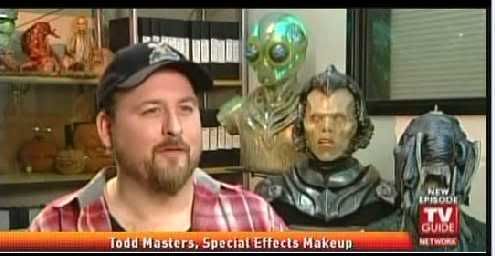 Did you know the squiggled line on this Wraith's face is an homage to a KISS singer?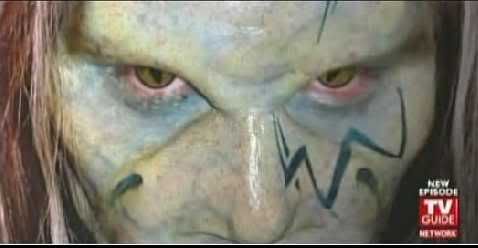 Bugman moves around. This was one of their biggest challenges. They used an existing body cast to save time to put one of their own people into it. The critter had servo motors and everything in it.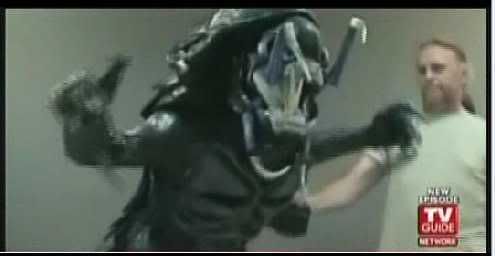 A fan's question - How does Rodney feel about new discoveries? "I feel very good about every new discovery of space age ships because I get to play with them," says Hewlett with a big grin.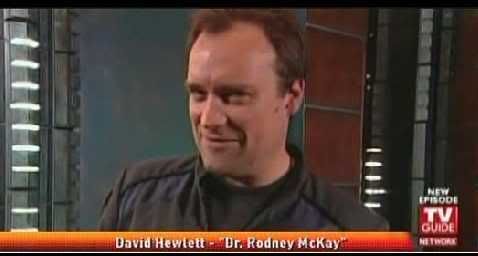 If he could be another character? "If I could play another character, I think I would play Rod, the alter ego to Rodney, who's actually cooler and gets to wear a leather jacket and generally gets all the women."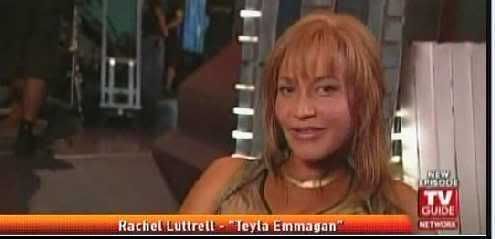 Rachel says: "I don't know, Ronon's a lot of fun. Of course we're similar so maybe that's a bit of a copout."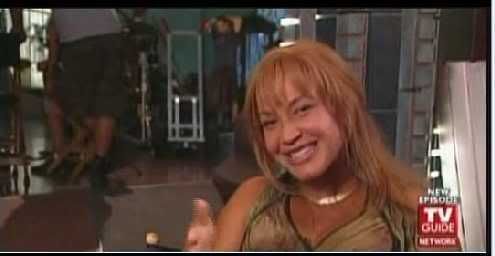 Amanda Tapping says "I'd like to be Ronon. Cuz he's hot. I'd like to just walk around being that hot for half a day."
Jason Momoa says "Joe (Flanigan), if I could make more money. Oh, he gets to play a character, he doesn't have to explain the scifi stuff like David does, and he's like Indiana Jones."
Jewel Staite confesses "I've always wanted to be a bit evil. I think it would be fun to have an evil Dr. Keller, at some point, but not forever cuz I like her the way she is, but just for a change. Maybe wear like a really hot evil outfit."
Joe Mallozzi says there will be a new wraith cruiser in season 4. No X-305s though.
A fan asks if the team will discover anything to benefit mankind or cause potential harm to the crew? "We're always coasting on the brink of some sort of horrendous catastrophe (laughs Rachel) and this season is no different from that. Yes, I'm going to be very vague but yes, there is something, it does come to roost .. .near the end of the season."

The end! You might be able to find videos of this 35 minute special at YouTube

Part 1 - http://wraithfodder.livejournal.com/127785.html
Part 2- http://wraithfodder.livejournal.com/128132.html
Part 3 - http://wraithfodder.livejournal.com/128500.html