Collection of links for the 2008 34th Annual People's Choice Awards and Stargate Atlantis' win!

[First a note: the mainstream press barely covered it – past a "they won" type mention, but you can count on fans to document the event!]

So anyway, since the news came fast and furious, it's scattered. I took some time today (during lunch and when I got home from work) and put together this compilation.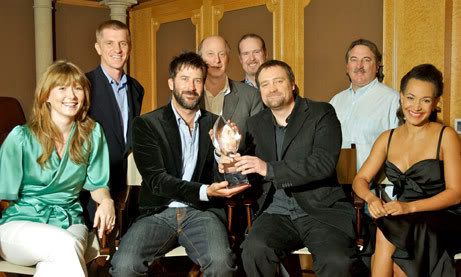 (C) MGM


The above photo is from
http://stargate.mgm.com/news_detail.php?id=50
Accepting on behalf of the entire cast and crew were (front row, left to right): Jewel Staite, Joe Flanigan, David Hewlett and Rachel Luttrell.

On hand to congratulate the cast were members from MGM: (back row, left to right): Joe Patrick, Executive Vice President, North American Television Distribution, MGM; Charles Cohen, Senior Executive Vice President, Finance and Corporate Development, MGM; Jim Packer, Co-President, MGM Television; and Gary Marenzi, Co-President, MGM Television.

Now, on to the list!



David Hewlett's 'suspicious' Twitter mention on

Fly to L.A. for an MGM promo taping...something to do with the People's Choice Awards!? 09:47 AM January 03, 2008 from web

An MGM employee posts about meeting the SGA cast at a 1.5 hour breakfast!

http://jeninason.blogspot.com/2008/01/breakfast-in-heaven.html

Jewel Staite also posted at http://jewelstaite.com/?p=16

Stargate: Atlantis has just been chosen by you, the fans, as favorite sci-fi show for the People's Choice Awards! Which means I got to buy a new outfit, even if it was only seen for three seconds on the aired broadcast! Oh well. ... (it was posted around midnight but is no longer on the site but did pull up on a search . Odd)

And now, new pictures of Joe Flanigan and David Hewlett with the People's Choice Award, er, award, um, statue!

http://jeninason.blogspot.com/2008/01/we-are-people-people.html

or just visit http://jeninason.blogspot.com/ and just scroll down for more photos of relaxed shots of Joe Flanigan, David Hewlett, and Jewel Staite. Love the shots of David holding the award, yet gnashing his teeth at Joe, who has a cup of coffee. Hmm, maybe David wants the coffee…

>>>>>>>>>>>>>>>>>>>>>>>>

A video capture of the televised "We won!" speech (all four seconds or so) is available at

http://wraithfodder.livejournal.com/155849.html

A nice selection of caps from the "We won!" televised snippet are available at http://katstale.livejournal.com/52463.html

>>>>>>>>>>>>>>>>>>>>>>>

Go to this URL - http://www.pcavote.com/pca/show.jsp - and you can find the SGA cast's 'fan question' - 'are any of you tech geeks in real life'? 34 seconds (and apparently it's Joe Flanigan who's the tech geek, not David!)

Go to this URL - http://www.pcavote.com/pca/history.jsp - and you can find the can find the SGA cast's acceptance speech – the real one (although it doesn't have the "We won!" segment, darn). Just scroll down till you find Favorite Sci-Fi show, then click on VIEW SPEECH. Approx. 48 seconds.

You can find a transcript and lots of pretty screencaps of the above video at

http://watcher652.livejournal.com/12403.html

Snerching one cap from the above journal to show you what you'll miss if you don't visit…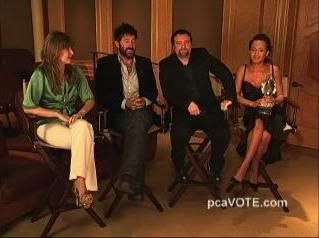 You can view past award videos at
http://www.technorati.com/videos/tag/people%27s+choice+stargate
and hopefully they will load up the 2008 'speeches'
>>>>>>>>>>>>>>>>>>>
A few press snippets
http://www.tvweek.com/blogs/james-hibberd/2008/01/the_peoples_choice_is_nbc.php
The return of the People's Choice Awards was down 54% from last year. CBS' presentation of the annual event garnered a weak 1.6 preliminary rating among adults 18 to 49, according to Nielsen.
… For those morbidly curious, "House" won for favorite drama, "Two and a Half Men" for comedy, "Stargate Atlantis" for sci fi show (beating "Battlestar Galactica"), "Dancing With the Stars" for reality, "The Simpsons" for animated, "Deal or No Deal" for game show and Katherine Heigl and Patrick Dempsey were the favorite female and male performers.
>>>>>>>>>>>>>>>>>>>>>
Now, there were pros and cons to this awards program. Pro – Stargate Atlantis won!!! Con - having to watch the whole mess before the four or so seconds for SGA. It was very wise of them to cancel the Golden Globes if this is what award programs will look like. It was like an award show on speed. Were they hanging a sword of doom over the winner's head – "You've got 15 seconds for your speech! Don't dawdle!" and then they waste time showing OLD clips. I mean, hello? Do they think the viewing audience is that dense they won't realize they're from an old show, especially when you see '2005' across the screen. Er, maybe I shouldn't ask that… And award shows DO need all the inane speeches, the laughter, the presenters/acceptees making mistakes. Never thought I'd say that. Wait, wait, now I know what it reminded me – an informercial! Shudder.
Too bad SGA wasn't filming right now – they could have filmed their speech from the gateroom with the entire cast! (I only saw half the awards, changed to L&O: SVU after SGA won, but I thought Joaquin Phoenix and Robin Williams had the best 'speeches,' past the squeeful acceptance by the SGA cast, of course).
It was great to see SGA win – David Hewlett's Twitter mention was a suspicious giveaway – but don't count your wraith till they hatch ;) I'd love to think that if the WGA strike were over, we would have seen Joe Flanigan in a tuxedo, along with David Hewlett (tux or not, hmm, hard to tell), Rachel Luttrell and Jewel Staite in glam dresses, go up to accept their award. Oh wait, brain cells come to screeching halt. Sci fi shows are the stepchildren of the entertainment world. Always have been, even when Star Wars came out. I bet we still would have been stuck with footage even if the show had been live, but then again, who knows, they might have actually made it up on stage. I can dream ;) .