MEDIAWEST*CON 2008

Another year gone. Sigh. Now it's back to reality. Blech.

But here's my report, from what I can remember. Oh, for those who don't know, MediaWest*Con is a fan-run convention that is just fans. No actors, no guests, although we have had some actors attend as fans! The con runs from Friday noon till Monday morning, but fans tend to come in Wednesday night now and some fanzines sell out before the con even starts. It started in the '70s and is still going. If you're interested in attending, check out their official site at http://members.aol.com/MdiaWstCon/mwc.htm


Wednesday, May 21

We left around three a.m., which means smooth sailing through the congested city areas, and for once, it wasn't raining (although it was raining when we packed the car earlier). The moon was out and it was gorgeous, particularly since we managed to get a rental car with a sunroof (first ever!). We actually chose the car (Ford Fusion) for the cruise control and the sunroof was a bonus, but we only used it when it was overcast otherwise it was too bright.


An artistically fuzzy view of the highway around 3 a.m.

Going through a foggy valley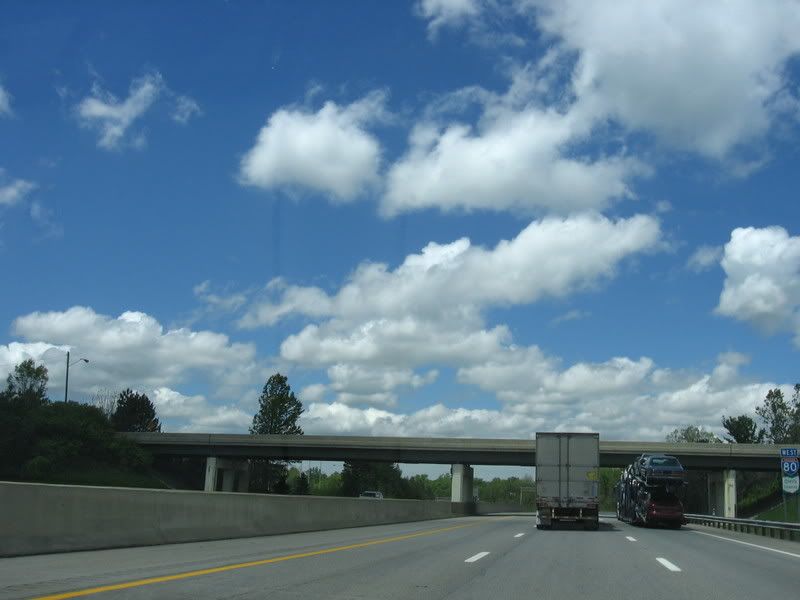 Probably somewhere in Ohio, if I remember correctly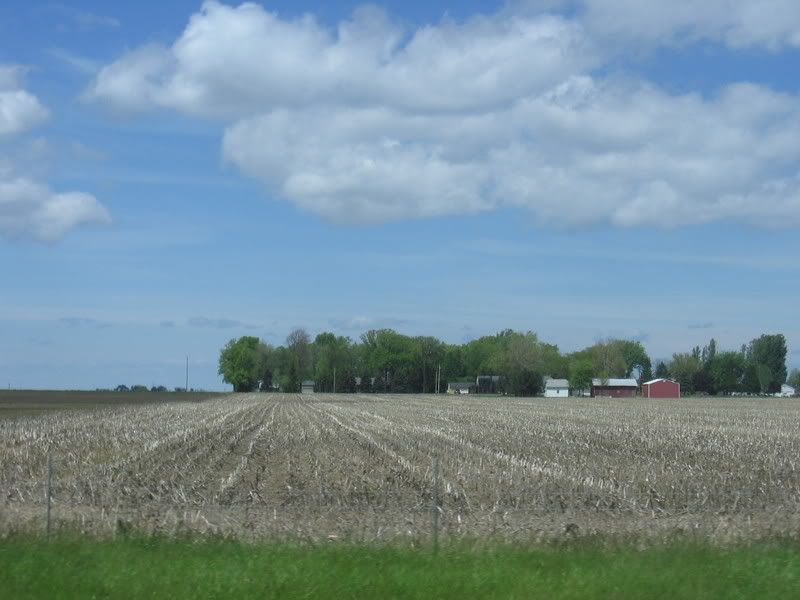 Nice field
A real fixer-upper…


And since the drive was pretty uneventful, not much to report (except that moron in the red SUV who was tailgating us at 70mph in PA when I was busy trying to pass two tandem tractor trailer rigs. What an idiot!)

We passed the time listening to the radio, listening to a lot of 60s/70s CDs we burned, playing with action figures (you sorta get bored after ten hours, y'know). Oh, and listened to the Michael Shanks audiobook Gift of the Gods. Those are great for driving! Must get the rest. Big thanks to MP for the gift
J


And we arrived, and wow, the sign is up for us even though the con didn't start until Friday. Although it unofficially started when the luggage cart, filled to the brim, ejected the cooler and ice and soda went everywhere. The porter looked a bit mortified but we were like 'eh, at least the Cherry Pepsi didn't explode.' And at least it was water and not milk or something awful to clean up. It's not MW*C unless something spills.

We unpacked, no mean feat as we bring along a DVD player, luggage, DVDs, toys, etc. ;) Friend DM and her roomie MP (names changed or whatever to protect the innocent as well as the guilty!) were "we're hungry! Let's eat! NOW!" so we went to Charlie Kang's and had the all-you-can-eat buffet. One thing we noticed during the entire drive is that the roads were a lot clearer – as in less traffic – and the one truck stop we always hit in Snow Shoe, PA wasn't 24 hours anymore, and the brick-a-brack shelves were devoid of wares. Economic woes
L
When we got into Lansing, we noticed the new restaurant from last year was closed and the building shuttered. Darn. We also filled up with $3.999 gas as I knew it would shoot up over the weekend. Little did I know (insert JAWS theme).

After dinner, we went back to the room where my roomie from California (hereinafter referred to as LS) was waiting and going "You knew I was going to be here at 8 for dinner!" and I pointed fingers at DM and MP, who had whined and insisted on dinner now. We found out the DVD player wouldn't play as we needed an RF converter, so we went down the street to Radio Shack, procured one, came back and hooked up the DVD player. Yes, we could watch Stargate Atlantis all weekend long!
J
LS decided to order room service and choked when she got back only $2 from a $20 bill when she ordered a burger. Yikes!!

I think, as I can't recall, but think this is the night we went down to the swimming pool/Jacuzzi. It was the perfect time to initiate the Stargate Atlantis action figures (Sheppard and McKay) to the pool. So I stuck 'em in the inflatable penguin cup holder (leftover from my Miami Vice fan days) and they bobbed around merrily in the Jacuzzi while DM twisted them into positions best suited for, er, slash stories. Eegads, I mean, yes, they're action figures but, ahem, cough… They only fell in the water once when the flamingo tipped a bit too much. It might have been Thursday night… um….

Thursday, May 22

Con hadn't started, but hey, Indiana Jones and the Crystal Skull was playing down the street! So we caught a matinee viewing of the flick. It was predictable at points, but very much fun, with a happy ending (hard to find these days). There were four of us fans there, and a scattering of other people came in. We laughed and cheered but the rest of the audience was sorta dead… just like when we saw the Godzilla movie a few years back.

Right before the flick, we killed time at the local Target store, where the Raiders of the Lost Ark flicks were on sale for $10 each! I picked up the first one and the romantic comedy While You Were Sleeping, which I always liked. Also got a green squishy ball that looked like a huge microscopic germ. It bounces off heads very well
J


After the movie ended, we did the traditional Meijers run. Meijers is a local food/department store and we always run into fellow fen there, usually stocking up on party supplies or just snacks.

When we got back, the fans had already wallpapered the elevator area and elevators with flyers for fanzines and other merchandise. It's something the hotel allows, as long as we use low-tact tape like the blue painters tape or masking tape. The hotel looks absolutely naked before we arrive. So, at that point, I decided it was time to put up my door decoration: The Dummies Guide to Whump – Stargate Atlantis. I hope to scan all the stuff and put it for folks to see as some people did ask. This door later won the Door Decoration contest for best Single Fandom.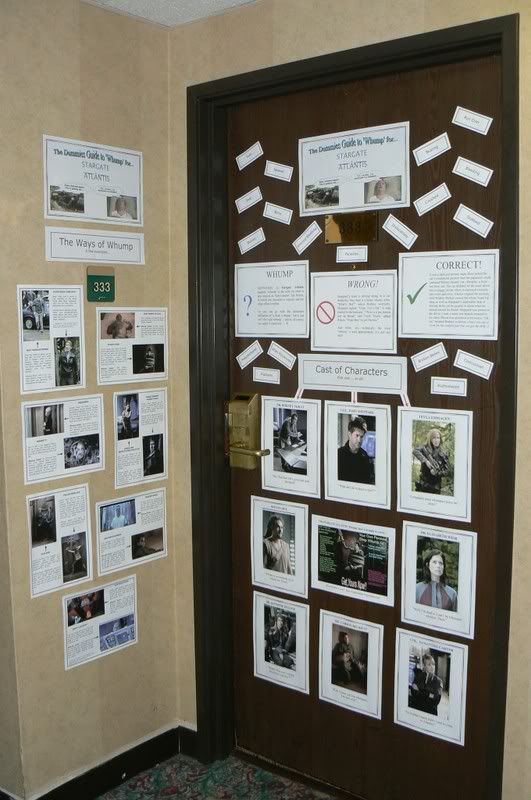 We did the local Steak n Shake for dinner, which is not a restaurant, not a diner, but something in between. Sort of a fifties atmosphere with good, inexpensive food.

Friday, May 23

Con begins. Dealer's room opens. Being staff (programming) means I can get into the dealer's room ahead of time. And it's okay as I'm not a huge buyer so I'm not wiping out stuff. There were zines, jewelry, anime, books, photos, DVDs and more.

One thing about the con is that it's pet friendly. Cats, dogs, birds, ferrets, the occasional reptile and I think once even a tarantula.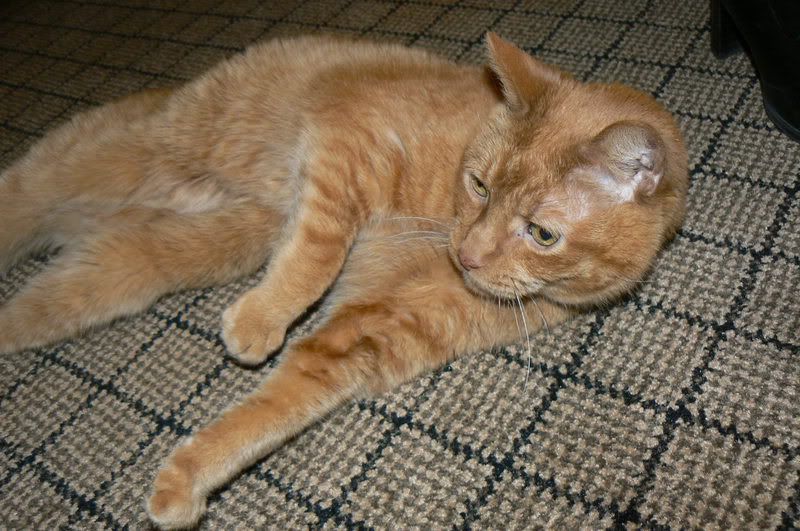 Kitty just lounging on floor.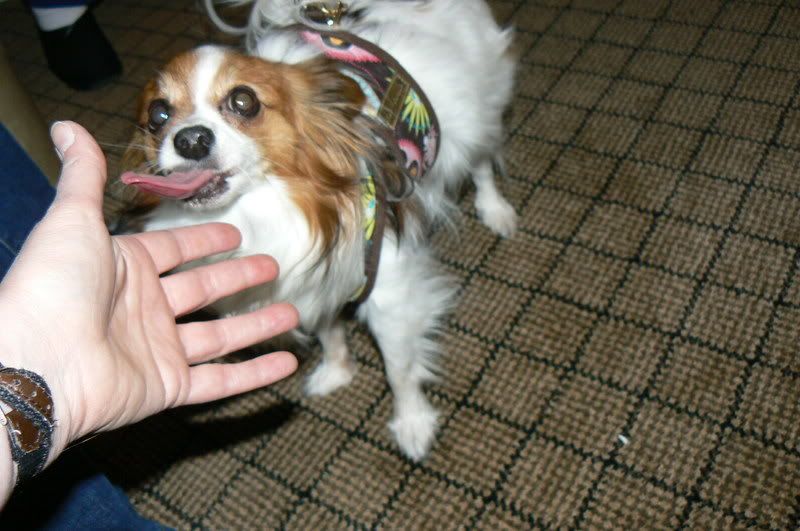 Look at the size of that tongue!
Aw…………
And a very friendly cat it was!
A therapy cat, taking a snooze on her slave's, er, master's dealer's table...

One of the con chair's many Samoyeds.



These two cats were up from adoption from a nice fan who helps them find homes.

And door decorations went up! Here's a selection.



A pretty butterfly motif door decoration.


Flyers on the wall on one floor (most floors looked like this right outside the elevators)
Hanging cat decoration outside FanQ door.

Okay, go to next post for the rest!
http://wraithfodder.livejournal.com/199163.html