And here's the rest!






A fantastic Indiana Jones-Stargate SG-1 combination door that took best door in the Door Decoration contest. Congrats to B7_Kerravon!



This was on the wall outside the Indy-SG1 door.



Just many photos of pretties on a door ;)



A door (part of it) devoted to British TV.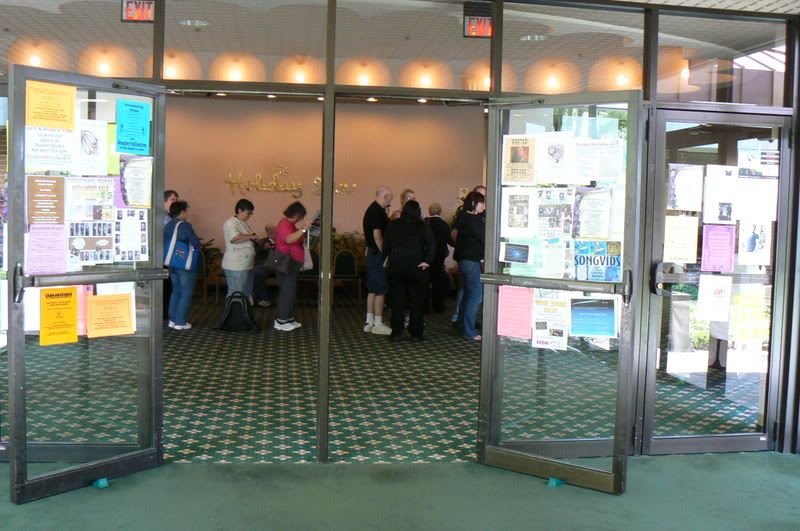 Part of the line, early in the day, lining up for pre-reg for next year's con.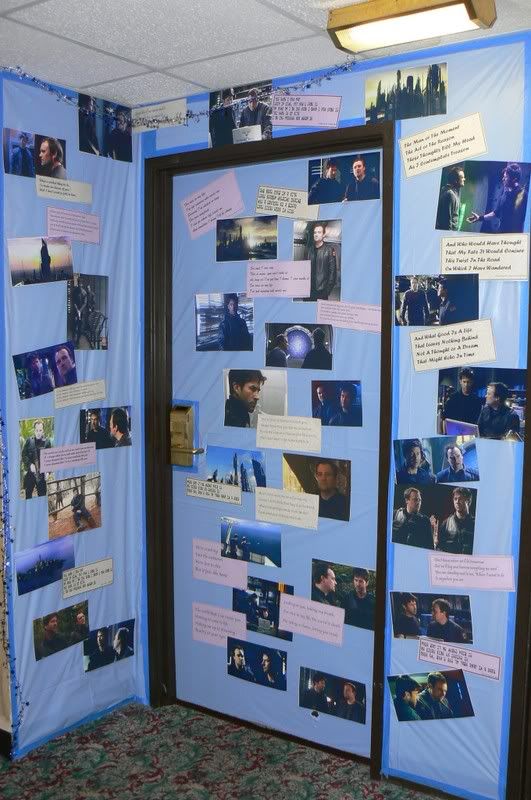 Slash Stargate Atlantis door that took Best Slash in Door Decoration contest.



All the smaller pictures are mockups of books about Doctor Who, etc. Rather imaginative. Won an award too.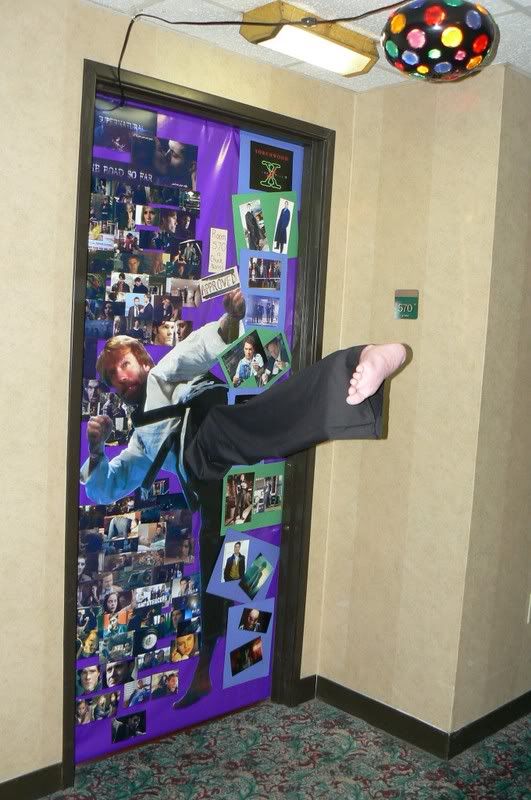 Wowzers, a Chuck Norris 3D door! Won best 3D presentation in door decoration contest.



Various slashy comments on photos.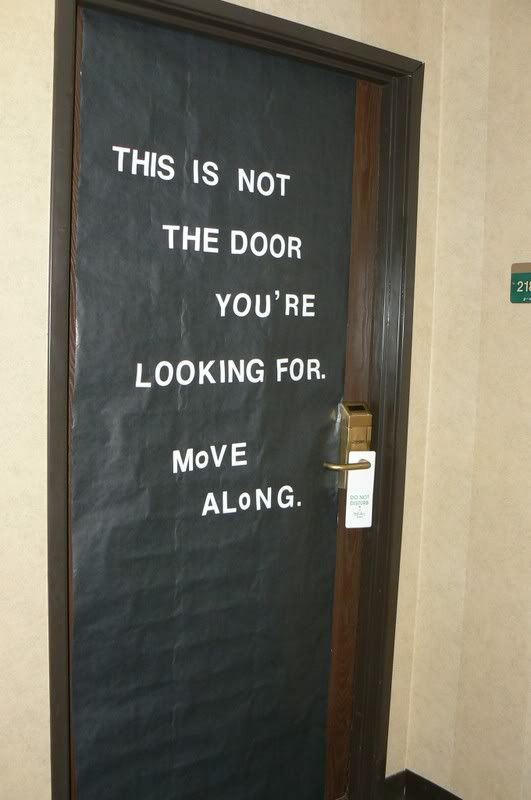 Ha!



Door where you could find The Brotherhood, an excellent multi-media zine which had some Stargate Atlantis stories.



Pirates of the Caribbean door.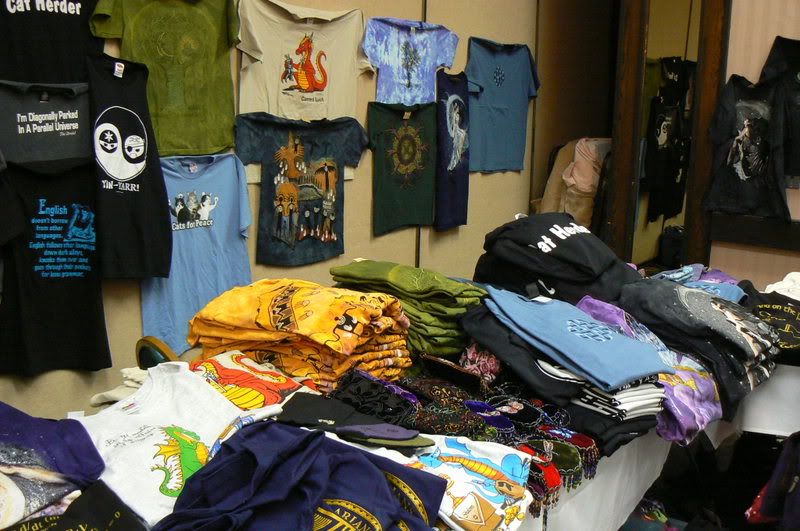 A dealer's table with tons of t-shirts. I got my Godzilla shirt from them last year.



A dealer's table with absolutely gorgeous Stargate Atlantis, Supernatural shirts.



A rare glimpse of the atrium with no people in it. Well, wait, I think I see someone…



Outside courtyard, which was sunny and the smokers tended to gather out there.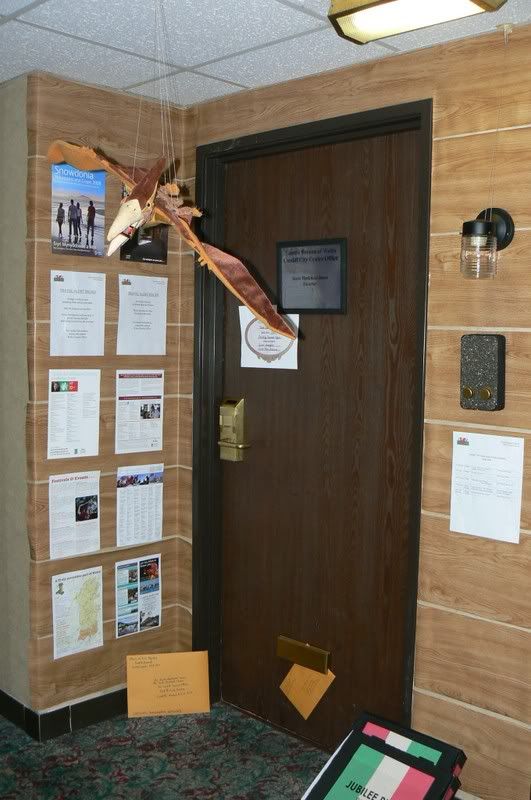 A Harry Potterish door, or something like it, with lots of British stuff on side. Very cute.



A Pirates themed door.

Saturday, May 25 & Sunday, May 26

Well, the days sorta all blend together, but I know I picked up two Daleks (one cute small gold one, the other, larger, a piggy bank). Okay, a Dalek coin bank. And an evil thing it is. You can remove the opening at the bottom but try to get all your coins out. It keeps a bunch as the surface inside is not smooth. This is good if you want to save as you would need to unscrew the bottom to get everything out. Also ordered a Sheppard/Weir SGA shirt that had sold out at the con.

We also did the pool again, dragging poor Sheppard and McKay back into the Jacuzzi. We found out later (Sunday?) that the rumors of Shep & McKay in the jacuzzi were spreading around.

But mostly, met up with lots of friends, watched SGA on the DVD player and people would wander in and watch and we'd chat about the show. And attended panels on Stargate Atlantis, livejournal and other topics. Also participated in the annual fan version of Who's Line Is It Anyway. I was a bit rusty and hopefully will be more creative next year.

Oh, and the enjoyable traditional breakfast with cannelfan and spouse. J Can't miss that!

The best thing about this con, as someone else pointed out on their LJ, is that it's a relaxed area. You do what you want, when you want. And you get to meet people you see just once a year, and some of us have been doing it for decades! Met cannelfan, B7_kerravon, the_other_Sandy, waldo, and many friends don't have LJs but they were there as well. I'm sure I've forgotten someone, as I usually do ;)

The programming went well this year, I think. Not as many people signed up to do panels but then not as many people were there. We also experimented with 'open discussion' panels – we had a topic, but no moderators – but sat the panel anyway. They seemed to work out well. If anybody has suggestions, comments, etc. about programming, or suggestions for next year, just write to mwcprogram@yahoo.com. The addy is open year-round and we are accepting suggestions for next year. Just put 2009 SUGGESTION in the subject line.

Stargate Atlantis seemed popular as the panel room was pretty much full during that panel, most of whom hung on for the hurt/comfort/whump SGA panel, which came with visual aids. I bandaged up my Sheppard action figure, stuck him on the table. "This is hurt," I declared, then stuckl the non-bandaged McKay figure next to Shep, and had McKay pat Shep on the head. "And here's the comfort." They both got whumped when I opened up the laptop and clobbered 'em with the screen. If anybody got pictures, let me know J

Supernatural was the fandom, I'd say. Lots of SPN zines, photos, t-shirts, etc. Paneling was pretty heavy with SPN as well. But the British Doctor Who spinoff Torchwood was running a close second. We were across the hall from friends with a Torchwood door and Torchwood bunnies. Long story there…

Hmm, what else? When you're at this con, you just roam and talk. Let's see, at the SGA panel discovered how many SGA fans don't do Gateworld – they might visit the main site but avoid the forum (too much squabbling, etc.) … There were lots of laptops at the con. In fact, I would IM a friend (MP) who was across the hall (diagonally) and type "Hey, turn down your TV! It's too loud!" and we'd snark back and forth at each other. ;) … Went to the Stargate party which had food and prizes and had a good time chatting with friends, although I'm not sure if it was all Stargate because I was showing a few the Zombie Bambi video that Photobucket had removed due to being 'ojectionable or offensive.' Still not sure as I stuck it up on my account and it went down and heck, I hadn't even told anyone about it… (and I guess several people do read my LJ as the 'dead deer' comments cropped up every so often during the con). … taking my remote controlled Dalek, all 'blinged' up with green Mardi Gras necklaces (actually, from Saint Patty's day) so the black Dalek was visible. Had some ferrets check it out but they were interested.

Monday, May 26

Alas, all good things must come to an end, and we left around 10 a.m., for the first time not attending the dead dog panel as we had to get to Columbus, Ohio, where we stayed overnight with a friend who couldn't attend. Below are shots of her cats.



This is the cat that avoided me at all costs in previous visits. However, I brought kitty crack (aka catnip) and after snorting that for a minute, he was putty in my hands, heh heh. We stuck him in incriminating photos with the SGA action figures.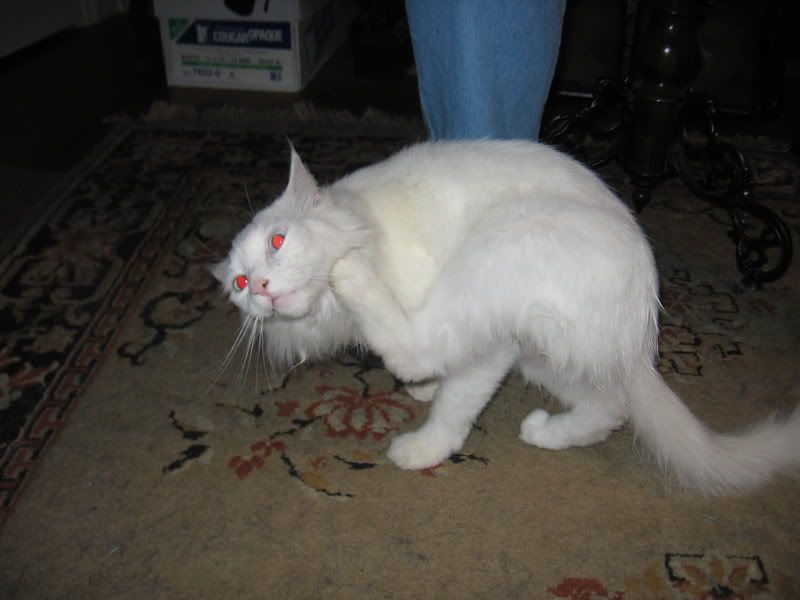 This was the cat that loved me the last time I visited. It was like a personality switch. This is about his feelings on me this visit. However, he did like the catnip toy quite a bit and then mellowed. Yup, just call me the kitty crack dealer ;)



Sunset on Monday night in Ohio. Gorgeous!

And fortunately, no tornadoes. Certainly were enough in neighboring states. We had had some rain before we got to the house but it stopped, which was good as we did a picnic with some friends.

Tuesday, May 27


Now comes the hideous part. Returning home. Ack, at least ten hours if not more of driving! THIS is why we rent a car. If anything happens, we don't lose a car.

We left at 2:00 a.m., hit the Speedway and got coffee and ice for the cooler (plus a few, alas, losing Mega Millions tickets) and well, traffic was again lighter than usual. The entire trip back was pretty uneventful, except when at the traditional Snow Shoe stop, I opened the car door, which sprung open fast and clobbered me in the face. Ow! And somewhere in PA some moron in an Audi tore by us at about 85mph. About twenty minutes later we were chuckling with glee when we saw him pulled over by a state trooper. Yes!!

By the time we got home, the sky was clouding up. We dumped my stuff at my house, I got my car, we drove to Avis and dropped off the car. Hopefully we can get it next year as it was nice. As soon as I got home, I was like, I'll unpack, take a shower – bang! T-storm had struck, power was out. No water. ARGH!!!

Best part of trip – seeing friends. Priceless!
Worst part of trip – having it end and coming home to gasoline at $4.35 a gallon. Highway robbery!

Oh, shall be doing another post which I think I'll title 'Sheppard and McKay's Not-So-Excellent Adventure,' as heck, I took all those shots of the action figures that I might as well do some deliciously horrid with 'em. So, once I get that written, I'll post. I mean, Shep and McKay in a pink flamingo float. I know someone will want to see that shot! ;)

---------------------------------------------------

Other fans are posting about this year's con, so I'll provide links to their LJs, which I found with a quick Technorati blog search.

Flickr pictures



http://flickr.com/photos/tags/mediawestcon/



LJ links



http://b7-kerravon.livejournal.com/8779.html




http://cannellfan.livejournal.com/67208.html




http://cannellfan.livejournal.com/67477.html




http://cannellfan.livejournal.com/67832.html




http://cannellfan.livejournal.com/67884.html




http://cannellfan.livejournal.com/68285.html




http://cannellfan.livejournal.com/68494.html




http://cannellfan.livejournal.com/68800.html




http://cannellfan.livejournal.com/68898.html




http://captpeterblood.livejournal.com/15952.html




http://d8rkmessngr.livejournal.com/19176.html




http://goldiebug.livejournal.com/11751.html




http://goldiebug.livejournal.com/12565.html




http://goldiebug.livejournal.com/12120.html




http://goldiebug.livejournal.com/11802.html




http://grypeseye.livejournal.com/6747.html




http://khylara.livejournal.com/35105.html




http://lizvogel.livejournal.com/26071.html




http://moonprincessnat.livejournal.com/25007.html




http://mrwubbles.livejournal.com/10001.html




http://mrwubbles.livejournal.com/10579.html




http://mrwubbles.livejournal.com/9951.html




http://obelix.livejournal.com/




http://graculus.livejournal.com/

(May 27th entry)


http://thefannishwaldo.livejournal.com/672082.html




http://community.livejournal.com/mwcontripdiary/




http://neadods.livejournal.com/683380.html




http://neadods.livejournal.com/683889.html




http://neadods.livejournal.com/684275.html




http://olivia-sutton.livejournal.com/21984.html




http://ozlelila.livejournal.com/13691.html




http://penfold-x.livejournal.com/35290.html




http://spacealien-vamp.livejournal.com/223219.html




http://the-other-sandy.livejournal.com/75872.html




http://the-other-sandy.livejournal.com/76141.html




http://the-other-sandy.livejournal.com/76318.html




http://the-other-sandy.livejournal.com/76942.html




http://winter-elf.livejournal.com/80031.html




http://tlyna.livejournal.com/983.html




YouTube videos



http://www.youtube.com/watch?v=9aUm7f-0Z0w


(by the manager of Hummingbirds)



http://www.youtube.com/watch?v=KujAK-tnhBQ


(art auction insanity)

If I missed anything, feel free to add to the comments section below :)