November 6th, 2006
Got a bunch of notes to transcribe (IF I can read my notes). And read the manual to figure out how to download photos from new digital camera, so it will be a few days cuz I have to sort through 'em too.

Quick comments on guests.

Dan Payne - TALL. I mean, *tall* but loads of fun. Outrageous squirrel t-shirt ;)
Alex Zahara - not tall ; very genial, fun to talk to but the poor guy had bronchitis and got so sick he bailed on the con (and probably hid in hotel room) to recover. He did do his talks though, so he toughed it through.
Ivy Isenberg - MGM casting person. Out there. Nice, whacky, full of tidbits but smart enough not to spill spoilers (darn, darn darn). Did her acting class on a whim and didn't regret it.
Colin Cunningham - I'd like to bottle his energy and sell it on eBay. Very entertaining. I can see why he's got so many fans.
Carmen Argenziano - A gentlemen. Very nice, and he likes my acting skills (or, um, lack thereof) from the cabaret.
Tery Rothery - is Energizer missing their bunny? Vivacious, friendly, an a HUGE CSI fan.
Jason Momoa - Tall, but not as tall as Dan. Nice and friendly and squeezable (no, I didn't squeeze him) and a blues fan and a Michelob fan. His talk was hysterical.
Cliff Simon - Whoa, what an accent, and what an interesting life he's lead, and I looked like a ghost compared to his L.A. tan. Nice guy (they're all nice).
Joe Flanigan - Okay, swoom time. As good looking in person as he is on TV. Not scruffy like at day one at London expo but he's got a dark beard and that trademark wild hair. Laid back, polite, humorous, gorgeous, um, attentive to fans during his talks and gorgeous, and well.... sigh ;)

Drawbacks to con: very limited dealer's room (sorry, I've been spoiled), expensive food in hotel (yikes!) and elevators broke (another few days and I might have gotten used to going UP 7 floors to get to my room, that, or died from exhaustion).

I'll do a write up but it's gonna take a few days. ::)



Current Mood:

tired
You are 95% Canuck!
You rock, you are an almighty Canadian through and through. You have proven your worthiness and have won the elite prize of living in a country as awesome as Canada. Yes I know other countries think they are better, but we let them have that cuz we know better than they do, eh?

How Canadian Are You?
Quiz Created on GoToQuiz
Okay, just tossing up one shot of Joe I snapped at the breakfast. It's pretty crappy. It looks a lot better on the tiny screen. When I downloaded it, it was dark. I need Photoshop, me thinks. Anyway, feel free to link to this page but please don't copy the photo elsewhere. Thanks!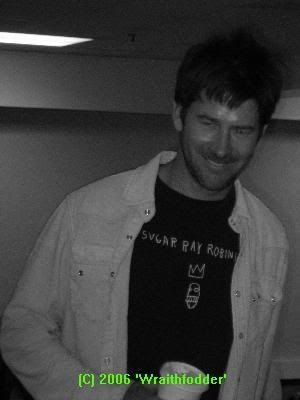 The shot is in color, but it actually looks better in B&W. I'll have to tweak it but right now the notes from the con come first before my neurons fry and I can't remember a thing.