July 27th, 2007
Stargate Atlantis
booth at
G4TV.com
Skiffy has put up their page for ComicCon - SciFi Channel - SGA has a panel today at 1:15 PT, so figure look after that.... I'm surprised they don't even mention the Stargate SG-1 movie panel, but wait, Skiffy isn't part of that, so I guess it doens't matter? Pfft. Anyway, Skiffy promises

* Exclusive videos
* Blog
* Costume vote (if you want to really see costumes, you should check out Flickr)
* Gallery

Only the blog (and costume vote) are active right now and there isn't much on it yet. I'm hoping they'll give SGA some good coverage but I'm thinking (probably said this before) they'll push BSG like mad, as well as the Superhero show (which I watched last night; it's like a cheesy car wreck but it was amusing sorta but no SGA ad, darn!). If you're eager for Comic-Con (or Comic Con, seen it done both ways) news in general, simply go to www.google.com/news and search for Comic-Con, or use their blog search feature. There you will find fan accounts, and more and more fans are online at the con.

Also, I think Joe Mallozzi's blog has more potential to zero in on SGA than Skiffy's will.

Heh, David Hewlett twittered (probably as soon as the flight attendant said 'you can use your cellphones now') that he landed in San Diego ;)

LINKS:

And, one of the first fannish LJ reports from the con at http://iheartkeys.livejournal.com/4967.html's journal. You can find a picture of the Stargate Ark of Truth bus and some Sanctuary coverage. If you're attending this con and want to add your link here for Stargate related stuff, feel free to do so in the comment section. I plan to add as many links as I can find over the next week.

A report at http://wohoo.nl.eu.org/Why-So-Serious talks about 'ovepriced " Stargate Atlantis Collector Edition " bottled water. Anybody there see this? SGA has bottled water? A side business!

http://www.ropeofsilicon.com/features/2007/comiccon/ has a bunch of internal links to galleries, etc. They seem pretty comprehensive, so fingers crossed they'll do the SGA panel.

Laslty, http://www.flickr.com/photos/10520907@N03/ - that's TV Squad - is putting up images from the con. Since they've covered a few of yesterday's panels, we can hope they'll cover the Stargate related panels.
First, if you missed last night, there is a video of Zach of G4 at the
A Chris Judge Comic-Con mention!
http://cinemadave.livejournal.com/196260.html
My biggest thrill was standing near Christopher Judge of "Stargate."
I didn't win the lottery for an autograph (yet) so I stood gawking. I was taking a picture of him when he looked up, smiled and waved at me, and my daughter had to pick me up off the floor.

SciFi finally put up something today (but most of their blog is more like PR spin and marketing).The Stargate Atlantis event at 1:15pm should be a real eye-opener. This year marks the first time ever that Amanda Tapping will be joining the Atlantis panel. Former Firefly / Serenity star Jewel Staite will also share her excitement about joining the SGA team…. AND don't forget about some of our favorite Atlantis veterans, Joe Flanigan & David Hewlett, who will also be on hand.

Ah sigh, they're pushing the 'shiny new toys' and oh by the way, yes, Joe F and David H are there, too. Sigh. Those two guys are one of the reasons a LOT of fans watch the show. Does Skiffy not realize this?? Probably not. Bangs head on keyboard.

Skiffy probably won't update anything on their site on SG1/SGA until tomorrow, or Sunday, or Monday. I guess since they're so slow to update news on the 'gate portions of their site, I expect it will be the same for CC stuff.

But wait, I went to eBay, figuring that that many of the fans who attend Comic Con snatch free stuff to sell at exhorbitant prices on eBay. I thought I"d find a Stargate Atlantis bottle of water, but instead, wait, they had publicity buttons for Stargate Atlantis. One with Rodney, one with Carter. What? No Sheppard? No Ronon? No Teyla? Big sigh... Here's a picture I snerched off eBay.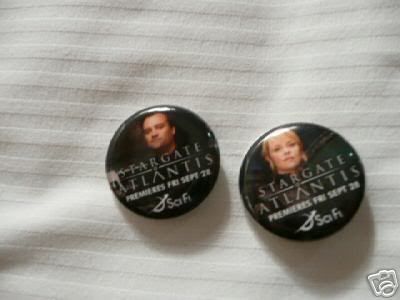 I'd love to get my hands on these buttons, but don't feel like going broke on eBay. If anybody has 'em and doesn't want 'em (hint hint) :)

Meanwhile, David Hewlett was twittering about arriving at the hotel, getting room service, riding in a stretch limo and then interviews, and then, eegads, dead silence. Ack, yes, he's doing the panel, then autographs, so his next twitter will probably be "I'M SOOOO TIRED." ;)


Here are some generic Comic-Con links. NO mention of Stargates yet, but if you want to see what's coming out of the con, check 'em out.

http://www.movieweb.com/news/archive.php

http://www.comingsoon.net/imageGallery/imageGallery.php?id=21968 - photos

http://www.thepunishercomics.com/comic_book_conventions/san_diego/2007/2007.htm - photos

http://www.cnn.com/SHOWBIZ/blogs/marquee/2007/07/comic-con-08-day-1.html - CNN actually covered it! At least for the first day.

http://www.joblo.com/index.php?id=16995

Ah, G4 is starting their two hour special (which fortunately ends just in time for DOCTOR WHO, with a great Daleks! episode.).
Just tidbits on the Stargate panels at Comic-Con. So far, not a lot of news coming out. Hopefully tonight or at least tomorrow!
Your Score:
11", Willow, Unicorn
You scored 31 wisdom, 22 bravery, 26 emotional, and 33 martyrdom!
A willow wand signifies that you care deeply about emotions, art, and intuition, and that you have a particular knack for charms. Your unicorn's tail hair core means that you are pure of heart and care deeply for your loved ones.
Whoa, an actual mention of the Stargate SG1 and Stargate Atlantis panels!

Screenrant.com

Apparently, no spoilers or big news items were spilled.

* Ark of Truth trailer shown
* Ben Browder hammed it up. Chris Judge pimped "Rage of Angels" ;)
* Ba'al will be the lead villain in "Continuum"

As for SGA, a quick snippet "The Stargate: Atlantis panel included David Hewlett, Joe Flanigan and Jewel Staite. Someone asked whether the show could go for 10 years, and a rep from Sci Fi channel said that people need to watch the show without using Tivo but watch it as it is broadcast instead."

Click on link above for full text.

More CC links at
SGA Swag (one photo of SGA freebie)
http://wraithfodder.livejournal.com/82856.html
SGA Friday (pre-panels)
http://wraithfodder.livejournal.com/82450.html
G4 snippet on ComicCon
http://wraithfodder.livejournal.com/82179.html
General overall SGA at ComicCon
http://wraithfodder.livejournal.com/81909.html

UPDATE: 8:37pm Friday - SciFi Channel has put up a video on their ComicCon site, but it's not SGA. Darn.
Wow, they're starting to appear - breakdowns of the panels!

Visit http://www.thefutoncritic.com/rant.aspx?id=20070727_stargate

one snippet is that Gary Jones says he'll be in an Stargate Atlantis. They also talk about the Stargate SG-1 movies. Nothing too exciting or earthshattering or even, well, I think we pretty much know it all.

MORE NEWS AT NEXT POST.
Ah, I swore I wasn't gonna post anymore tonight, but.... found a picture of the Stargate Atlantis water they had at ComicCon (now I can sleep tonight without wondering, what does it look like? why has nobody eBayed it?) ;);)