August 3rd, 2007
Stargate Atlantis
and
Stargate SG-1
at Comic-Con... if you have any you'd like to share, please feel free to contact me and I'll add 'em (email at wraithfodder@gmail.com).
http://nunshavingfun.livejournal.com/287958.html
has photos of the Stargate bus, as well as several shots of
David Hewlett
at the autograph table, and assorted other photos from the con
http://limmenel.livejournal.com/960060.html
- scroll down through various photos to find a shot of
Teryl Rothery
signing at the con
http://s210.photobucket.com/albums/bb283/jumper13_photos/ComicCon2007/
has added a gallery from both panels
http://roadrunnerdm.livejournal.com/73100.html
has up two galleries:
1)
Stargate SG-1
Panel (54 photos) -
http://pics.livejournal.com/roadrunnerdm/gallery/0002z2tw
(Amanda Tapping, Ben Browder, Chris Judge)
2)
Stargate Atlantis
Panel (46 photos) -
http://pics.livejournal.com/roadrunnerdm/gallery/00030bxb
(Joe Flanigan, Daivd Hewlett, Amanda Tapping, Jewel Staite)
Lastly, the Pittsburgh-Post-Gazette has several articles on Comic-Con at
http://www.post-gazette.com/pg/07207/804041-42.stm
. One excerpt: I was determined to get my TV geek on and get a good seat at the "Stargate SG-1" panel, where there was exclusive footage of their straight-to-DVD movies coming out next year. I got a good seat -- well, decent, actually. I was over an hour early in an auditorium that seats 5,000, and about a third was already filled when I got there. It was packed by the time the cast arrived. More at link above.
A few more links on
Over a dozen new links to photos, reports and more on the Stargate SG-1/Atlantis folk at Comic-Con on July 28-29, 2007. Here are the first links:
http://flickr.com/photos/auntiec/991741147/ has a photo of the Stargate Atlantis water booth poster. Worth noticing is the cast lineup on the poster… and visit http://flickr.com/photos/auntiec/sets/72157601192093036/ for Friday convention photos. You'll see a collection of Joe Flanigan and David Hewlett shots from the autograph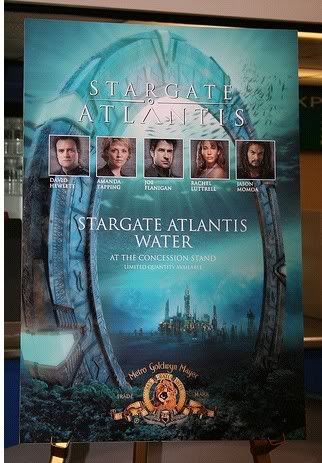 see the larger image at the link above. Poster copyright MGM

Meanwhile, go to the cut below for the rest of the articles :)


Joe Flanigan
is scheduled to appear at
PulpExpo
in New Zealand ( October 20-22, 2007) -
http://www.pulpexpo.com/
- and
Armageddon
(October 13-14, 2007)
-
http://www.armageddonexpo.com/
or
http://cultureshockexpo.com/
.
Thanks to pfalcon64 for the tip
And I'm going! Well, as soon as I get a passport, and win the Lotto jackpot cuz I don't have the bucks (or time off from work) to flit off halfway across the globe. If only.... sigh...