August 27th, 2007
Creation Convention
Chicago, IL – August 24-26, 2007

Click on the link below to read the accounting of Michael Shanks' panel.


Here's the shot from the very end of the ad you can view in the post right before this one.




New season 4 shot at end of ad. Left to right. Rodney (looking smug), Sheppard, Carter (and it's a tight leather outfit), Teyla, and alas, way in background, is Ronon, by the gate.


And just cuz the ad below is
sooo
cute.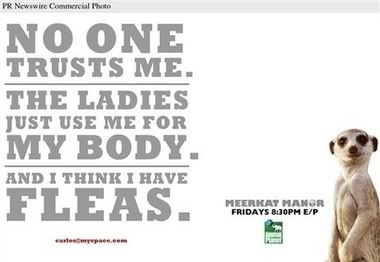 Win an all-paid trip to Paris? No, wait, you need a passport. Let's settle for Des Moines. Oops, waiting, check change jar. Umm, you'll just have to get a virtual pat on the back if you can guess the mystery critter below... Is it real, or one of those Photoshopped things? Hmmm.....
http://channel5.radiomemories.libsyn.com/index.php?post_id=249462
This talented actor makes his directorial debut with a film he also co-wrote, called A Dog's Breakfast. In the movie, David plays Patrick, a man who takes matters to a new level when he hears of his sister's engagement to a famous lead actor in a hit sci-fi series. We get some great behind the scenes info and I enjoy David's great sense of humor. We also chat about season four of Stargate Atlantis and the addition of Amanda Tapping and Jewel State to the cast. David and I even chat about his appearence in Sanctuary. Special thanks to Brigette and Caroline from Stargate Publicity. A very special thanks to the Sci-Fi Channel. Check out the official A Dog's Breakfast website. Music by Victor Stellar called Space.