January 8th, 2008
Stargate Atlantis
was up for
Favorite Sci-Fi Show
(against
Battlestar Galactica
and
Doctor Who
). And they won! YES!! But gah, having to sit through so much drivel before they got to that one award was ... painful.
You'll find a crappy video below. AKA I aimed the cheap digital camera at the old TV and filmed so quality is eh, but hey, it's instant gratification until a better copy comes along! Screencaps to follow in the next entry :)
[P.S. they really should have stuck
A Dog's Breakfast
in under Favorite Independent Movie, as well, it was my favorite indie film!]
Two screencaps now up at
http://wraithfodder.livejournal.com/156002.html
Left to right: Not sure who the woman is, Joe Flanigan, David Hewlett, Rachel Luttrell. Rachel (holding award) goes "Thank you," and then Joe holds up his fists yelling "we won!"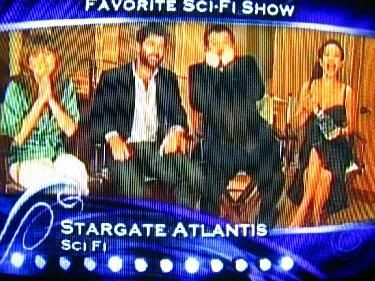 and then everybody sorta squees (and David, of course, tops 'em all).
Okay, the quality is, well, sucky? ;) but the quality off TV wasn't so hot and I do it the ancient way, so....