June 29th, 2008
Taping of non-Stargate SG-1/Atlantis appearances for the next two weeks or so. All times are eastern.

Fine tune or find more actors at www.tvguide.com, www.titan-tv.com, or www.tv-now.com. As always, double-check the listings in case schedules change.


JOE FLANIGAN

June 30 – THE OTHER SISTER, Encore1, 4:00am
July 8 – THE OTHER SISTER, Encore1, 2:40am
July 10 – CSI MIAMI "Slow Burn", A&E, 1:00pm
July 10 – CSI MIAMI "Slow Burn," A&E, 7:00pm

Basically everyone has seen the new promo shots for season 5 of Stargate Atlantis, with the odd poses of the gang on the steps as though they're posing for that Captain Morgan rum ad. Anyway, here's one example: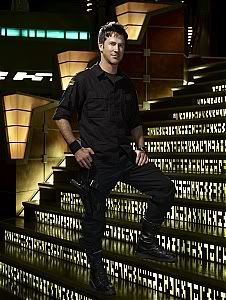 Anyway, here's an example of how these publicity poses can actually be worked into an episode plot! Yes, it IS possible!*




* Of course, it requires a bit of substandard writing and really pushing any plausbility, but this is scifi, so what the heck!

Jason
Momoa
in a movie he was in -
Johnson Family Vacation
- which was just on the FX channel. Took a few snaps.
Alright, yeah, I caved to the common decription, but well, yeah, woof (in the kindest of ways). Just saw
Pretty sure this was via livejournal, but wanted to say THANKS, yes, the SGA Comic Con buttons arrived. Tiny but very pretty. THANK YOU!