December 4th, 2008
Okay, don't know if anybody else watched this police drama except me, but CBS is bringing back the second season on January 9th. Oh yes, of course, agains tthe series finale of Stargate Atlantis. *headdesk* SGA wins. Flashpoint goes to videotape.
Longcat
54% Affectionate, 48% Excitable, 33% Hungry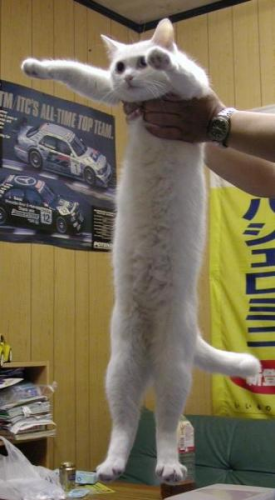 Protector of truth.
Slayer of darkness.
Loooooong.
Longcat may seem like just a regular lengthy cat, but he is, in fact, looong. For proof, observe the longpic.
It is prophesized that Longcat and his archnemesis Tacgnol will battle for supremacy on Caturday. The outcome will change the face of the world, and indeed the very fabric of lolcatdom, forever.
Be grateful that the test has chosen you, and only you, to have this title.
To see all possible results, checka
dis
.
Go
Here
to take quiz!
Snurched from
suekay_87
Wow, this a sucky thing to read!

In an article on foreclosures....
November 27, 2008
http://blog.macleans.ca/2008/11/27/could-it-happen-here/?ref=patrick.net
Christopher Judge is accustomed to turning heads in Vancouver. During the decade-long run of the cult hit TV show Stargate SG-1, which was filmed in and around the city, Judge starred as the muscle-bound alien Teal'c. But when the six-foot-three actor appeared in B.C. Supreme Court in mid-November, amid raised eyebrows from the galley, it was for a role he'd desperately hoped to avoid. Judge, who owns three luxury homes in B.C., faces foreclosure. He'd flown up from Los Angeles the night before to ask the court for time to get a new appraisal done on one of his properties, a West Vancouver home with stunning views of the city that he'd bought for $2 million in 2006. At the same time, one of Judge's former co-stars on the show, Michael Shanks, is facing foreclosure on another sprawling West Vancouver home purchased in January for $4 million. "I was always told the safest place for your money is in the real estate market because it would never drop by 50 per cent, but that's exactly what's happened," a congenial Judge said outside the court. "I watched the L.A. housing market fall and now I'm having to watch the B.C. market go down, too."
REST AT LINK ABOVE