My experience in going to New York City and meeting Amanda Tapping is all under the cut. Mind you, because this post contains over 30 photos, it IS graphic-intensive. There are also a few short videos as well. Enjoy!


Wasn't able to attend the Paley Center Sanctuary premiere, but was able to manage a day off from work, so, got up at the crack of dawn (really) and left for the train station in the dark. By the time the train pulled into Grand Central, it was light. The first thing I saw upon arriving in the city was Heroes trashcans. Seriously. They were all over Grand Central. NBC is really pushing that show.
Once outside, I got accosted by pod people. Well, not so much accosted, but amused by a bunch of young people (20s) dressed up like pods – okay, leaves – but pod people from Body Snatchers sure came to mind – giving away free samples of Fuze Balck & Green Tea. So I hiked off to Rockefeller Center, then realized, oops, took a left when I should take a right, and had to go past the pod folk again, and got handed another bottle, so I trudged around NYC with 38 oz of fluid I still haven't cracked into (but plan to tomorrow). In fact, check out this site for a contest and pod people photos ;) - http://www.drinkfuze.com/getthemabottle/index.html
Arrived at the NBC Entertainment Store at 9:00 a.m., and there was nothing set up yet. I was thinking, wow, there will be lines (but I left really early in order to score a parking space at the train station!) Perused the entire store though, and not a stitch of Stargate memorabilia although did see Battlestar Galactica. No Sanctuary stuff either (too new). TONS of Heroes stuff though… However, the time for the signing was now 10:30, not 10:00 a.m. as the person on the phone told me. Hmmm…. So I wandered just a little ways away to watch the throngs of tourists surrounding Matt Laurer (protected behind sturdy steel barriers) ;)
Went back to the store and yes! The 'ropes' were up and a handful of dedicated fans were already entrenched. So I wandered over and got talking to three of them. We had 90 minutes to kill and we talked about Sanctuary, what's good on TV (Life, Law & Order SVU, a few others), the Paley Center showing (no photos allowed, and this one very nice fan had made tags for fans to hand out, but they wouldn't let her, but she gave them out in this line. Thank you!) Anyway, Amanda was at the preview (they showed like a 20 minute clip), actor Robin Dunne, director Martin Wood, some SPX guys, and more, although my mind blanks out at the momeont.
Oh, at one point (well, twice actually) one of the store employees came out and went "she cancelled" which earned him evil glares from all of us, but he was just kidding (otherwise he'd be a blot on the sidewalk) ;) He did hand out little B&W postcards of the Sanctuary poster, so being in the front of the line meant I got one as he only had a handful. And because I am wretched with names, well, let's see, talked to a nice lady who does SPX for a living, someone else who is on Gateworld (and whose moniker I totally forgot but when I see it, I'm sure I'll remember!) and a guy with a beard who had the coolest camera (whoa!)
I decided to check out just how big the line was – alas, only 37 people and 20 minutes to go… but, much to my amazement, there is Pierre Bernard from the Conon O'Brien show, standing in line! Yup, he wanted to meet Amanda again and well, he had to stand in line with the rest of us folk ;) We had a nice chat about Stargate, Sanctuary (which he won't diss on his recliner of rage unless a wrestler from the WWE suddenly shows up in that show). Anyway, I think the low volume of the line was due to a 10:00 a.m. signing and it being a work day. I think Amanda was booked to do other stuff so this got squeezed in.
Amanda Tapping came down the sidewalk, accompanied by 2 or 3 guys, waved and went in. She was wearing a nice outfit (which you can see on her TODAY show appearance viewable at http://today.msnbc.msn.com/id/26184891/vp/27007954#27007954. And wow, what a smile!
The security folk were letting in three people at a time, as the signing was set up practically inside the front door. Since the three folks I was talking to were together, they told me to just cut ahead and join the other two JJ What was good about the small line was that Amanda let people take photos with her. Don't think a single person hadn't brought a camera (although two people had cellphones (one a Blackberry) to do the snaps). One of the guys – Steve, I think his name was – who worked at the store took all the pictures. She also personally autographed photos, which was very nice and chatted with you. I must admit I didn't know much of what to say except that hey, I'd watched her since SG1 had begun on Showtime and took the day off from work to come see her, which put a big grin on her face. When she first saw me, she could swear we'd met before, but alas, nope, first time for me. There were people there from California, Texas, Pennsylvania, New York (of course) and well, who knows where else. Young and old, men and women, blue jeans and business suits. Several people hung back behind the line and continued to take photos, me included, and the folks there didn't mind. One of the guys thought at first that we might be press because of all the photos we were taking, but one fan said "We have to report back to our friends." I got my picture taken with Amanda and wow, she's tall (she's in heels, but still taller than me).
Oh, Amanda supplied the 8x10s of herself from Sanctuary (same as the poster in the first photo below) and would sign multiples for folks (I discovered after I did mine). Some folks brought their own, and she snickered/mock gasped at the shot of herself wrapped in the flag). She even signed a Col. Carter Diamond Select Toy Action Figure (still in packaging).
The signing last from 10:00 a.m. to about 11:30 a.m. and then Amanda had to depart, which she did so rather quickly (think she had another appearance or interview).
So, thanks to Amanda Tapping for coming, NBC Entertainment Store for hosting it, Steve the NBC guy who entertained us and was very nice, Pierre Bernard for the great chat, and especially the fans I met and chatted to – we swapped emails and such and let's hope I remember to send you what you wanted; if not, remind me here! ;)
Below you will find over 30 photos from the signing as well as a few very short videos. They're short because I didn't want to include fans in the videos in case they didn't want to be recorded. Please note all items are copyright. Do not hotlink to photos or videos, but feel free to link to this LJ post. Thanks!
Here are the three VERY short videos.
Signing: http://s31.photobucket.com/albums/c365/wraithfodder/Z-Amanda%20Tapping-Sanctuary/?action=view&current=P1060249.flv
Posing and signing: http://s31.photobucket.com/albums/c365/wraithfodder/Z-Amanda%20Tapping-Sanctuary/?action=view&current=P1060296.flv
Amanda Tapping leaves the building (really): http://s31.photobucket.com/albums/c365/wraithfodder/Z-Amanda%20Tapping-Sanctuary/?action=view&current=P1060325.flv
PHOTOS!

Just three of the half dozen or more flat screens playing Sanctuary bits in the background.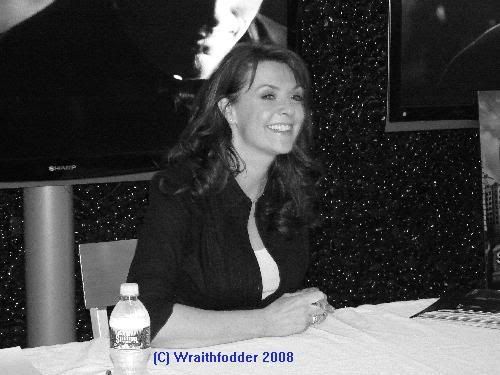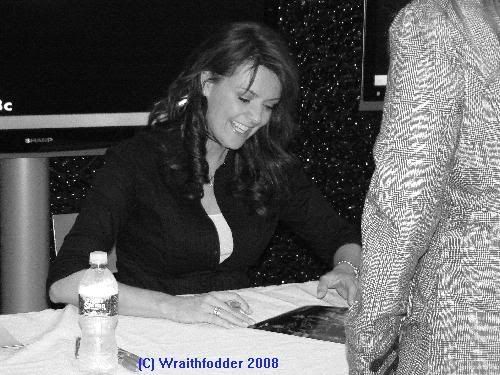 Amanda receives a lovely bouquet from Pierre Bernard.



Amanda pauses to study the Carter action figure.



Amanda Tapping poses with Pierre Bernard and the Carter action figure (photo posted with P. Bernard's permission)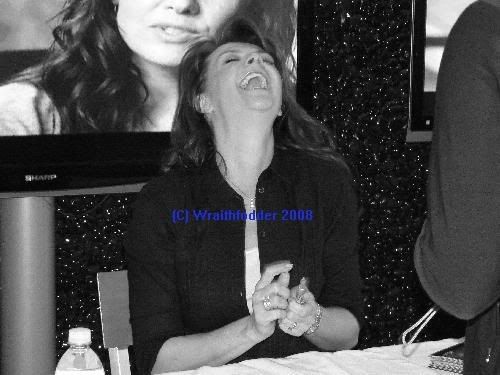 One of my favorite shots of her laughing at something a fan said.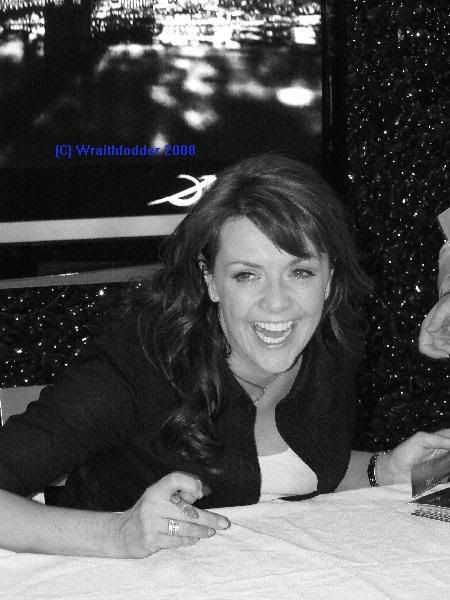 Another favorite!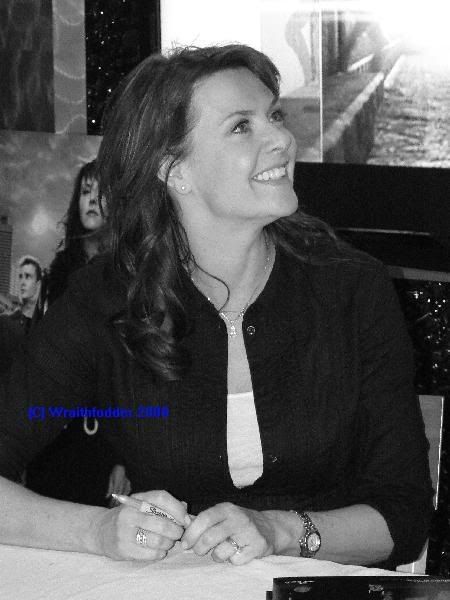 Posing with a fan (fan not pictured)


Although it's not a great shot, set-up wise, I just loved her smile in this picture. This is how she each and every fan :)