Was flicking channels last week and remembered NATURE was on, and they had on - http://www.pbs.org/wnet/nature/oceansinglass/jellyfish.html - which was all about the Monterey Aquarium, which is very, very cool from the looks of it.

Anyway, I snerched a jelly shot from it: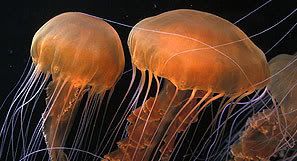 They're just such cool critters..... and here's another neat shot. See that person behind the jelly? Yes, the jelly is THAT big!!