Okay, found this on at Sithdragon's. A neato picture from the movie within a movie from A DOG's BREAKFAST.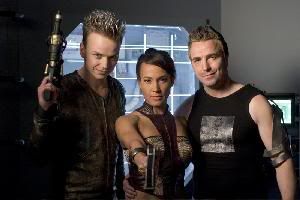 Yes, that's Rachel Luttrell in the middle, Paul McGillion at left, not sure about who's on left.

And, the Jason Momoa fansite at www.jasonmomoa.com has up some cute shots of Jason clowning around with some cast members, as evidenced by shot below of him and DAVID HEWLETT. Click on link above this to view this and other larger formatted shots. Image snerched just so folks can get a taste of what's on the site.




As you can see, the budget cuts have begun ;) Jason is trying to steal David's bottled water! ;)