First off, a cool shot of Joe Flanigan from the recent London Expo, snerched off the Fandemonium site here.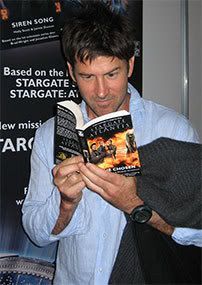 I keep thinking when he looks at the book... "Ohmygawd. This is what fans like to have happen to my character?!"

There's more info and more pictures too if you visit the main site. Anyway, have cobbled together a bunch of links to London Expo accounts, might as well share 'em!



2am-optimism Live Journal
Alipeeps Live Journal - Saturday
Alipeeps Live Journal - transcript
Alipeeps Live Journal - Sunday
aqualegia Live Journal
chalidos Live Journal
glammetalkitten Live Journal
honeyfitz Live Journal
temaris Live Journal
the4ts Live Journal
thisissirius Live Journal
trinity1986 Live Journal
yavammail Live Journal


chaelyndra's Photos
hazel's photos

YouTube Video 1
YouTube Video 2
YouTube Video 3
YouTube Video 4-SLC (Sunday)


Gateworld discussion threads (you may have to search within them for info)

Shep Whump thread
Joe Flanigan Thunk thread
London Expo thread



Missing any?? Let me know. I'll add 'em.