Stargate Creation Con Report
Secaucus, New Jersey
November 3-5, 2006
© 2006 Wraithfodder
Disclaimer: Please note these transcripts were done from shorthand notes, so there may be errors. Also, material is copyright so feel free to link to it but please do not copy and post elsewhere because I will most likely be editing text as folks point out mistakes or add to it. Thanks!
2) FRIDAY
a) Dan Payne
b) Ivy Isenberg
c) Cabaret/Bar
2) FRIDAY
Ate breakfast at home. This is actually relevant.
We drove in, pleasant weather, no traffic jams, and arrived at the hotel. We registered, got our packages, which consisted of ticket, lanyard to hold it, and a black Stargate SG-1 10th Anniversary bag (nice) which contained an autographed photo of Beau Bridges which, alas, many fans didn't find out about until after they bent it in the bag. Ouch. I immediately went to dealer's room, scarfed up several photos from Stargate Atlantis, one mini Atlantis poster, second season trading cards, then unpacked in room and hung around chitchatting with fellow fans (duh, can I remember names? No) until Dan Payne's session.
DEALER'S ROOM LINE: CON-001.jpg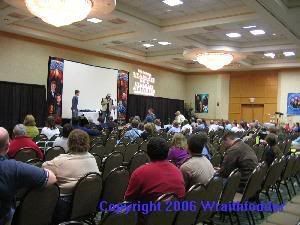 AUDITORIUM: CON-002.jpg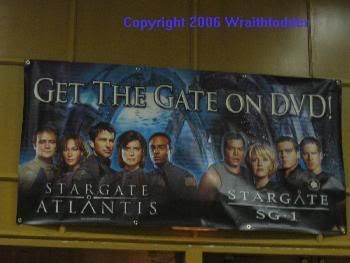 BANNER IN DEALER'S ROOM: CON-003.jpg
a) Dan Payne: "I'd like to hide my nuts…"
First guest of the con. He arrived late, probably cuz, well, he arrived late. [This convention was set during the NYC marathon and a football game down the road.] Many actors arrive straight out of airports and whatnot. Anyway, he's tall. Yes, TALL, six foot five. Doesn't look so tall on stage but when you stand next to him, you look UP at him, and he's got a very nice smile and personality. Everybody wore jeans – the guests that is, but no holes or yucky ones. Heck, they dressed just like the fans, complete with funny T-shirts. Dan had one T-shirt during the con that had a squirrel on it with nuts and some text that was highly suggestive but quite amusing.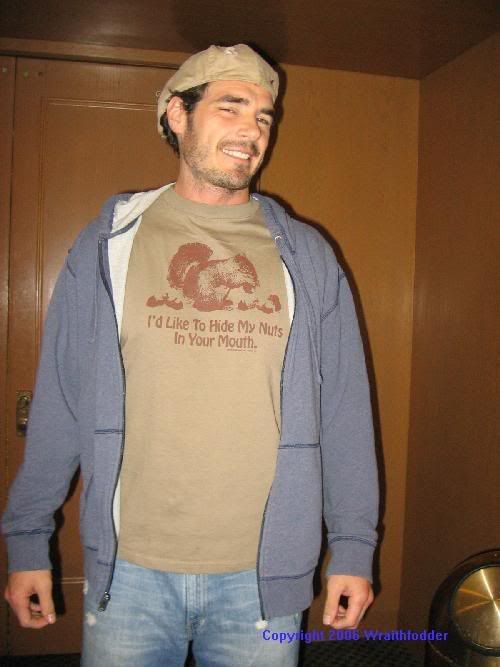 DAN PAYNE: DP-00.jpg
Unfortunately, my memory of Dan's talk is, um, er, full of holes. I got a new digital camera (cuz the old one is old) just a day or two before this con and was trying to make it work while he talked, so my brain futzed out as I was reading the owner's manual (sorry, Dan!). However, I recall LOTS of laughing, jokes about stunts, etc. and I did hear it all - it's just that I can't remember it all.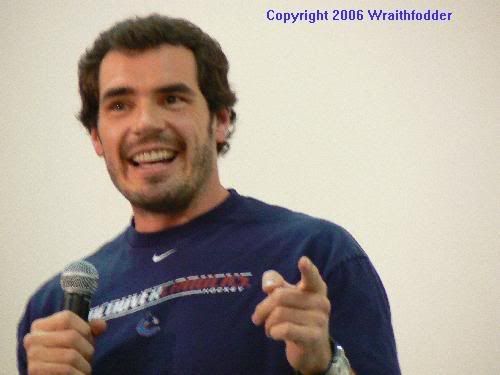 DAN PAYNE: DA-01.jpg


Oh, found a few notes. He got into acting by accident. Was an athlete, did stunts but wants to do more acting. He did bring along a tape of a half-hour sitcom show he did called Alice, I Think in which he played the slow-witted dad (think that was it). Alas, I missed it.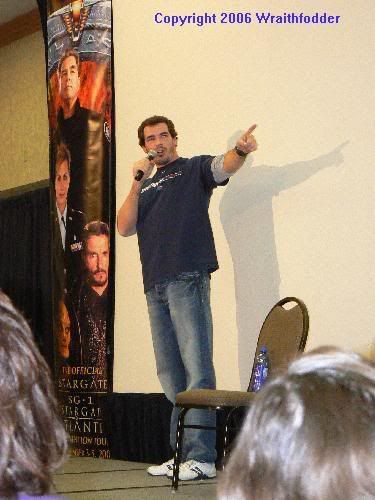 DAN PAYNE: DA-02.jpg

If anybody else who attended Dan's panel can add to my measly and pathetic notes, please feel free to do so!
I did learn how to pronounce the word Canada from Dan. It's C eh N eh D eh. It was a joke Dan told somewhere along the con, in the hallway, I think.
Also, Dan has his own website! http://www.dan-payne.com/ I'm plugging it here as hey, it's a great site. Oh, and see write-up on Alex Zahara for another tidbit on Dan.
UPDATE: ADDITIONAL INFORMATION ADDED (Thanks, 'SK'!) Added November 13th
Dan said "I get killed a lot," of his appearances in Stargate. "I think I get paid to die. A weird arrangement. The Super Soldier was the primary one. There were a bunch of years where I go to dress up in all black armor and sweat myself to death. Chafing is fun," he joked, adding, "I share a lot, sometimes too much. You get used to it."
Dan said he played the Wraith that "kicked the living beans out of Jason Momoa," in the episode 'Sateda,' where he played the big bad Wraith.
He said how when he played the supersoldier whom Sam had battled with on one planet and he was buried, when he stood up, everything was clogged with dirt and he couldn't see a thing so instead of pointing his gun at Amanda Tapping, he just did some general aiming about. He'd held his breath for over 2-1/2 minutes. "It didn't affect me at all," he said, mock staggering around the stage.
He said one day on set, when he had some free time at lunch, he was riding on his motorcycle – while in his Supersoldier outfit – and they took pictures so they're on his website. He's not a stunt person but because of his size, he said sure, plus it's a "great opportunity." He got to do a stunt, a rachett, which he didn't know what it was (believe this was for "Sateda"). He's all geared up and they said they were doing some going to do some tests for a rachett, a double one, one at 50 feet, another at 60 feet. One goes into a barrel and one goes into a wall. "Huh?" said Dan. "Okay." So he's watching the test and the first one they launch goes straight into a bridge and part of the bridge falls down. I go (looks horrified) "Huh? What was that?" And the guy goes don't worry, "that was the test, it's obviously set too high. We'll rig it again." So the next test drags along the earth, digging into things and I go "What?! That can't be healthy. That would be my ass." So then they're like they want him on set. When you do a rachett, you wear this corset, which covers the, er, vital areas and "you have to tighten it down like they'll be no tomorrow… and I thought there wasn't going to be." … "You can't yawn…. Oh, I think I ruptured my spleen." So they rig him up and you have to push against the rope that's holding you so you don't have slack and snap back "and your head'll come off." So he went flying, hit some barrels "My kidneys went that way," and he landed and survived. "Oh good, now we'll do another one into that wall," and the tests "were horrifying" as one went over the wall, but he made it through, even though he missed the big pad ("which is really soft") and hit the smaller one (not as soft).
b) Ivy Isenberg: "Shakespeare in Space"
MGM casting person. Tiny, vivacious, spunky with an PG13-rated mouth ;) ("I love sex and food") but in a good way. Her panel came not long after Dan's and I do remember bits and pieces of it as oh heck, now that I think of it, I should have practiced fiddling with camera on her, not Dan. Smacks self in head. But anyway, Ivy was doing a 3-hour acting class of sorts on Saturday and this was like a half-hour 'infomercial' to attend it. By the time she was done talking, I'd succumbed and signed up for the class, figuring, heck, there's nothing else to do as Creation does one block programming.
She talked about the Stargate casting process. She's been with the shows (both) for five years now. Hundreds of people are audition for each guest role, and actors who do these auditions can be great, or horrible. Some actors don't even know what Stargate is, can't pronounce words like "Goa'uld," or even bother to read the sides.

She did tell us that they'd been trying to cast Jason Momoa for five years, but one reason after another, things just didn't work out. There were some racy jokes about the casting couch (who hasn't heard those?;) and she said Dan Payne wouldn't even fit her couch and made just grinned quite a bit when she mentioned Paul McGillion (no, not that, she just really likes him!). She did let drop that Jewel Staite is contracted for 12 episodes in season 4 of Stargate Atlantis and as with many contracts, how many episodes she does actually depends upon how she works out (storywise, etc. etc.).
Another tidbit. Richard (The Sentinel) Burgi was up for the role of Sheppard (sooo glad he didn't get it or take it). Quite often, actors may be offered a role on TV, but turn it down, for a variety of reasons – don't want to be locked into a show, because of family issues, moving, etc.
Oh oh oh. There is one actor who's DYING to be on Stargate and it's just a matter of matching schedules, etc. Goran Višnjic. Who, you may ask? The very hunky Dr. Luka from NBC's E.R. Oh man, Sheppard and the rest would have serious eye candy competition if he guest stars…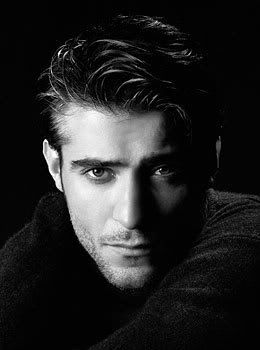 GORIN VISNJIC.jpg


An actor can make $3,000 a week. (I only wish…..)
While the casting folk select people for consideration for roles, they don't make the decision. That falls to the studio executives, the network executives, the network, etc.). It's a true committee and choices can often make no sense.
Ivy talked about more during her Saturday panel, which I'll cover later on.
I ran into Ivy in the hall and chatted with her, getting some juicy tidbits but I promised not to put 'em on the web anywhere (and they're not SG-related anyway, so…) but if you want to see what she looks like, visit http://www.imdb.com/gallery/hh/1305295/HH/1305295/IvyIsenberg-RDAnderson.jpg.html?hint=nm0000760 - I'm sure you'd rather see Ivy and some guy named Richard Dean Anderson instead of me ;)

IVY ISENBERG: IVY.jpg
Ivy also teaches acting classes - http://acwclasses.com/7.html -and wow, we paid $60, so got a good deal ;)
NEXT UP, the Cabaret and hanging in the bar