Stargate Creation Con Report
Secaucus, New Jersey
November 3-5, 2006
© 2006 Wraithfodder
Disclaimer: Please note these transcripts were done from shorthand notes, so there may be errors. Also, material is copyright so feel free to link to it but please do not copy and post elsewhere because I will most likely be editing text as folks point out mistakes or add to it. Thanks!
3) SATURDAY
a) Casting Seminar with Ivy
b) Colin Cunningham
c) Carmen Argenziano
d) Alex Zahara
i) Autographs with Alex and Dan
e) Teryl Rothery
i) Jason Momoa Photo Op
f) Jason Momoa
g) Autographs: Colin, Teryl, Carmen, Jason
h) Dessert Party
e) Teryl Rothery: "I didn't see that in the script!"
She's petite. What can I say? Pretty, perky, bubbly, and effervescent. Just a delight to watch and I'd love to just sit down and chat with her.
This is going to be short. Explanation beneath. But she was wearing low-rise form-fitting jeans and we know they were low rise as she tugging 'em and making remarks about 'cracks'. ;)
She said that wow, this was a different con than the last one she did, in which Chris Judge and Michael Shanks were both guests. She actually got some sleep. The last time they got back to the hotel at 5 a.m. after doing bars all night. They were always getting her into trouble!
Teryl admitted that she is a HUGE CSI junkie. You do not phone her Monday at 10, or Wednesday at 10 or Thursday at 9. She's watching all three CSI shows as she's not a TiVo expert. I'm pretty sure she said her favorite was the original Vegas CSI series.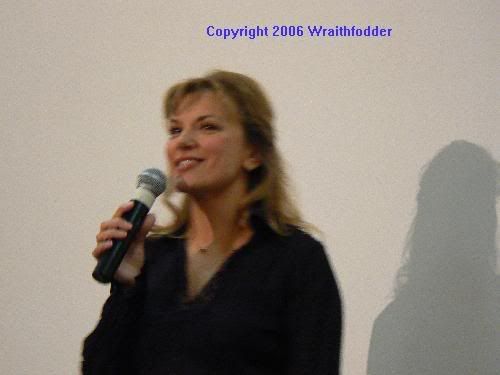 TERYL ROTHERY: TR-01.jpg
Her favorite actors are British – Judi Dench, Helen Mirren. And, of course, Patrick Stewart! She said she once got a kiss from him, on the lips ("And I did not brush my teeth for a week" she sighed dreamily).
Question: how did Frasier feel about always patching up Daniel Jackson? "Daniel Jackson is one she [Frasier] loved to patch up," Teryl said slyly. She said that she and Michael tried to interject some relationship stuff between Frasier and Daniel. In "2010," the actors would do lingering looks and during the awards ceremony, Teryl walked up to Michael and planted a kiss on his lips. During this scene, Teal'c is walking past (I think) and Chris Judge just stopped his tracks, swiveled his head around with a shocked look and exclaimed "What the hell's that, man? I didn't see that in the script!" Alas, the script got whacked out in the final edit but Teryl and Michael would try to put in a little 'ship' stuff.
The most challenging/favorite script? Teryl said she can be guilty of going over the middle ground (that a doctor must tread) and get weepy. When Machello (played by Michael Shanks) 'died,' Teryl said the scene was so moving 'it was like the floodgates opened.' They did actually catch a close of Janet with her eyes brimming with tears. And she's not the only one who was like that. When Teal'c was leaving the team at one point, there's a farewell scene in the gateroom. Teryl and Don S. Davis are there. Don is as bad as Teryl in the waterworks department. "Get the two of us together sobbing," while Chris is trying to stay detached but then Teryl demonstrated quivering lips. And when the director told them 'don't go over the top,' well, it made it worse! ;) She talked about hanging around in the ceiling in "Foothold," which was problematic. "I have the world's smallest bladder," and she loves coffee so she had to not drink anything that day.
How did she feel about Janet being killed? "I felt like dog poop that had been sitting in the yard for a week. Really bad," she replied honestly. It was season 7, no contracts had been signed for another season and everybody on the cast knew eventually the show was going to not get renewed. She was doing a play when Robert C. Cooper called her up and asked if they could work around her schedule. And 'how did she feel if we killed you off?' "Are you insane?!" Teryl recalled in mock outrage. "How do you think I would feel? Why?" They were going for drama, and she suggested they kill off Hammond instead. "I did say that but I didn't mean it," she clarified, but yes, having Janet Frasier die was "pretty sad."
"Urgo." She said that in that episode, Dom Deluise was always doing something to try to make her crack. Blow in her ear, crack jokes, etc. But not once did she succumb.
i) Jason Momoa Photo Op
Um, um, notes get whacky here. You see, Creation scheduled the Jason Momoa photo op against part of her talk. I couldn't miss that. I really, really wanted a shot with Jason (and Joe Flanigan later). So, several of us in the B (2nd) row begin to depart. We heard Teryl's outraged ;) voice shriek into the microphone: "WHERE are all of you going?!" I crouched down and covered my head with a paper, another guilty party pulled their jacket over their head. We skulked out rapidly and heard other audience members tell Teryl about the photo op and I think she said they (Creation) did that to her last year with a Michael Shanks photo op. Poor woman!
And blast, I really did want to hear the rest of her talk.
After going upstairs, getting in line, seeing Jason Momoa in the flesh (whoa, he's hot, okay? I won't mince words. He's got a smile that could light up a ballpark and I shook his hand, and didn't say anything stupid but got a nice shot with him and if I ever do it again, I'm going for a goofy shot that some folks did. My first impression of Jason was sort of along the line of 'oh, my, wow…' Lean, tall, handsome…polite, funny. Must be damned hard for the ladies to work on the Stargate Atlantis set with all these gorgeous guys ;)
Also, I saw a Creation person go into the room with a bucket of a half a dozen or Michelob beers and I think by the time that the photo op line was done, Jason must have gone through three beers. That's just a guess. A friend who had done the Chicago con in August said that Jason was just scared to death of doing the talks, so I guess this was 'liquid fortification' so he could go on stage, but really, he did okay, at least I thought so. This was his second Creation Con, but I believe he did one in Europe.
Oh man, he's sooo handsome in person and what a smile.
Wait, where was I? Oh yeah. After that, I ran back downstairs to catch, alas, the tail end of Teryl's talk. (Yeah, the autograph line, despite 'assembly line' format, did take time.)
Um, let's see….
§ She's not ready for children right now, as it's a responsibility she doesn't want to take on yet…
§ She's done two USO tours.
§ Dentists and math tests make her physically sick. Really. At least the night before.
§ She said the response from the military in regards to Stargate is overwhelming. They love it.
§ She misses Frasier "terribly."
Last question, which I do remember. A young boy asked how she would like to die. Teryl took it as "how did Frasier want to die?" and said that Frasier would get trapped by herself on a planet. No way home. All alone. (Now, she spun this answer like a soap opera tale – I can see why she does voice work.) However, she finds another person on this planet. He's all alone. They end up on a desert island. This guy would be played by (dramatic pause and intake of breath) Patrick Stewart. And the best thing about this planet is that no one ever dies, they simply ascend.
And that was it.
Check out Teryl's website at http://www.terylrothery.com/

UPDATE – ADDITIONAL INFORMATION ADDED (Thanks, 'SK'!) - added November 13th
Not sure of the question, but Teryl said that she did come back in season 9 and it was fun. "It was bizarre. Honestly when you spend seven years walking into General Hammond's office – and even as an actor going up to rehearse the scene – it was just so weird. It wasn't the lovely bald man I love so much, it was this handsome full head of hair, Mr. Bridges. It was bizarre. With Ben being there, it was so different but it was so great to be back."


NEXT .. JASON MOMOA!!