My con report and photos are under the cut due to size and well, talking too much ;)



I went to the New York Comic Con (aka NYCC), and came back alive to speak of it ;) I only did Saturday, so definitely missed other stuff on Friday and Sunday. Hmm, maybe next year I'll do the entire con if it's affordable (aka the econcomy!)

First, imagine Grand Central Station. Now, imagine it during the rush hours. Imagine it being like that for a full day. THAT was Comic Con. I asked one con staff how many people were there and they thought 10,000, and that was in the morning. I'd say they were right. I guess the San Diego one is twice as big, if not bigger.

First off, we got a subway that got us only so far, then began to walk to the Jacob Javits Center. It only took a few seconds to realize virtually everybody heading in that direction was going there as well. Fortunately it wasn't as freezing cold as Friday; although in the a.m. it was very chilly. At six a.m., it was in the teens, I'm sure.

Once we got to the con, my friend Dawn and I basically split up. I'd pre-ordered the tickets, so we didn't need to buy any, which was good as there was already a sign saying that the Saturday and Weekend tickets were sold out. Considering the tickets were either $40/50, it's a very good bargain. Dawn decided to get something to snack on, and we had no idea how to meet up again, so I said, "Hey, I'm doing the 4:15 Torchwood panel" so we figured we'd meet up at the end of the day. I proceeded to get shuffled along with the massing hordes into the airplane hangar section (as I called it) of the center where it was just a humongous DMV line. The con started at 10 a.m. Don't think we actually got funneled into the line till nearer to 10:45a.m. I could have gone to the IGN theater section, sat down for 90 minutes to watch the Watchmen/um, another movie/Friday 13th panel but was meeting a friend. So, figured, oh hey, I'll just do the autograph line later to see Jared Padelecki of Friday the 13th (or Supernatural). Ah, silly me. Anyway, cuz the times were off, I waited by the Animal Planet area; no sign of friend, so I wandered off, and within minutes got a free t-shirt, posters etc and was thinking yeah, should have brought the bigger backpack. Eventually I finally heard my cellphone ring. The din of constant talking was incredible, so it was tough to hear a cellphone unless you had a really loud or really loud obnoxious ring. So, met up with friend, and we meandered aimlessly through the dealer's room until she went to a panel, and I went to the Dead Like Me (DLM) autograph session. Alas, that was a mess. Nobody was really organizing the line, so I figured, okay, I'll get the jump on the Jared line. Silly me. The line was HUGE. I got there, got to the end and was told, oh, they'd cut off the line. Gah! So, I cannot report back how hunky and gorgeous Jared was I never saw him. Pfft. I'm sure he was gorgeous and hunky and everything everyone told me he would be, and oh, I must pester my friend Jeannie, who I bumped into as I was leaving the line. Amazingly, I ran into several people I knew at the con – and in a place that size, that's hard to do!

Wait, wait, here's a picture at Flickr showing how gorgeous Jared is:

http://www.flickr.com/photos/15526629@N05/3263945642/

Oh, we also visited Diamond Select Toys' booth. Not a single bit of Stargate. It was virtually all Star Trek (Deep Space Nine?!), Star Wars and Battlestar Galactica (and I didn't see the new exclusive figure – maybe it sold out on Friday). I asked if they had any Stargate Atlantis. Nope, but the series 3 was due out in a few weeks the nice man told me with a smile, however, they had no other action figures there, except for a few desert camo SG1 figures. Darn. In fact, I saw just one generic Stargate t-shirt and that was in for the Stargate presence at the con (oh, except for a woman selling the huge boxed set – which I declined as I already had 'em all on DVD).

Saw both Robert Culp and William Katt (Greatest American Hero, etc.) in the Artist's Alley. Photos/autographs were like $20 each so I passed. I'm afraid I was on a budget but it was cool to see them. Both look pretty decent and Culp is all gray now but it's that nice silver gray that looks dashing.

But, I went back and did the DLM line, which literally just wrapped around the booth several times. It was sorta like a Moebius Strip… Not even the teensy pretty model types in capes and DLM t-shirts seemed to know which way the line went. Anyway, they had the actors from the new movie (Dead Like Me: Life After Death), due out in mid-February. Callum Blue (cute British guy who is quite charming), Ellen Muth (who is a size –two; she is tiny! But quite cute) and Britt McKillip and Cynthia Stevenson (pretty sure that's the last two, as I'm all that familiar with them) Calum apologized for not personalizing as they were rushed for time. Note: all actors look tinier in person than they do on the TV. Have no idea why. Anyway, after that signing, they were doing a panel, but I foolishly decided to stick it out for the Boondocks Saint signing with Sean Patrick Flanery (he played the alien-stalker ;) Orlin in Stargate SG-1).

So, missed the DLM panel but finally got up to the BS panel, which was there to promote the sequel, which will be out in about six months or so. Anyway, it was Sean Patrick Flanery (looking mighty fine) and the director, Troy Duffy – I'm going by what's on the program book). The signing started late as the posters for the 2nd movie arrived late. At one point some guy with a HD camera (not pro gear) came by and interview a few guys behind me, who seemed awful puzzled when the guy asked "Sean Patrick Flanery – he's sexy, right?" (hello, you don't ask GUYS that – now if he'd asked ME…) Anyway, the mini interview ended, leaving the guys behind going "what was that for? I didn't sign any release. It'll probably be on YouTube"). They also had flat screen panel TVs around the booth so you could watch the Boondock Saints trailer over and over again and ads for some other movie which I've totally forgotten, and a new animated flick by Seth McFarlane of Family Guy fame. When it was my turn, I came up and hey, they were chatting with the fans. So the director shakes my hand and asks me what I liked best about the film. I said, "Oh, I haven't seen it yet" and he goes (playfully) "then what the hell are you doing in line?" and I explained how my friends recommended the movie and I was planning on getting it and I really wanted to see Sean Patrick, since he'd done Stargate and then the director said something to Sean about fans coming to see him for his other work too. So, got autographs, got to shake hands and then I was free, free! I was not doing ANY MORE autograph lines. Oh yes, Sean was cute, and his hair sorts sticks up and looks fluffy and very pettable ;) Did I remember to take a photo? Duh, no.

I figure I could get through the rest of the dealers room in just under two hours, which I somehow managed to do. I missed the Dead Like Me panel, the Intellectual Property panel, all the Robot Chicken stuff. They've really gotta spread out the tv panel/autograph stuff, and I figured, oh look, it's 4:10. I'll see if I can get into the Torchwood panel. With my luck, it's packed to the gills and closed. It was packed to the gills but not closed. Yes, I found a seat. It was lovely. It was right behind a huge concrete pillar, so I could see NOTHING. The nice guy and kid sitting next to me were sorta disappointed as they were huge WHO fans and weren' t into Torchwood (no, don't think a small child would be). But then Dawn spotted me. She just up a few rows on the other side, so I went over there and got to see the entire panel, and they replayed the trailer. I must admit, I know squat about the show except "Captain Jack" kisses anything and everyone. The director, Euros Lynn, and actress, Eve Myles, were at the table way, far far away in front. But they had them on a big screen too for the benefit of us folks in the high altitutde seats ;) Anyway, despite knowing nothing about the show, or really caring, to be honest, it was a really fun panel. Eve is a riot. She loved using the word 'cheeky,' applying it to everyone, and apparently she's kissed a weavel or a blowfish, or some alien thing, on the show. Oh, and in the upcoming five episode season of Torchwood (no one knows the exact date it will air) some of Captain Jack's big sins will come back to haunt him. Think that's the only spoiler. They were very cagey and gave out nothing that I could recall.

I skipped the autograph session with the director, even though he did seem really nice. Could not deal with another hideously long line.

Overall opinion of the con. Worth the money, but the folks in charge need to reassess how they do autograph lines. They funnel right into the rows with dealers booth. I had to SQUEEZE though tightly packed fans to get to the WHO booth, which alas, didn't have the moulded money bank (they no longer make them – noooooooooooo!) and the folks (Fox, Mutant Turtles,etc.) need to have someone in charge of the lines that again funnel all over the place and block aisles. But there were more food choices (still very pricey – bring your own bottled water!) but because of the male to female ratio, no hideous lines at the bathrooms. Yahoo!

Oh, the most popular color at the con was black. Black black black. Mostly young males, not as many costumes as last year as I recall. I do remember seeing more (but then the weather wasn't so cold). You know you're at a convention when the door opens up and waiting to get on are two bright green/yellow giant turtles, and you don't bat an eye but go "cool." Saw one or two slave Leias, and while there were stormtroopers around, I have no idea where they were. The giant Japanese dolls (sorta like sponges with eyes) were once against present. Saw one incredibly good Predator costume, there was someone in a Batman outfit who actually looked GOOD in it (sometimes guys wear costumes that, face it, they don't have the body for) ;) An excellent Joker/Riddler combo. A Robot Chicken costume. Oh yes, and absolutely no presence for the SciFi Channel. I mean come on guys, you're based in New York City. Even the New York Times had a booth!

Let's see, I came out one purchase. Seriously, I only bought one thing! Sure, the massively big Dalek screamed "buy me!" but it was huge and I know it was $$$. I like Daleks, but where the heck would I put something THAT big (not to mention carrying it home)? The Mattel booth made me very happy. Talking eye-rolling teeth-snapping dinosaurs. The big one, which walked, rolled eyes, and sneered, was only $199.99. Ouch. However, the smaller more plastic raptor (Mattel SCREATURE Interactive Dinosaur) that bites, spits water, is only $20 or so, but they didn't have any, so said I go to Toys R Us. Ohmygawd, yes, yes, it's for sale on Amazon!! Okay, it's more like $35.

http://www.amazon.com/Mattel-N4320-SCREATURE-Interactive-Dinosaur/dp/B001O2S7X0

Ah, the big one, the Matel D-Rex Interactive Dinosaur, is more like $150 online. When I win Powerball, I will buy half a dozen and let them roam the yard, scaring the neighbors silly J

Let's see, I came home with a bag full of flyers, etc. Not so much in the way of 'swag'… although I did get the very last poster tube from the Warhammer folk (and by which time, all the posters were wrapped up in the freebie S. Darko t-shirt I got – always a size large, so guess I'll sleep in it)…
Dog Eaters decal – www.dogeaters-manga.com - hmm, looks like a good guard dog decal. In fact, check that link for their blog with pictures of costumes I missed. Wow, how did I miss a Wookie? Wait. Crowds.
Postcard for new Comedy Central show KROD MANDOON AND THE FLAMING SWORD OF FIRE – premieres April 9th at 10pm – a comedic sword & scorcery show

After Dark Horrorfest decal

Bumpersticker for www.frontiersunrated.com - May 9th – very bloody horror film
A DVD for the "Leviathan Chronicles" , an online show. You can read more at www.leviathanchronicles.com
Postcard for cute characters from www.bekyoot.com
A sample chapter from Agents of Artifice, scorcery book

Oh heck, a scratch and match card to win something AT the con. Let me see. Darn, I won a free half pack of a role playing card game. Well, don't play so no big deal.

Geppi's Entertainment Museum

card – this is a museum that collects pop culture stuff. At 301 W. Camden Street, Baltimore, MD 21201

A Twilight (as in teenage vampire) postcard and oh, poster too.
Shoot, almost all of the Coraline alphabet postcards (missing D, O, P, and X). Got a spare K, though.
Ah, the Mimobot brochure. They do very neat flash drives – based on monsters, Star Wars, etc.

– www.mimoco.com. I swear, I should remember. I just bought a flash drive before the con. I loved the screaming monster ones

Two NYCC comic books specific to the con

Friday the 13th

keychain. It will go so well with my Texas Chainsaw Massacre keychain ;)

Oh, and saw but didn't get a Squishable. I want the panda one, so will have to mail order if I cave. I really don't need another dustmite condo but these are adorable bit fat squishy stuffed critters. Great for kids, and adults too. And so soft and squishable. www.squishable.com
Places to find many pictures. Go to www.flickr.com and search for "NYCC". Click on "most recent" to well, get the most recent (this year's event). Or go to www.google.com, click on the blog search and type in NYCC or comic con 2009. LOTS of blog entries!
Think that's it. But, the really best part of the con was meeting a fellow fan from the Joe Flanigan list. We had a ball chatting with each other! Running into two other long-time friends who I had no idea were at the con (they were doing the entire weekend).
They've now locked the NYCC (Comic Con) into an October date, so the next one here will be in October 2010. Darn. Long ways away. I'd love to do San Diego but gah, time and money and well, no Stargate Atlantis actors, so…
Anybody else go?

The massive line to get into the convention.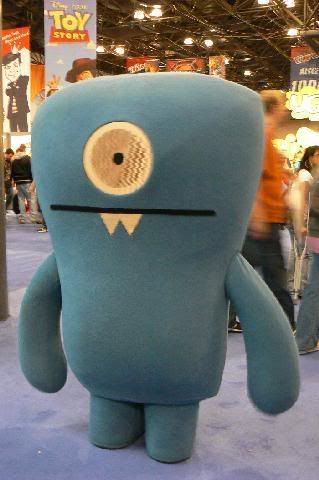 Domo? costume. Oops, no, that's an Ugly doll one! They were running around the con. So cute.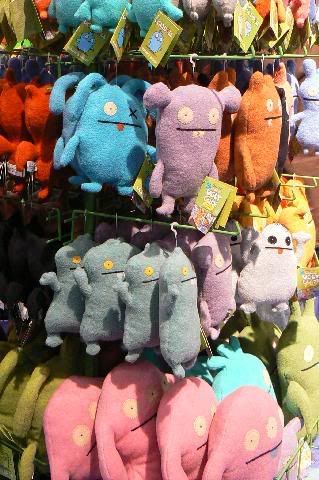 Just some of the Ugly Dolls. All sizes!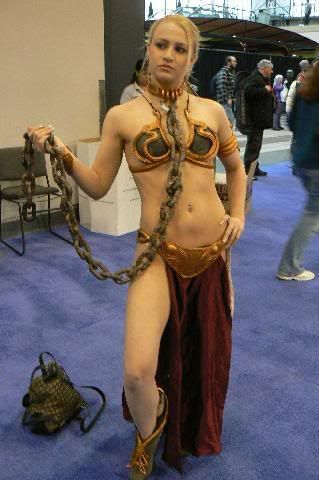 A very popular - with the guys - Leia in slave outfit. I believe this one was an actress who was also in today's New York Daily News.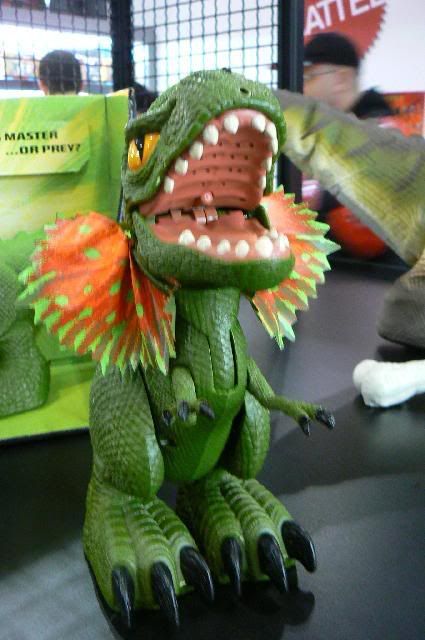 Too cute beyond words. I must get one!


Profile shot of box.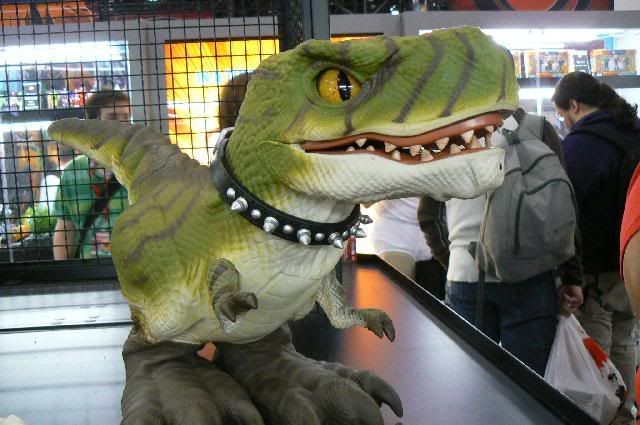 This is the expensive one. Is he not simply adorable??

Real Ghostbusters figures.

Stitch kittens - perversely amusing. I got two.

Happy Beavers! More details at http://www.jeffpidgeon.com/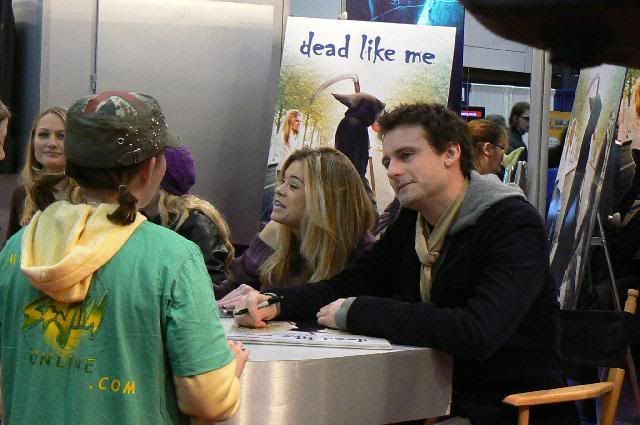 Dead Like Me cast at signing.


Picture off big screen of TORCHWOOD folk at panel. The actress was a a riot!

And that's it.