MediaWest*Con 2009
This convention is in its 29th year, so next year will be the big 3-0!
I did take some notes, but oh well, that piece of paper went bye-bye, so must go by memory.


Wednesday
We did our usual 14+ hour drive to Michigan and the weather was amenable this year. No rain, storms, etc., but on the other hand, it was bright, overcast, sunny, so was hiding under sunglasses the entire time.
Every year we stop at the Snow Shoe Exit 22 Restaurant, a truck stop. Picture below.
It's small, but friendly, good food, Located at exit 147 off Interstate 80. Hey, look, our parking space is even there right next to the door (it accommodates a few cars, but mostly trucks, trucks and more trucks).
When we arrived at the hotel, we stopped at the gas station across the parking lot from them, in case the gas went up a dime, like last year. Then, my cellphone rings. It's Martha, who asked if we had the tan car (Avis gave us a Grand Marquis with leather seats!). She'd driven right past us and was in the parking lot. She saved us a spot.
We picked up this little fella in Ohio
When we checked it, we discovered all sorts of errors. The Holiday Inn South was now the Causeway Bay Lansing, and virtually the staff was very new. We always block a quartet of rooms as we're staff. We didn't get them all, but at least got the two we really needed. We then found out – since the hotel was under massive renovations – the fifth floor wasn't available at all. The fire, which I think was due to the massive re-roofing project, hadn't helped. Well, we knew there was a chance that floor would be unavailable, but nooooooooooo, no pool, no Jacuzzi! Under renovation, and it was hot outside! The beautiful courtyard, with two fountains, plantings, etc., looking like Afghanistan after it was bombed. Not that I really went out there much, as the smokers took it over, but it had been pretty. Heard later on that the courtyard is totally redesigned (duh) with I think a little river thing that runs around constantly, which, if that's the case, might be great for action figure theater adventures ;)

<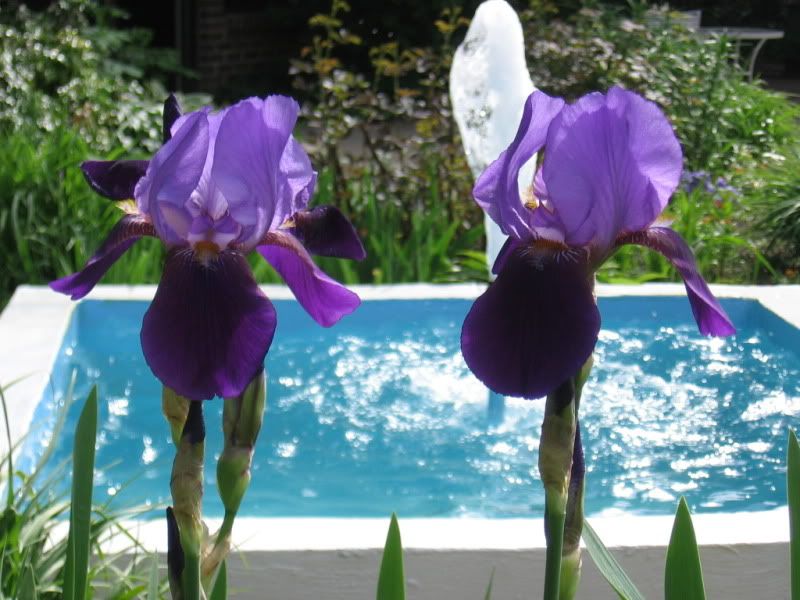 The courtyard in '08

<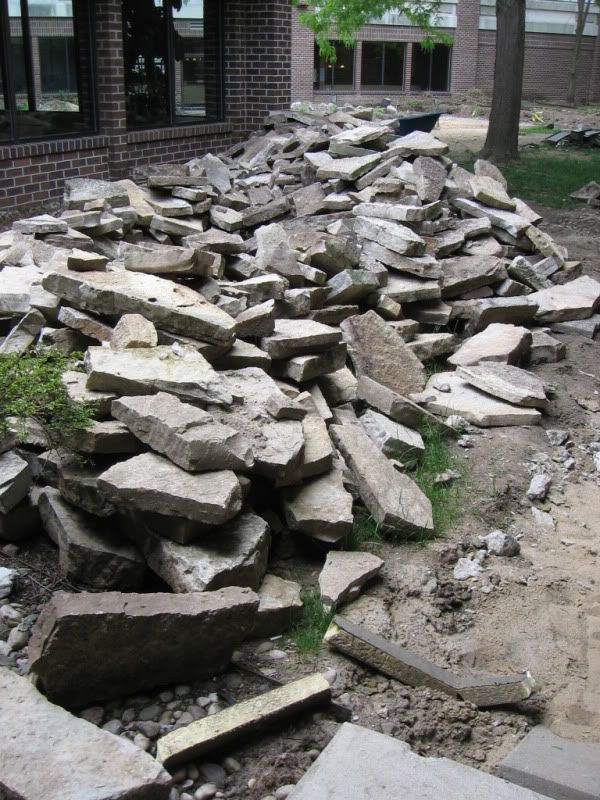 The courtyard in '09. ouch.

<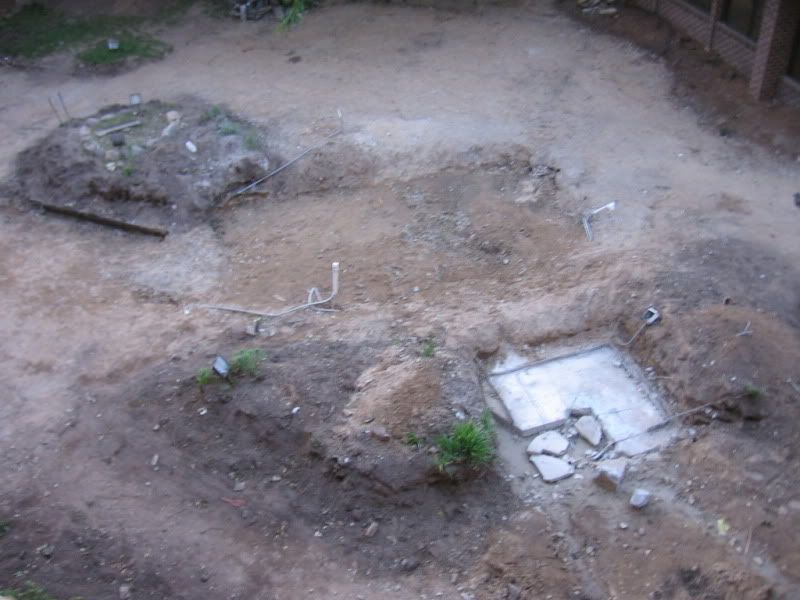 view of courtyard from 2nd floor window


Anyway, got to the room and we waited late till roomie LS came in from California, and by that time, we'd also discovered that Charlie Kang's, the Chinese food place next to the hotel, was out of business. Maybe the big "Fiesta" sign and new orange paint job should have been a hint, but after being awake since 2 a.m., well, brain wasn't firing on all cylinders. So, we went down to Steak 'n' Shake, whose menu had dwindled tremendously from last year's menu (which I still had). In fact, once we got the program book, we found out a number of restaurants/businesses were gone, victims of the economy.

<

Hotel is adding security cameras… soon.

After dinner, went back to the hotel, hooked up the DVR so we could watch DVDs (mostly Stargate Atlantis) throughout the weekend.

Thursday

Did breakfast at Grumpy's diner, a small diner where Richard, former manager of Hummingbirds at the Holiday Inn South, now worked. It's a neat little place, and he had a "Welcome MediaWest" sign outside! Only 3.7 miles from the host hotel at 1001 E. Mt. Hope Avenue (www.grumpysdiner.com). We ran into other fans there, the food was good and plentiful.

Now, since the con doesn't start till Friday, that gave us Thursday to … go to the movies! We planned to see STAR TREK 2009, even though half of us had already seen it. Seeing it with fellow fans is so much fun. It was then that B7Kerravon came by and mentioned it was still at Imax, so we loaded up two cars of fans and saw TREK in Imax. It was incredible!! Afterwards, a bunch of us – Martha, Dawn, me – ate Chinese. Connie's not into Chinese so she went back to the hotel with B7Kerravon, spouse and friend. My fortune cookie said I'd have a thrilling time ahead. At some point – before the movie? – we went to Meijers where I stocked up on Jell-O flavors I couldn't find locally (black cherry, blackberry fusion, wild strawberry), plus found some great pants, and oh yes, various lunch meats and stuff from lunch, as usually it's impossible to do three meals a day and programming. The pint of Haagen-Dasz ice cream got consumed that night as well, it didn't refreeze in the cooler. So, we had chocolate milkshakes instead. The hotel rooms come with mini fridges, and had I known Dawn's fridge FROZE everything, I would have put the ice cream in that! ;)

<

We parked next to this car at Meijers. The rust spots on my car don't seem so bad now…

We stayed up chatting, looking for any room dealers who were open (both Martha and Connie are avid zine buyers so I just wait for them to bring back the goodies) J And since the hotel did not mind, I put up my door decoration. I hadn't planned on doing one, but had some photos, crime scene tape from CSI fandom, so put up a door of photos with humorous comments below regarding what the team was doing since Stargate Atlantis got cancelled. Ah, it wasn't pretty, I'll tell ya! !

<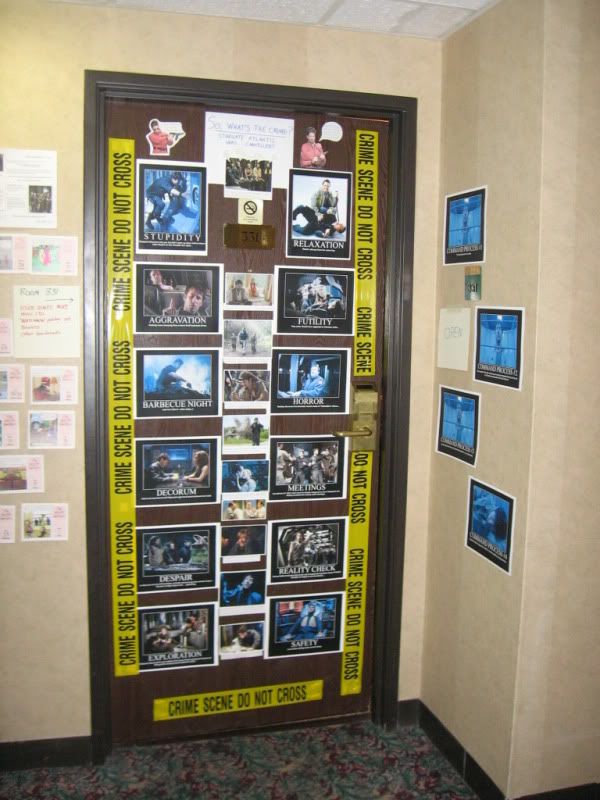 My Stargate Atlantis crime scene door decoration

<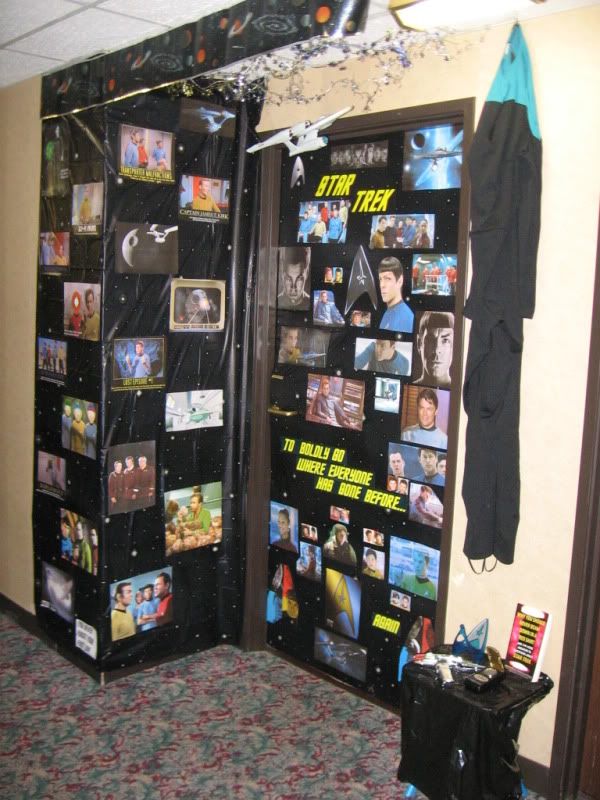 B7Kerravon's great Star Trek Door

<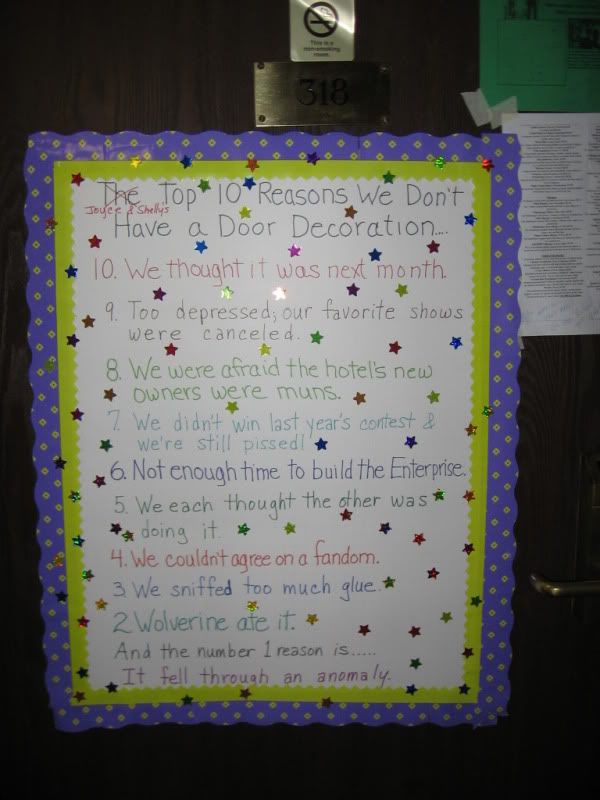 Cute excuses for not doing a door decoration

<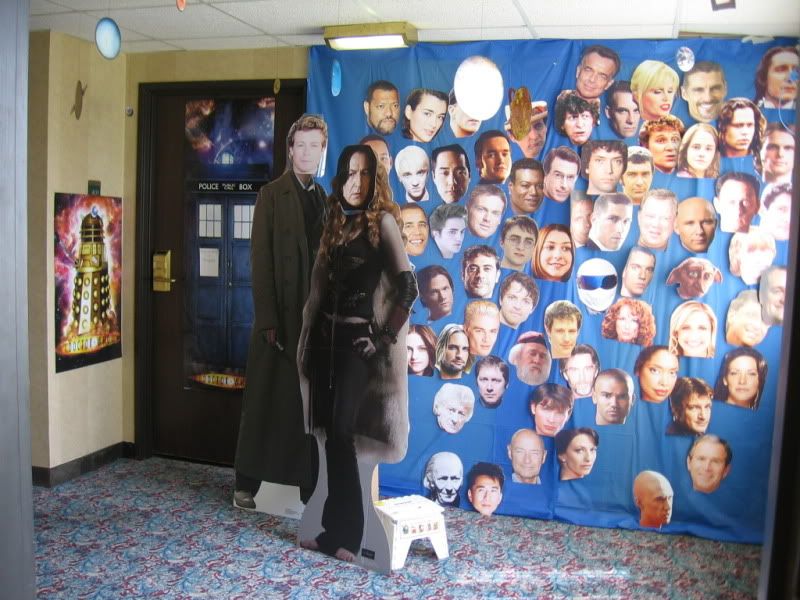 Multi-media door

Friday

I had this nasty habit of waking up around 6:30 every morning because that's when I get up for work. Can't even break the habit at a con. Darn. My roomies (Midwest and west Coast) have adjusted and I try to be quiet, but ….

Anyway, the 'thrilling' fortune came true! As part of the staff for the con, I'm half in charge of programming and the party suite (a room used throughout the weekend for fan parties). So I went down to the party suite and went 'huh?' "Private room" notice on door, so I knock. A fan answered, and I said, this is the party suite. No, it's not, came the reply. I explained civilly that it was that someone was going to have to move, and then got a terse "we're not moving!" or words to that effect, and then the door slammed in my face. A few hotel staffers in housekeeping had witnessed all of this ("how rude!" they'd said of fan who'd slammed door) and said they'd take care of things. We all ended up in the front reception desk, with the general manager, trying to fix the mess. Unfortunately it was impossible to move them (long story) but the hotel got us two adjoining rooms for the party suite. It worked out for several parties, but not others, two of whom went to their own rooms or one of the available university suites. It was a definitely unnecessary aggravation for all involved.

<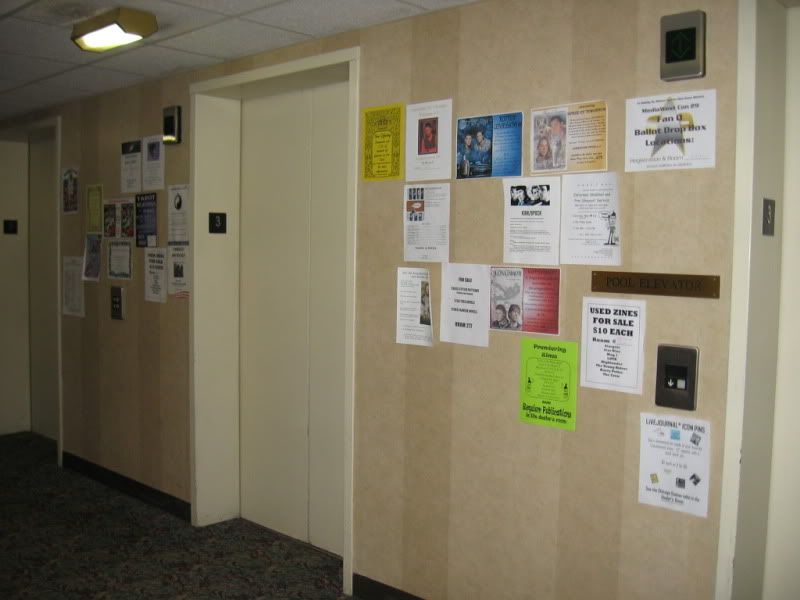 The hotel lets people paper the wall

<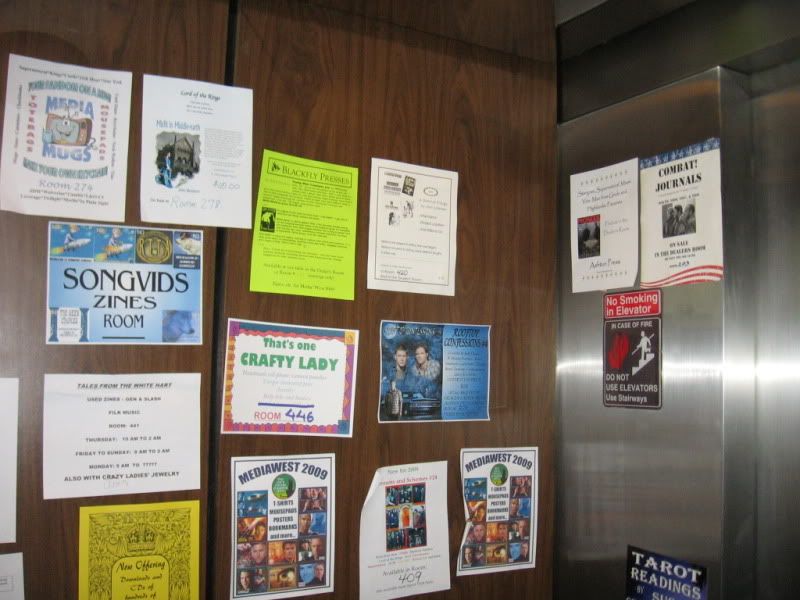 And inside of elevators

So then the con started. I swept through the dealer's room, which had more jewelry than last year, but many familiar faces. Supernatural is a big fandom and I suspect will remain such until the show ends. Many older fandoms are still out there, particularly in fanfic, such as Starsky & Hutch, The Sentinel, etc. What I find odd is the lack of Stargate SG-1 stuff. When the show was on, there was tons of stuff, but now, not a lot. Sure, many fans go to the Creation cons, but those are more events than actual conventions where you have panels on it.

Anyway, because attendance was lower due to the economy, health, etc. etc., we had more room to juggle the programming and put in "open discussions". Just topics but no panelists, and they seemed to work pretty well. I went to several panels: "Toxic Fans" – where we discussed just was a toxic fan, and had anybody met any (oh yeah, sure have), etc. and well, all fandoms have them. "Big Bang Theory – I know people like that, I AM people like that!" in which we self-professed geeks just geeked out over the show. Went to the open discussion on "Primeval", which I bailed out on after 15 minutes cuz the show has only aired season one on SciFi, but season 2 on BBC America and has started season 3 now, and I didn't want spoilers. Think I'll try to find it cheap on DVD and just buy it. Checked out "Hurt/Comfort in FanFic", which was a fun panel, and missed the Star Trek 2009 panel as we went out to eat and needed to be back in time for the Stargate Atlantis, pros and cons of season five panel. I recall most fans wanted more, but also felt the show's quality was like a EEG spike, up and down. 'Brainstorm' was a love/hate episode, we all thought the series finale was too short, and 'The Shrine' had been fantastic.

Saturday

Paneling ran from 9 a.m. till 11:00pm. Ate breakfast in the room (had yogurt and more) and spent the day attending panels, checking out room dealers, the dealer's room, etc. Started with "Medical Drama in fanfic," conducted by a trauma room nurse, and it was well attended by fans who are nurses and doctors. It was there that I found out that B7Kerravon also went nuts, like me, when they speared Sheppard through the side in "Search & Rescue" and then let him run off on a rescue mission, only to come back for emergency surgery? It made NO sense whatsoever. Did a quick lunch in the room, checked Twitter, etc., then did a "Flashpoint" panel. Not a huge attendance, but those of us who were there had a great time. I'd also brought my laptop and pointed out the Flashpoint LJ community (the constabulary) to them, plus also enlightened some folks to the fact that Hugh Dillon, bald level-headed cop on the show, was the leader of the Canadian rock band, The Headstones. Next came the "Stargate Universe" panel, which I ran, and I imparted as much info as I could minus spoilers as I'm avoiding those. The fandom is split on this, most on the "I'll check it and see, but…" camp. Nobody is very much enticed by the casting, and "Stargate Voyager" came up. Biggest concern was that the folks who are writing/producing SGU also did SG1/SGA, and many fans felt they have run out of ideas. I missed the "TPTB and Fans: Does TPTB's online interaction help or hurt fandom?" If anyone attended, I'd like to know the concensus. I think TPTB are better off limiting their inaction…

Dinner was, ah, Findlay's, which does steak, chicken, etc. I went with Hawaiian grilled chicken, which was good. Everybody else seemed to do steak.

By this time Connie had amassed a lot of zines so I poked through and read the ones that interested me (which meant, gen Stargate Atlantis stories).

Sunday

Did annual breakfast with Cannellfan1 and spouse J We went to the Flapjacks Family Restaurant across the street, which was doing brisk business. It's totally non-smoking, which I enjoy and has a good selection for decent prices. We talked about the con, programming, and life in general.

More dealer's room, talking with friends, etc. and panels. Started off with an overview of season 5 of Stargate Atlantis, then did the now annual "Stargate Atlantis Whump Fiction" recs panel, which I was not totally prepared for as I'd forgotten the file. Called home Saturday night to get someone to email me the file I thought I'd updated, but hmm, hadn't! Anyway, if anybody wants my updated listing, just let me know and I'll be sending it out when I get it done. The panel has spinoffs now, with Supernatural and Magnificent Seven panels as well.

As usual, can't recall, as the days tend to blend, but I came out and found that my door decoration had won for Best Humor. Very cool! B7Kerravon's big Trek door also won (she always does incredible doors – and this one had the "Star Trekkin'" song playing over and over. So much fun!

Alas, it all ends, and on Monday morning we did the dead dog party, then took an hour to check out (long story there) but got on the road, but not before hitting Burger Thing, er, King and getting the Star Trek glasses. Fortunately they were okay with me buying a set of four and getting two Kirks and two Spocks. The Uhura and Nero glasses didn't interest me.

Oh, I also bought an adorable stuffed lemur toy at an Ohio rest stop. Picture below J

Afterwards, we went down to Ohio where we stayed overnight (well, til 3:00 a.m. when we had to leave) at a friend's place, where I once again terrorized their big fat black kitty simply by picking it up and hugging it. Guh, it's put on weight! We also did a barbecue picnic with her friends and had a fun time talking about the school system.

<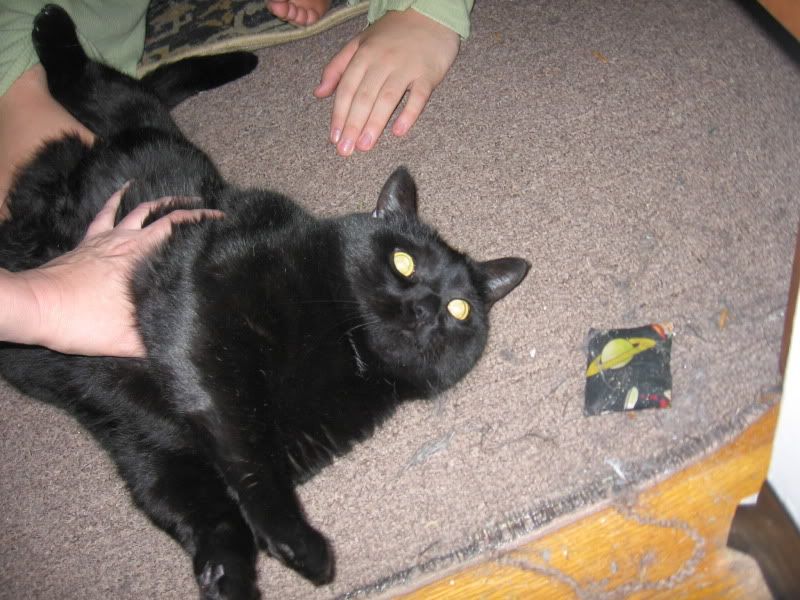 Fat cat. No, fatter cat!

Overall, a very fun time away from home. Just not long enough! A lot of folk signed up again for the next year's con, and by that time, the hotel should be all done. I heard they had to have a lot of it done in two weeks because of a wedding. It just never lasts long enough because for many of us, this is the only time of the year we get to see our friends.

Didn't buy a lot of stuff, but then more than anything, I go to see friends and overeat (accomplished both). So, bought some food, brought home Jell-O, pants, two SGA gen zines, a stuffed lemur and lots of cat fur from Ohio ;) And a Powerball from PA. I can only dream of winning that! Friend also did up a Flashpoint t-shirt for me featuring Ed Lane (Hugh Dillon). Very nice J Oh, and someone had apparently purchased the DVD set of Hugh Dillon's DURHAM COUNTY series, so left their DVDs they'd made off the cable network, up for grabs, and free. I was thrilled to give them a good home!

<

Flowers at New Jersey rest stop

<

Garden at New Jersey rest stop


For anyone interested, info on next year's con is at http://www.mediawestcon.org/

If I missed anything, feel free to add in comments below. Check out http://community.livejournal.com/mwcontripdiary/ as well for more fan reports.



.