Stargate Universe screening at Planet Hollywood, New York, October 2, 2009



The backstory:

SyFy held a special screening of Stargate Universe in which 15 lucky fans who entered the week-long contest at SyFy got to see it. It was limited to New York folk only. I read that and tweeted "well, that sucks" (since I can hop a train in to the city). Next thing you know, I'm on the list to see it. Sweet! I mean, it's the experience more than anything, plus a chance to meet Lou Diamond Phillips and Ming-na, both of whom I've watched on TV, etc. for years. Heck, cant' see to get to cons but this was just as good in some respects.


Stuff:
Well, woke up at 5:00 a.m. Guh. Got online, twittered news items and then left at 6:30 a.m. to get to train station so I could park in the first lot. Wouldn't you know it, it was stuffed full, so ended up in the 'north 40' lot, then caught an early train so got into the city t 8:30 a.m. Well, the Stargate screening wasn't until 1:45pm so I hoofed it around the city, going to Barnes & Noble, who of course had none of the books/CDs I was looking for in stock, so then I went to Planet Hollywood, and then went, eh, I've got time, so I wandered around, back to bookstore, found a book, then found a cool little café (Cranberry Café, West 45th between Fifth Avenue and Broadway). Good food and my god, nice inexpensive prices and CNN playing so I could nosh on brunch while watching Chicago get kicked out of the Olympics bidding. Oh well.

Long story short. Went back to Planet Hollywood for 1:00 p.m. ceremony, whereupon I found a bunch of fans, contest winners, etc. in the waiting area. Nice guy sat next to me and we struck up a conversation. Turned out he was Noxferatu from the SyFy boards! So we chatted about how we got verification of going (I got an email, he got a voicemail). Then someone came out and said that if we wanted to get closer to the awards ceremony, they were taking 10 people, and we got into that batch. The hands-in-cement (or whatever – is it really cement?) ceremony took place in the eating area, but it was a roped off area. The press – mostly photogs but one guy with a videocamera, whom I found out after asking worked for SyFy – so this ceremony will be up on the SyFy.com site, probably under SciFiWire) had a place in front of that. We lucky contest winners/VIPs got to stand on the sides. First they showed us the 4 minute SGU trailer – on the TVs (many, many TVs) that wrapped around the silly. Duh. Should have taken a photo! Oh well, I know it was videotaped. Then Dave Howe, President of SyFy, came out to speak briefly before they brought out Lou Diamond Phillips and Ming-na, who waited behind the stage. And hey, I could spot them on our side, so took a few snaps ;) Once on stage, well, the flashbulbs went off like mad. I'm really surprised the actors could see anything except dots after all that! So after posing for many pictures, they pressed their hands into the cement, posed for more pictures and then, that was it.

But then we contest winners/VIPS and some other acronym I can't remember, got to go upstairs for the autograph signing. Since there were only two dozen or so winners (I didn't really count, but maybe that, or maybe it was just 15?) it went quickly. Of course, what I figured would happen did happen. They had a list of names of those who were supposed to be there, and of course, my name wasn't on it (this is my luck). But I brought my 'winning' email and correspondence, but didn't even have to show it. The one guy said 'just add her to the list.' Neat.

The best thing was you could chat with actors for a minute and get your photo taken with them. I calculated had this been at a convention, I'd be out probably $40 @ for the photo op and $30 @ for autographs! My turn came and I came up and said, and figured to break the ice, said I twittered with them. Lou asked what my name on Twitter was and I said "Wraithfodder" and both Lou and Ming-na went 'Wraithfodder?!" with big smiles, They remembered me! I just melted J I loved when Lou said in a deadpan "You look nothing like your picture" (which is the radioactively mutated cat avatar) and then added "you look much better." Heeeee! Anyway, got a picture with them, and I do recall Lou telling someone else to take a picture as I was one of his 'tweeple' (a word Ming-na coined, I think). It was very cool. Noxferatu took a picture of me with them, and I did the same for him.

Then we were all shuffled down to the screening room, which had very nice plush seats that leaned back (gawd, wish my local theater had those instead of high-back bucket seats I can't even see over!) The fans all ended up there, as well as VIPs and some, I think, of Ming-na's relatives, as I saw several kids. I

Thomas Vitale, another SyFy head honcho, showed up to speak to us briefly and Lou Diamond Phillips and Ming-na gave a nice ah speech and man, wish I'd caught the shot of Ming rubbing Lou's nose as in 'brown-nosing'. It was funny.

Then we got to see the two-hour (well, 90 minutes with no ads) Stargate Universe premiere, and I'll cover that in another post which I'll do this weekend to avoid any spoilers here. But I enjoyed it J

Only minus was… no popcorn. We're in a theater, watching a movie, where's the popcorn!? Just kidding. Didn't expect it, which is why I had tropical flavor Starbursts that I ate during flick. And once it ended, we all just disbursed. It was great meeting some other fans (and good luck to Debbie in Yonkers, hope your job situation changes!). Noxferatu of SyFy boards, @esotericmeans of Twitter, etc.

Big thanks to @SyFy for getting me in, and for @LouDPhillips and @MsMingna for being, well, just swell people J And to the weather folk for no rain, and for dodging that frigging bike messenger who nearly flattened while I was in the crosswalk (and I had right-of-way!). Phew.

And here are my pictures, and some videos. I was off on the side, so hence, most of my shots are from the side as the photogs took precedent (since it's all PR)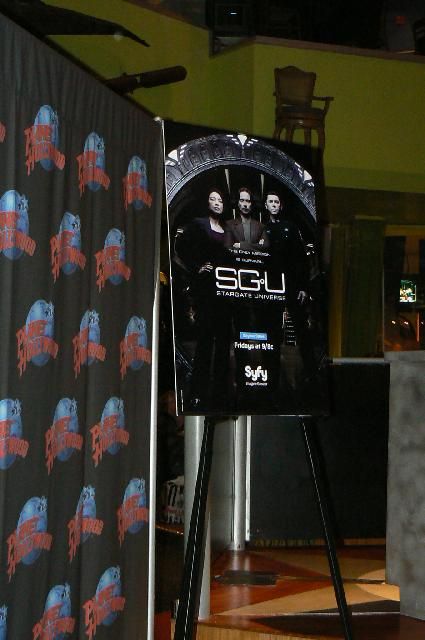 The set-up, before Lou and Ming-na arrived.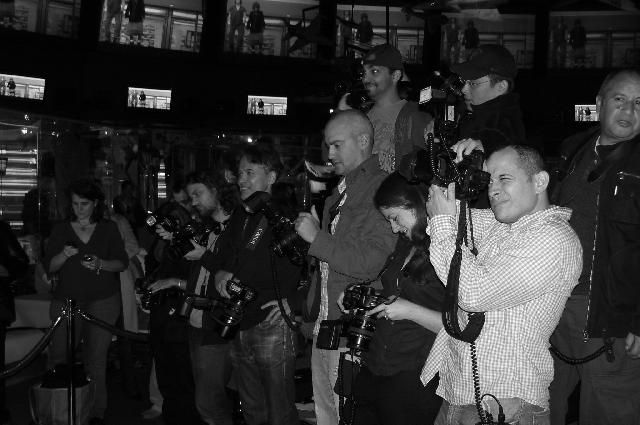 Haven't you always wondered what the actors face? The photographers!!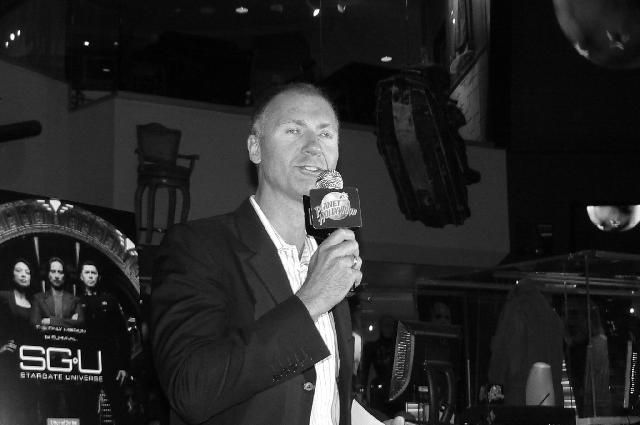 SyFy President Dave Howe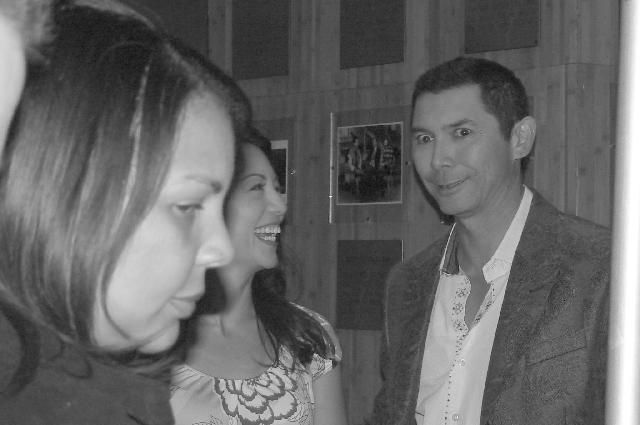 Ming-na and Lou wait behind the scenes. I just love the expression I caught on Lou ;)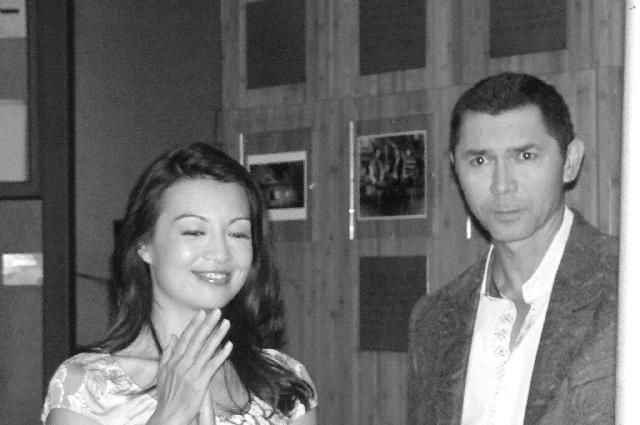 Ming-na and Lou get ready.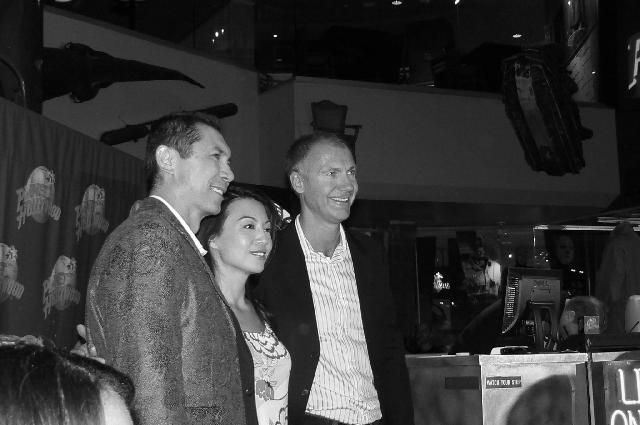 Lou, Ming-na and Dave Howe




Lou, Ming-na and Dave Howe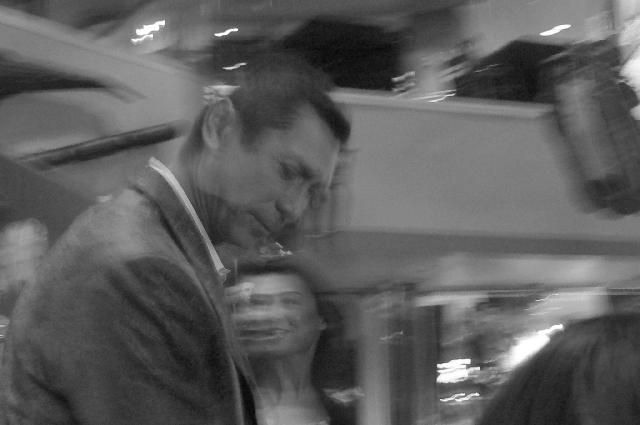 Flash didn't go off, so this photo fuzzed, but it's sorta artistic, so I kept it.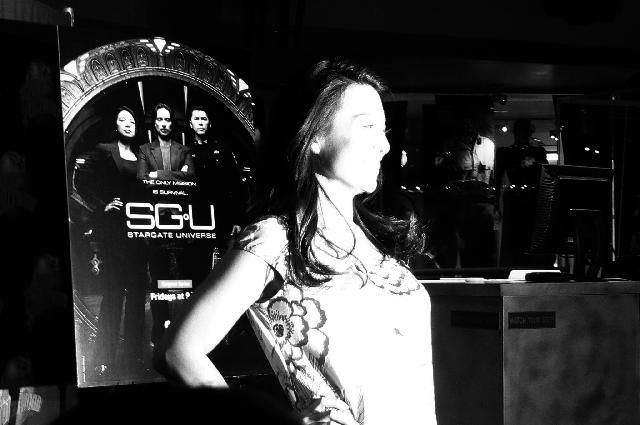 This is what happens w hen you catch the flash strobes of half a dozen professional cameras. That, or a nuclear blast went off…

In fact, this video demonstrates the flash potential of the press!






Lou smiles for the camera.




Lou talking to Ming. And oh, nice shot of poster too.




Ming-na gets ready to press hands into cement (she said it was tough to do)




Ming-na and Lou wait and wait while photogs take pics.




Ditto.


Very quick video of ceremony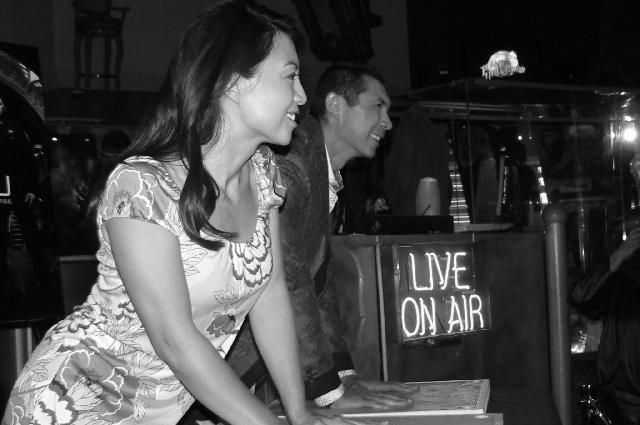 Smile, smile, smile! J




Ming-na signing name in cement; I could swear she used a chop-stick!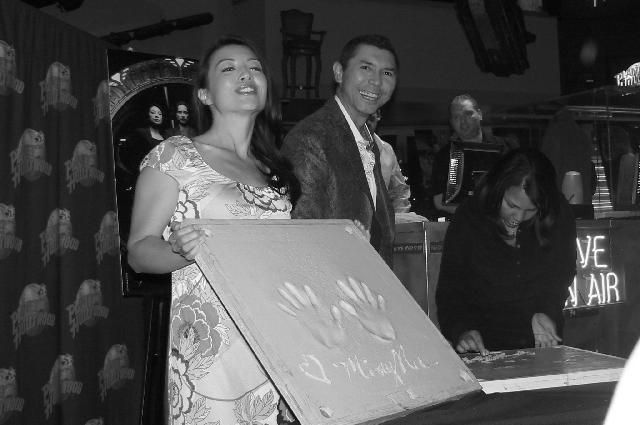 Ha! Ming-na finished hers first!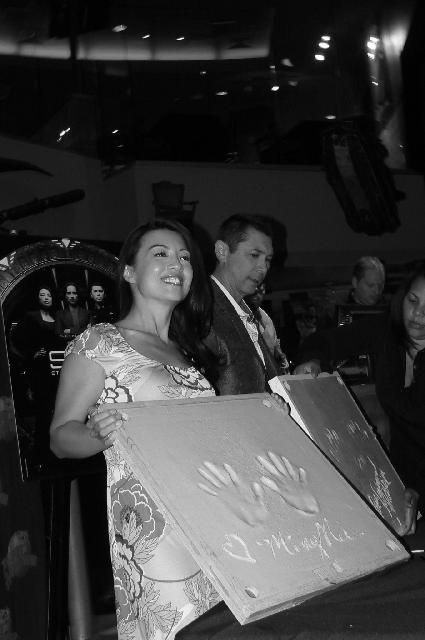 Ming-na and Lou hold up their works of art.




Ditto.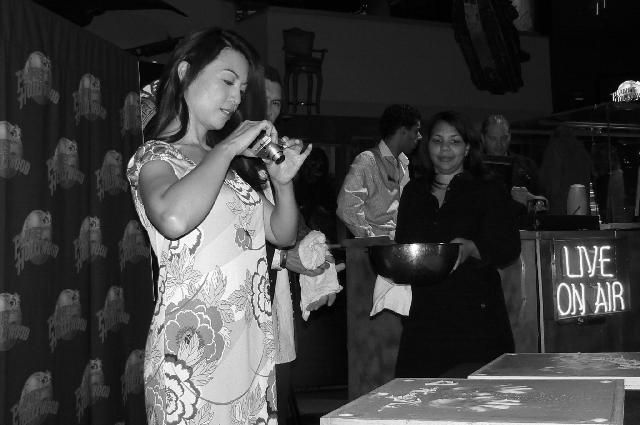 Ming-na gets out camera to take picture of her work.




Nice shot of Lou smiling, and a shoulder. I had to deal with lots of shoulders, a few elbows and well, hey, beggars can't be choosers.




Lou and Ming-na talk to fans right before SGU airing.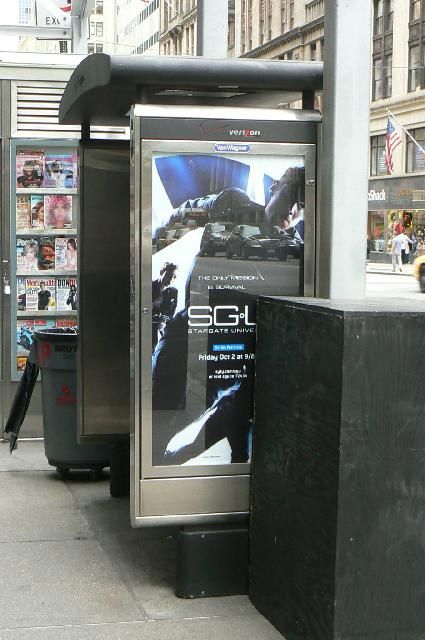 Last but least, I found a Stargate Universe poster on the street, right across from the PriceWaterhouseCoopers building on 42nd street!





++++++++++++++++++++++++++++++++++

NOTE: Syfy.com will put up a video of the hands-in-cement ceremony by Monday at latest (if I recall correctly). Talked to the nice videocamera guy who works at SyFy.

Here are some tweets I found on the event:

kbosko: Saw the premiere at Planet Hollywood I loved it #sgu @MsMingNa @LouDPhillips @DavidBlue @BrianJacobSmith, @alainahuffman, @PatrickGilmore

isawalkscom: twitpic.com/jz5yn - SGU at Planet Hollywood! @msmingna and @loudphillips both very graciously signed bears!! Thanks @syfy!!

esotericmeans: Just had a chat with @MsMingNa and @LouDPhillips and have signed autographs! yfrog.com/5n7q8j ·

lisawalkscom: twitpic.com/k063d - #SGU at Planet Hollywood! @MsMingNa and @LouDPhillips show off their handprints/sigs!

ashkalb: At SGU premiere event. Geektastic. (@ Planet Hollywood in NYC) bit.ly/2djjuO

MsStargate: Rt@MsMingNa: Heading out to Planet Hollywood! Will be there at 1pm! #SGU

mqs1701: So excited for #SGU screening at Planet Hollywood. Too bad I don't have a uniform to wear. Don't think a #startrek one would be appropriate.

JGLenic: @MsMingNa My brother, Michael is going to say hi to you at Planet Hollywood tomorrow for the #SGU premiere

NOTE: Please note all photos are copyright. Do not remove from site and post elsewhere. Feel free, however, to link to this livejournal post. Thanks.

--that's it!