Yes, more links on FedCon as folks get home, get their thoughts collected and write, or post pretty pictures of Joe Flanigan and David Hewlett…
Oh whoa, first video report from FEDCON and Joe Flanigan talks about taking the wrong train.
http://www.serieasten.tv/SERIEASTEN/SPECIAL/Eintrage/2010/5/10_FedCon_2010.html " and David Hewlett at autograph table, and interviewed too. He's got nice running shoes. They're in the beginning of this professionally-made video and at the end of it as well.
Here are some screencaps: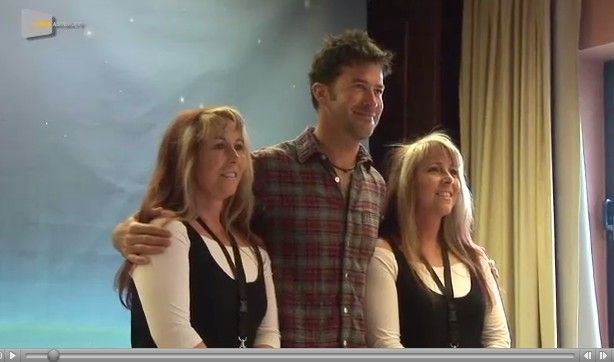 Joe Flanigan and two very lucky fans :)

**********************************

>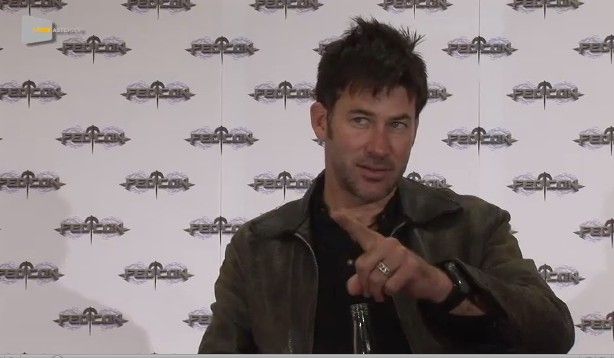 Joe talks about fast French train, but late German trains and how he got off one stop too late, thus, he was late for the convention.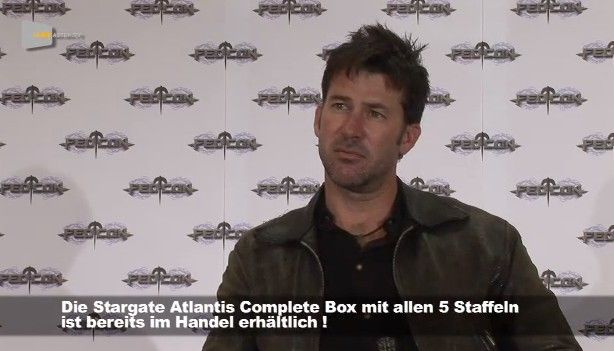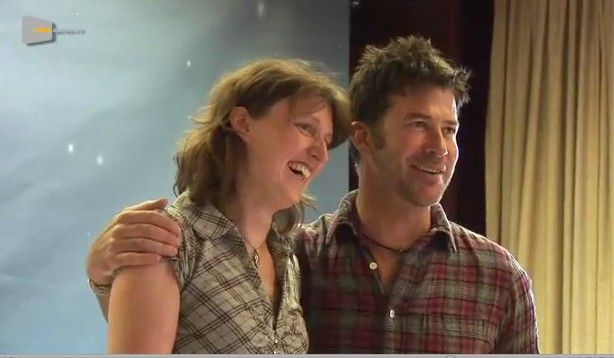 Lucky fan posting with Joe.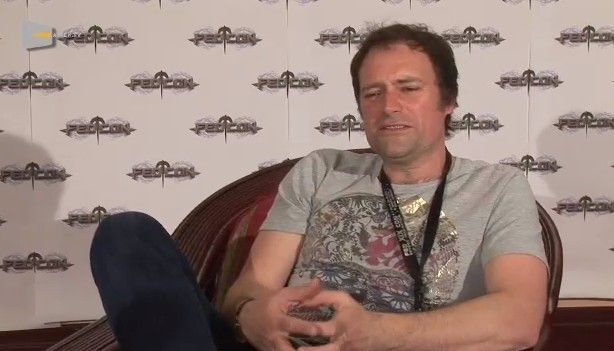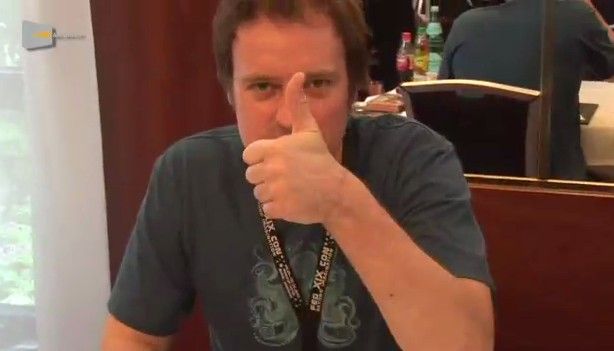 David gives the camera a thumbs-up.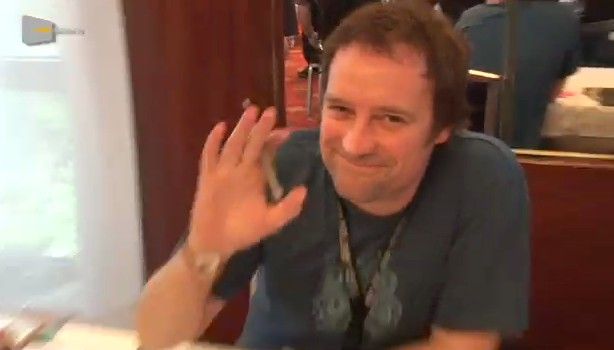 David shows off the running shoes that he tweeted about.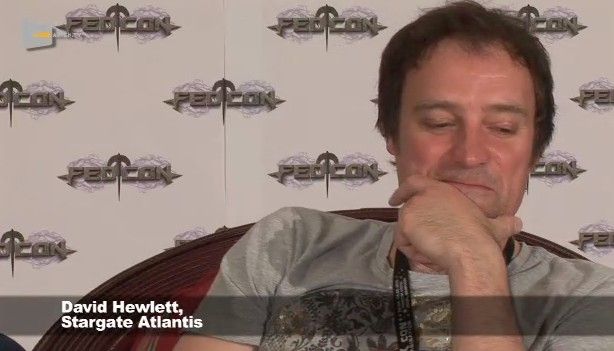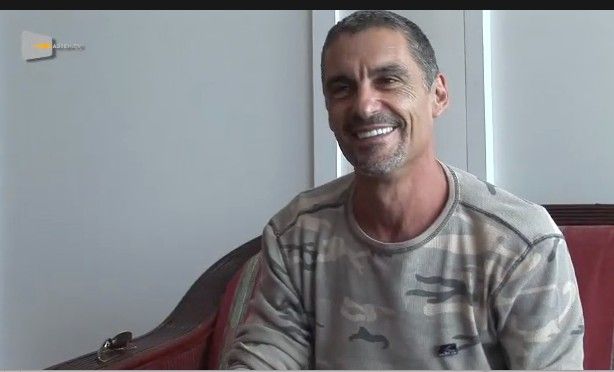 Cliff Simon talks about the joys of being a villain.
More Livejournal entries:
http://tuawahine.livejournal.com/48052.html
FedCon XIX, Bonn, 30 April - 2 May 2010
Joe & David Photo Session
Since we didn't really have anything better to do, we decided to start the queue for the Joe & David photo session (three hours before it was due to begin!). No kidding, we sat there for about ten minutes at most before other people started queuing behind us and lavvyan as first in line was given a sign saying "Joe & David". By the time the session actually started, the queue was enormous. Apaprently over 600 people were in it.
I still haven't quite forgiven myself for how completely headless I was when it was my time. David was nice as always and made a point to make eye contact, which completely distracted me from Joe. He asked "How are you?" and I think I managed an "All right." before it was all over already. I was so out of it, I never even noticed that David had his hand on my shoulder until I saw the photograph the next day. *headdesk*
http://iolandasblog.livejournal.com/34522.html
Fedcon Part 1
Whole bunch of photos of David, etc.
PHOTOS
http://www.igiworld.ch/default.asp?id=244&cat=0&entry=42&lang=1&move=1


http://gallery.me.com/cwissemann#100098


http://www.flickr.com/photos/49915338@N05/sets/72157623881785171/

http://pics.livejournal.com/qfemale/gallery/000pph5k
TWITTER
Here are some more tweets, many with links.
dhewlett: Thank you fabulous #Fedcon! What impeccable taste you have ;-) http://bit.ly/d26pzB
ElaineF11: @1968McKay42 I am so completely overcome w/ squee & jealousy seeing the pics of Joe and David at Fedcon- lol at pic of Joe "David-driving"
serieasten_news: Serieastisches: FedCon: Galerie online, Special bei Serieasten.TV: Caprica City Bewegte Bilder von der Convention ... http://bit.ly/bRVgJp
serieasten_news: @sfportal You're welcomed! Our FedCon-Report is online too! http://www.serieasten.tv/SERIEASTEN/SPECIAL/Eintrage/2010/5/10_FedCon_2010.html
LeeFromJapan: thanks to ppl who are sharing pics from #FedCon! checking my fav actors pics out is very enjoiable. DavidHewlett seems skinnier than McKay.
Sammy9578: Reportage FedCon 2010 - A really long and interesting video of FedCon 2010 with interviews and pictures of... http://tumblr.com/x8t9povdw
@BrigitteFedCon: Joe Flanigan at FedCon XIX http://www.facebook.com/FedCon#!/photo.php?pid=4645630&id=164974985722
jamie_marsters: Twitter | James Marsters #FedCon XIX Twitter Pics: #JamesMarsters #JoeFlanigan #DavidHewlett #TahmohPeniketthttp://bit.ly/cJUYkX
starstuff2282: Some of my #FedCon photos are published here as well http://bit.ly/cjN44A #DavidHewlett #JoeFlanigan #SGA #StarTrek [NICE COLLECTION]
MajorBerry: #JoeFlanigan DVD with Joe and David from FedCon 2010!!! For all the info go to: http://patk.livejournal.com/39806.html PLEASE email them!
SandraDegen: Joe Flanigan and David Hewlett And yes, I've had a lousy seat. http://twitpic.com/1m5ejx



Fedcon Links #4: Video, screencaps, photos, blog entries
http://wraithfodder.livejournal.com/421836.html
Fedcon Links #3: Photos, videos
http://wraithfodder.livejournal.com/419953.html
Fedcon Links #2: Blogs, Livejournals
http://wraithfodder.livejournal.com/419825.html
Fedcon Links #1: Tweets
http://wraithfodder.livejournal.com/419571.html