May 28-31, but folks are getting in on Wednesday now to relax.. Let's see what I remember! Talky travelogue with accompanying photos below.
WEDNESDAY
Let's see, as usual, left around 2:30 a.m. for the 14+ hour drive. Which meant we really got off at 3:00 a.m. (as usual) cuz we had to stop at Dunkin Donuts. (Oh yes, there's a story that later on.) The trip was pretty uneventful. See the nice open highway at night?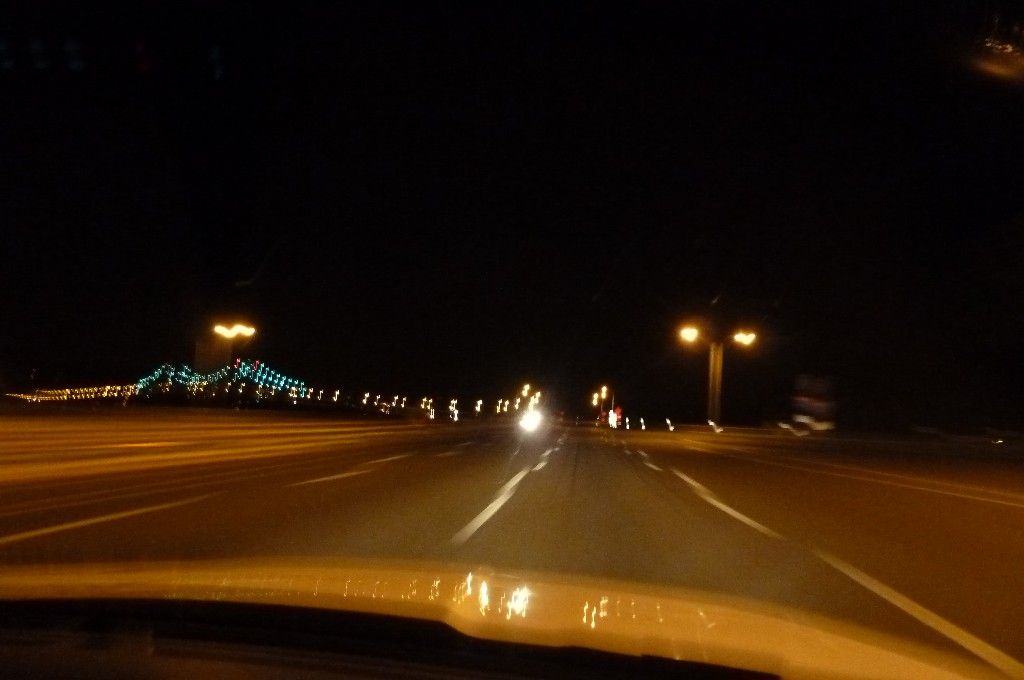 Nice squiggly lights.
Nice weather, good food (we stopped at our regular Snow Shoe Restaurant, exit 147 on Route 80). Here's my breakfast, which was, um, a LOT, but I only do this once a year so…Here are some photos.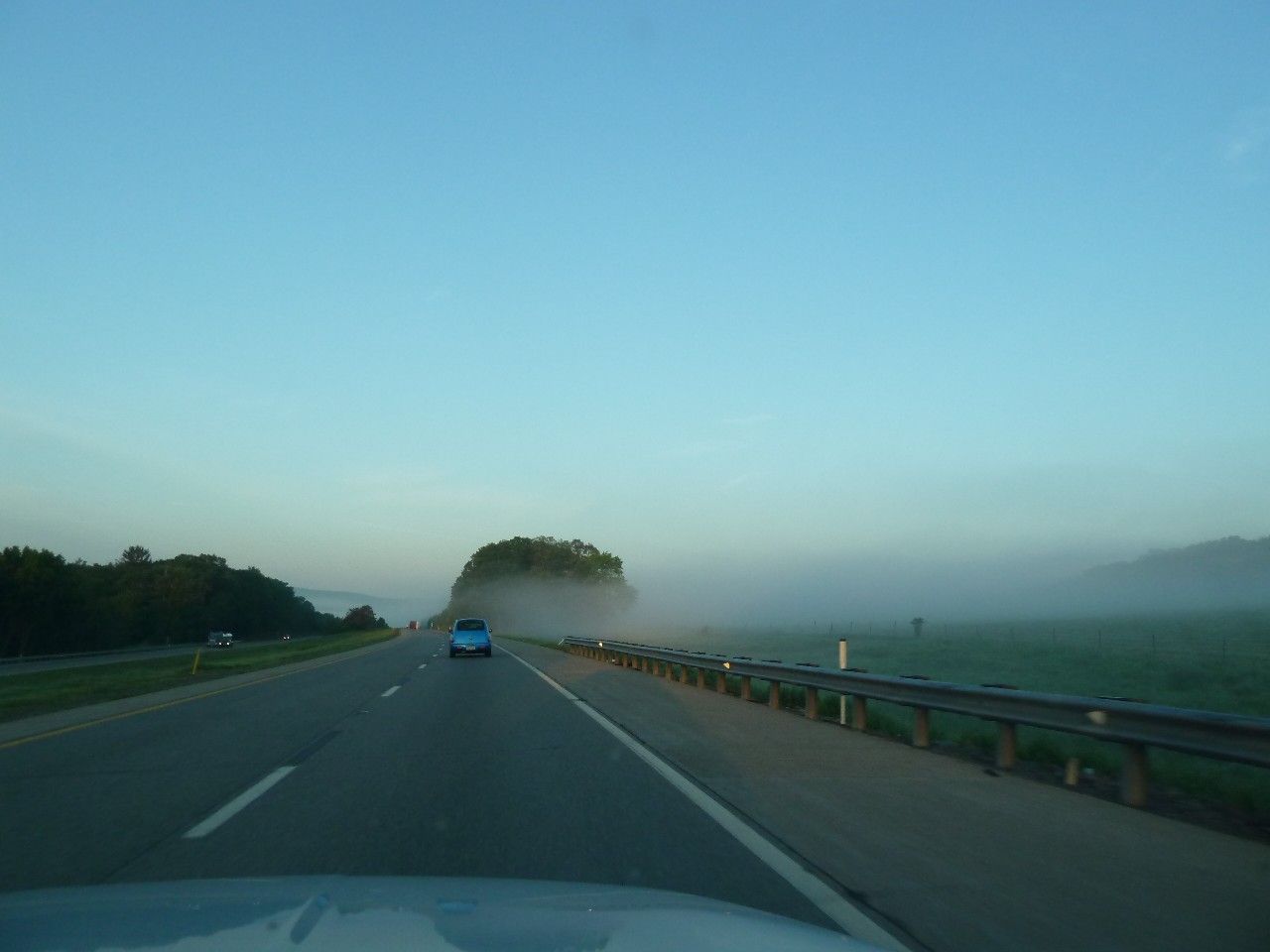 Fog on road in morning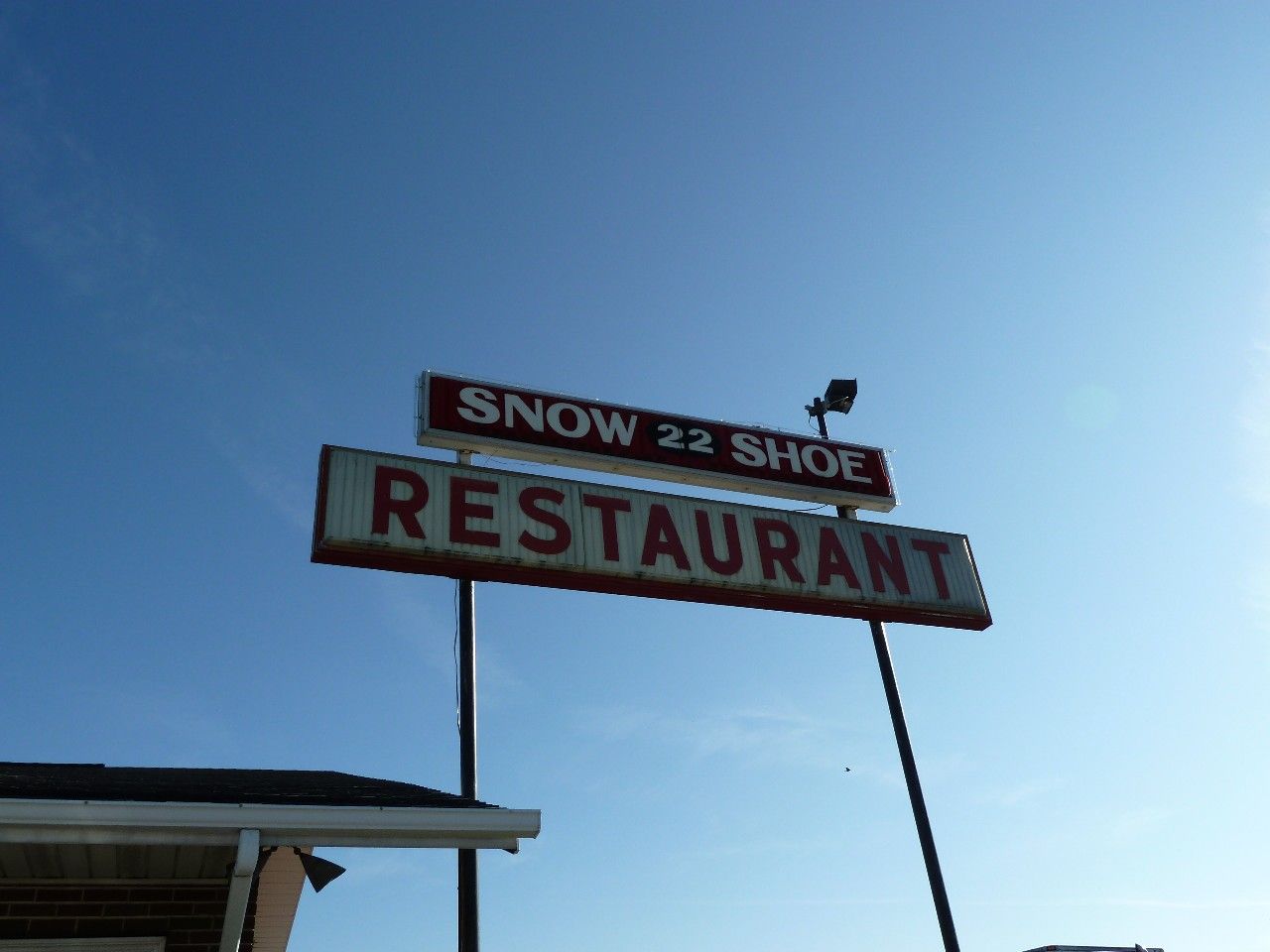 Snow Shoe Restaurant in PA - our breakfast mecca!
Breakfast. Yum! I don't want to know the calories…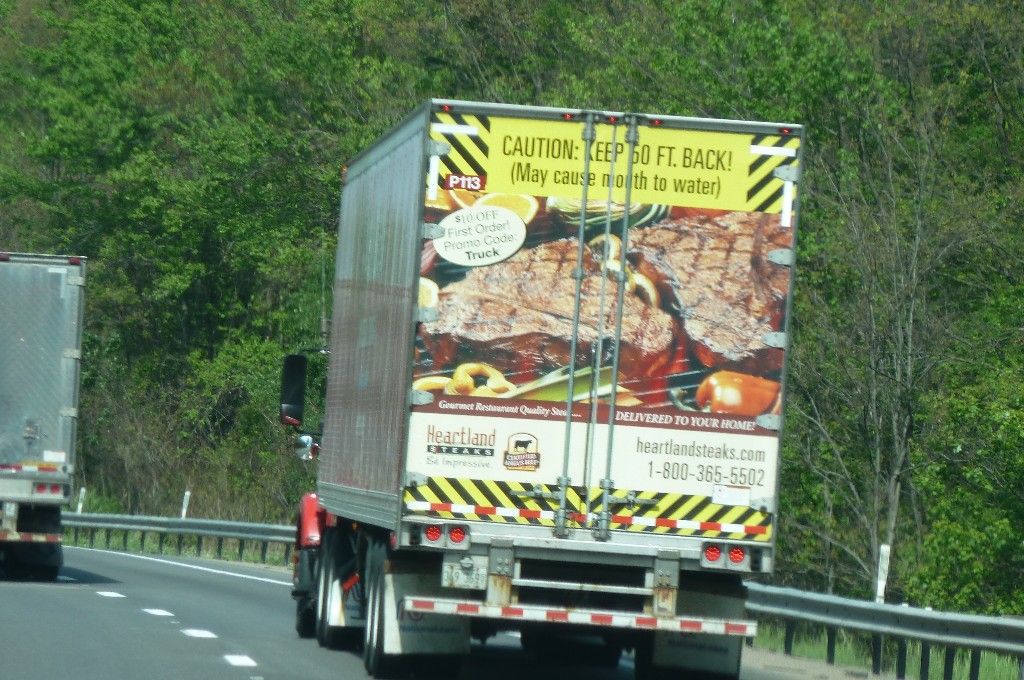 I loved the back of the truck.

Nice Ohio clouds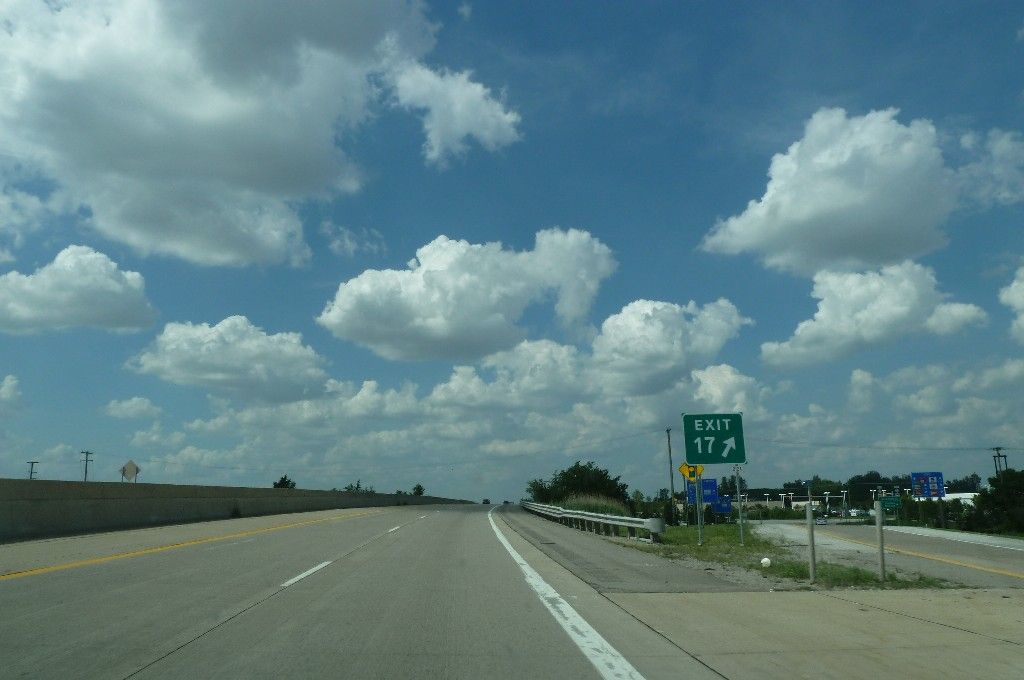 More nice Ohio clouds. Yes, I like clouds.
Oh, and I found this cute shot glass at a rest stop in Ohio on the turnpike. Like an idiot, I should have gotten TWO – as when I showed it to a friend at the con she really wanted one (Sorry, Martha!). Alas, I cannot locate any online. Bummer, so if anybody is taking a trip on the Ohio turnpike and sees one (hint hint hint, yes, I'll pay the $4.99+tax+postage)…
And after gambling my way throughout the trip – won $2 on lotto, spent it on more, lost it. I think in total I lost $2, okay maybe $3, we arrived and look, on Wednesday, they're already expecting us!
However, the hotel is still under renovation. They're working from the top down. Apparently the 4th and 5th floors required mold remediation, which is now done, and they had a pesky fire (all fixed). I truly hope that when the con comes around next year, ALL the floors will be open.
We joked that someone was trying to escape without paying, but this is how they dump stuff out during construction. It was closed up later that day for the duration of the convention.
Of course if the roadtrip was uneventful (except for the tractor trailer rig which suddenly cut into our lane – and boy, those ABS brakes on the rental Ford Taurus Limited Edition car with sunroof (ha!) and 6-CD player really worked), you know there's gotta be a hitch. We found that out when we checked in. Many months ago we contacted the hotel to verify the rooms we would be in. We've been doing that ever since we moved to this hotel. We always get the same two rooms. Well, apparently we got booted from our rooms, which did not make us happy campers. Someone else from the convention (apparently, supposedly, never did find out) took our rooms. Geez, this reminds me of the nits who took the party suite last year and refused to give it up. Heck, even the hotel staff remembered THEM. So, we managed to wrangle rooms nearby and closer elevators, which we need as we run programming and are constantly up and down.
I'll have to say that yes, they are renovating the hotel and the courtyard, which last year looked like Beirut after a bombing, was gorgeous. The pond had Koi fish in it but I could never get a decent shot due to sun reflection.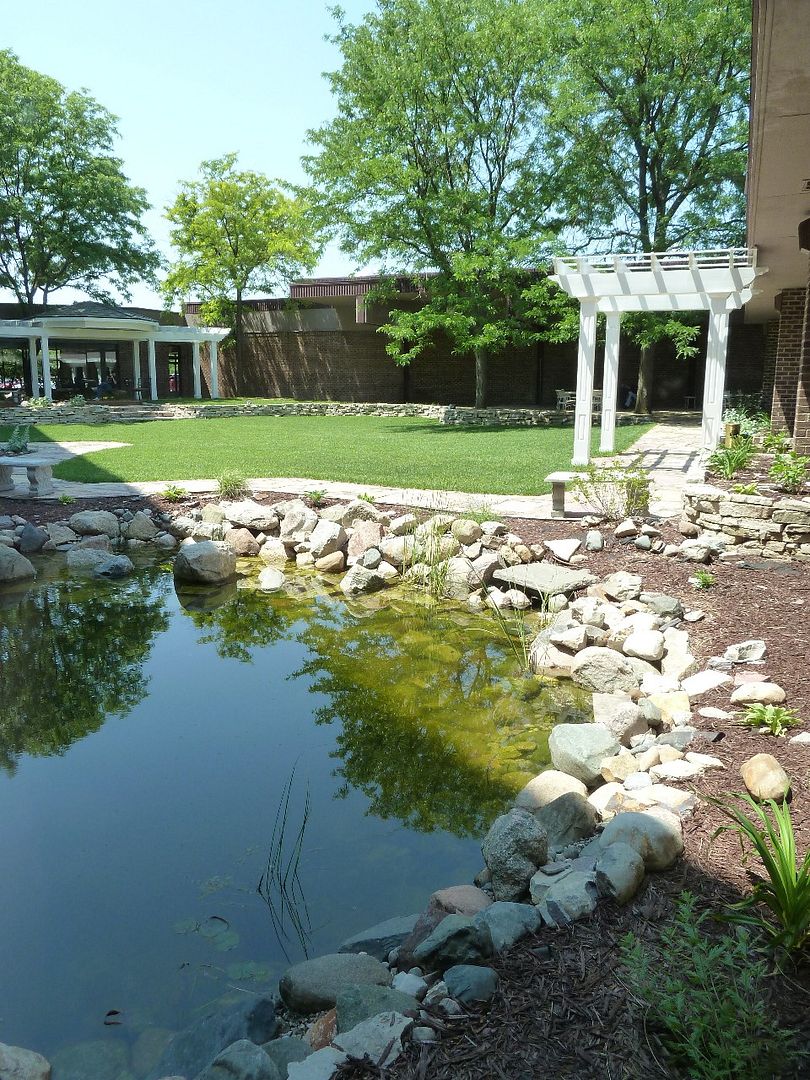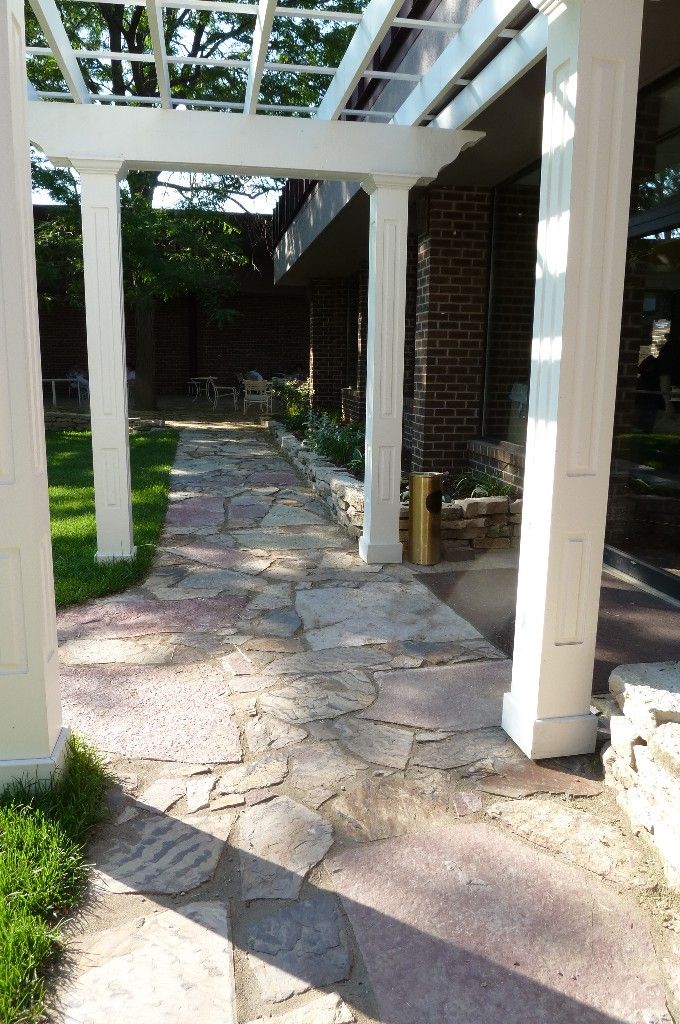 Unfortunate statues, some of whom lost their heads. Ouch.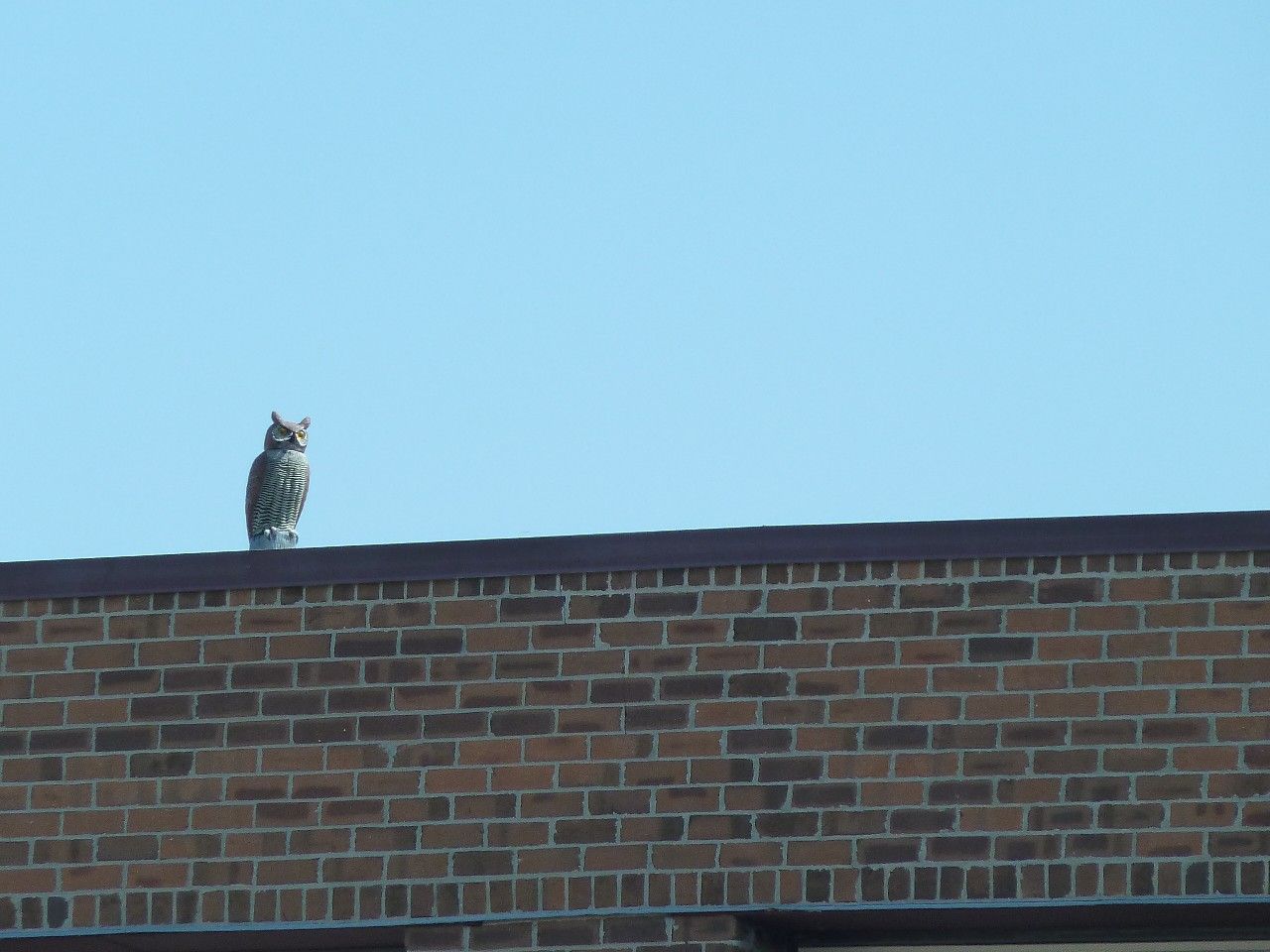 Owl on roof, taken with 14x zoom, which worked very nicely.
You compare these pictures to last year's photos at: http://wraithfodder.livejournal.com/344781.html and oh, I did a 2008 report too! http://wraithfodder.livejournal.com/198743.html and the year I had to fly, 2007 - http://wraithfodder.livejournal.com/63117.html.
However, it never fails that new hotels have noxious new hotel smells. In checking the room over, which had nice new beds, new dark stained furniture, and whoa, flat screen TVs, I determined that the new dark furniture was toxic to the nose. I opened a drawer and determined I would live out of my suitcase. But the smell. Gah. No one else seemed too bothered by it though.
We (my friend Dawn and I ) met up with Martha and Peggie (geez, see, memory going already!) and did dinner over at Flapjacks. Then we did Meijers. We always do Meijers, but since we had to do in the a.m. when Linda came in, I looked at clothing and then got a fan. The selection was meager as the temps outside were near 90 and everybody had the same idea. I settled on a black Honeywell Oscillating High Velocity Air Circulator Table Fan (model HFT-114B) which, although not pretty, worked great! It oscillated, has three settings and helped push the noxious fumes out the window. And, I needed a fan at home anyway. So, I recommend it. Plus it was $5 cheaper there than when I found it here at home.
But back to the con.
I have no idea what we did the rest of the night. I think Oh, wait. Martha supplied me with some liquid refreshment, and I brought homemade (okay, it's Duncan Hines but it's the though that counts!) cake with me.
A healthy diet. Urp, hic.
Oh, at around midnight, the phone rings. The phone across the room. You see, there was no phone by the bed, and we discovered later, no jack for a phone. Someone goofed! Anyway, it was Connie, whom we were not sure if she was rooming with us or not, but she was. Which is good, cuz she buys LOTS of fanzines. I can just paw through her collection, heh heh.
Oh, here's the newly renovated fifth floor.

Sorta thirties art deco?
------------------------------------------------------------------------------------------------------
THURSDAY
Oh, and the business center of the hotel was under renovation, so the computers and brown comfy couches were lining the corridor area between the lobby and atrium. They should leave it that way. It was great!
This set a pattern. No matter when I went to sleep, I woke up around 6:00 a.m. I'm programmed for work. Blech. But oh yeah, had procured milk at Meijers and brought along cereal from home (must remember NOT to pack so much food – brought some home!). However, a bunch of us did do breakfast – Flapjacks I'm pretty sure – then went back to Meijer's, where I stocked up on sandwich fixings. Oh yes, while going into Meijers, I noticed someone had locked some animals in the car. The heat of the day had done them in. The horrors. See the photographic evidence below!

Heh, fooled ya! Poor little stuffed Tweetys… but seriously, never leave pets in a car!
When we came back to room, we discovered the maid had made the beds. We normally don't bother we that, as we're clean and my roomies are from Nebraska and California, and thus, sleep in LATE. But I couldn't help taking this photo.

Who needs a mint on pillow when you can get an octopus? Cute! Forgot I'd left the stuffed cephalopod on the bed.

One roomie's bed. She's a big Paul McGillion fan!

Our room. Pretty neat, considering how packed it's been in previous years.
I recall doing lunch in the room, and the day was spent roaming around the hotel, running into friends we only get to meet face-to-face once a year. Oh yes, started work on my door decoration. 9 times out of 10, I'll have photos prepared, but the dialogue, etc is added either somewhere in the car in Ohio, or when I get to the con. I was a little late this year, but that was okay.
Dinner was at Steak-n-Shake down the road, a nice burger joint of sorts. One thing we have noticed is that many restaurants – and Michigan is no exception – have cut back on their menu fare. That way they can survive better in these bad times.
We then wandered over to Target where I got a replacement chillpad for my laptop.
Upon coming back, we found out Dawn was getting evicted from her room. More hotel travails. Apparently the room next to hers was an adjoining room, and that woman had booked both rooms, but not under same name (which is what you should do if you want both rooms). Anyway, nothing we could do so Dawn ended up down the hall near the party suite. But the room was fine so no real problem.
And I got my door decoration up!

Stargate Atlantis Action Figure Theater - I'll have to do another journal entry with closeups.

More on next journal entry!