LOTS today!!

but first, a photo by Joe Flanigan, edited by me (*cough cough*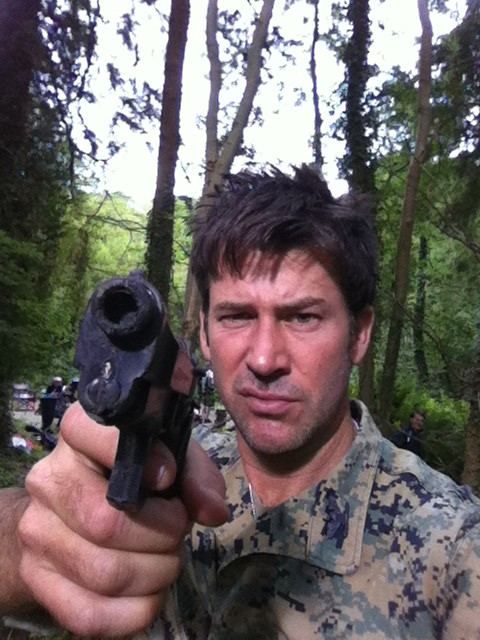 Today's tweets,. A motherlode!!
@Joeflanigan
JoeFlanigan: For all those leprechaun-loving non-drinker types: go play with your Lucky Charms! yfrog.com/jbloej (note, yfrog might trigger a virus alert due to cookies) (Aug 5) (that's the photo above, minus text)
JoeFlanigan: Another good day on set with Irish Director Billy O'Brien and English producer Adrian Sturges. Why does everything look like Canada? (Aug 5)
@Chrissymacc
August 5
@beckylee09 Gotta give the fans what they want you Hound xxx ·
I mention that I'm shooting a movie with Joe Flanigan and suddenly my followers shoot up. I under-estimated the power of that man!!
My boy @Topomanyare is doing a bit better with the twit pics than i am!! ·
Everybody should follow the fabulous @dagmarvellous who also stars in "The Otherside" ·
@dagmarvellous Absolutely! such a long day. But i'm off tomorrow so sleeep :) x ·
That's a wrap on Day 3. yaaawn. Much needed day off tomorrow then back in Saturday for all kinds of Monster fun! HOORAH!
@Topomanyare

August 5
is going to hit the hay...big day tomorrow...Let's make it happen ·
@thekristen999 We are having such a blast man its great...more to come ·
@lisawest99 I shall indeed do my utmost and make you guys proud of both Joe and ourselves ·
@dagmarvellous Neither can I..been thinking about it for some time now...hope you bring breath mints lol ·
@alavitka ah he loves his stogies ·
@dagmarvellous get ready for some kissy time lol ·
@Dody39 Hey anytime, nice to give back to the fans ·
@ShirtnTie I think I might be seeing him this weekend man, not sure yet but we'll see ·
@Chrissymacc haha..dude I'm only figuring this stuff out now man lol ·
@ShirtnTie Trust me we are..he is wonderful man. Love the guy to death ·
@JoeFlanigan These leprechauns are ready to do battle with you for that pint...How far are you willing to go? ·
@PegasusAngel That massive crater in front of him lol ·
@PegasusAngel Ye we hope so...we're working pretty hard on it ·
: @FlanInfo Ah it was great fun...loved every moment in it ·
@scarletsquiggle Can't give it away but you'll see them soon ·
@scarletsquiggle Me too lol ·
@lisawest99 Anytime guys cheers for following me ·
@PegasusAngel haha , I loved been in there, probably me getting in the zone #TheOtherSide · Reply · RT
@ShirtnTie Ah thank you man, really appreciate that..trying to do my best and I'm glad I'm doing my job properly ·
@lolo_ray cheers dude x x will do boom and it'll be going up on the site x ·
@PegasusAngel It was cool but great fun #JoeFlanigan #TheOtherSide ·
@lolo_ray a new movie I'm doing called "The Other Side"..it's some crack hun x ·
@lolo_ray yes please hun x x will get more for you x yfrog.com/6957gj · [Yare in survival wrap]
@Chrissymacc twitpic.com/2bx0ug - Love it man...waiting for a few more off the guys..didn't get any today :( · [actor and crew member]
twitpic.com/2bwulp · [Joe Flaigan and other cast members in woods]
twitpic.com/2bwui6 ·· [Joe Flaigan and other cast members in woods]
twitpic.com/2bwsj4 · · [Joe Flaigan and other cast members in woods]
twitpic.com/2bwtzk · [Yare, is that you?, in pit]
twitpic.com/2bwrxi · [Yare, is that you?, in pit]
twitpic.com/2bwqws · [Yare, is that you?, in pit]
twitpic.com/2bwpgh · [Joe, in pit with actor + crew]
twitpic.com/2bwp50 · [Yare in pit, oops, mud]
twitpic.com/2bwoeo · [Crew members watch as Joe Flanigan & Yare go over script pages]
twitpic.com/2bwnq0 ·[Crew members watch as Joe Flanigan & Yare go over script pages]
twitpic.com/2bwngy · (closer shot of Joe and Yare and script sides, and oh, look, Irish moss peat!!]
twitpic.com/2bwnai · [Crew members and Yare and boom mike]
twitpic.com/2bwmyp [Crew members and Yare and boom mike]

Mucho big thanks, of course, to all the cast and crew who graciously tweet and twitpic for us fans! :)