Due to cost, other stuff, etc., we only did Saturday, which of course, was the MOST crowded day of the entire con. In fact, I found out on Friday that it was sold out, so I thought, okay, I can sell that extra Saturday ticket I have with no problem.

Got up at 5:30 a.m, left house half hour later and then we hit Dunkin Donuts for breakfast, got the train and were into Grand Central by 8:30ish or so. We knew Comic Con was in full force as when we came out of ladies room, there was a guy in a black Halo/military garb. Plus we saw a young woman in white hoodie with duck on the head, which was part of the anime crowd, since Reed was combining Comic Con and the Anime Festival into one big ginormous event.

Outside, we caught the complimentary NY Comic Con (NYCC) bus, so that meant, no taking subway, then bus, or bus then walk, or walk, etc. etc. For us out-of-towners, it's a blessing, plus for anyone in costume, it saves them getting caught in a turnstile or something.

Got there um, er, 9:00 a.m. The place was jammed. We found someone in a yellow shirt who said if we had our passes (we did) to get into the huge line down below. We went down there, then I decided to escape and go back up to try to hawk my other ticket. Contrary to the NY Daily News article I read yesterday, there were NOT people desperate to buy tickets, at least not Saturday a.m.. I was ready to give up after half an hour of standing there with sign "Saturday ticket for sale" when a guy came up to me inquiring about it. I sold him it for the price I paid (no scalping). Very polite anime fan who then changed into a Third Assassin costume which was very well-received once we got back into the HUGE line funneling back into the con.

At one point as line was funneling, I saw this guy/gal? In an orange wolf-type costume (ah, so snapped a shot there, and I'm glad I did because I never saw this dayglo critter again. THAT's how packed the con was (I found out today 96,000 people attended over the weekend).

After that, it's a blur. I had gone onto the NYCC site earlier that week to check out anything I might be interested in dealer-wise, so had specific tables I wanted to hit. Oddly enough, after HOURS – literally HOURS – of walking around, I never found the table with the $10 Fringe and/or V bags. I survived not getting one, but would have been ticked if they'd had Big Bang Theory bags (as they did in San Diego).

So, just bullet-points now.


Never saw the orange anime wolf critter again. However, did see Jesus (a guy dressed up as Jesus, seriously) down in the Anime section toward end of the day.
Saw lots of pink hair. They decided to combine Comic Con and the Anime Festival into one big blow-up, which is probably why the place was so friggin packed. However, for all the people, everybody was pretty polite. You bump someone, they bump you, you nearly always got a "sorry'. There were a few that just hit and run, and then there were the teenagers who decided to sit down, in the middle of an 'intersection'. Not a very bright thing to do.

Unlike the San Diego Comic Con, no fan stabbed another fan with a pen in a squabble over a seat.

The food court at the bottom across from the IGN theater was vastly improved from the con before. However, a simple dish of overcooked 'Chinese' food knocks you back $10. Luckily, I brought my own large water bottle in backpack.
Actor-wise, I narrowed myself down to Stephen Lang (Avatar) and Adrien Brody (Splice, well, Predator was what they were advertising), Noah Wyle for "Falling Skies", Chris Judge (Stargate SG-1) and Alaina Huffman (Stargate Universe). So being Comic Con, of course stuff that was listed on the website changed in time, so I did Stephen Lang first. I figured that might take the longest and once up there, said hi, etc., got an autographed photo for free (he seems to be a nice guy and I could have sworn his accent went a bit Southern for a moment) and pictures with a bunch of Avatar blue ladies (next year, we need Avatar GUYS for the ladies), then I went over to Alaina

Huffman's autograph session. She wasn't there. There was a line, but as time went on, the people sighed, grumbled and left. Odd thing is that the first people in line saw her go past about ten minutes before the session was to begin, then nada. So, I waited, chatted with some fans who weren't there for Alaina but got there early for Milo Ventimiglia (Heroes, and now he's doing comics as well). Alaina never showed, the NYCC staff/volunteers whatever just sorta shrugged their shoulders. Sigh. I found out after I got home that they'd stuck her in another line, she'd lost her phone. Sigh. Really, come on NYCC, you guys made the lines. Go tell the people waiting in line in vain where the real line is. Gah!!! Big FAIL, as they'd say on Twitter.
Anyway, I figured I'd stick around and see Milo, only to discover that you had to have a ticket that was given out at Top Cow panel earlier in day. Well, geez, there was no indication of that anywhere on the signs, but I sorta whined (nicely) that could I just say hi to Milo, no photo or autograph, and they said okay, so I was first in line for him. And I suspect when I did run up, said hi, that I liked his work, didn't want anything as I had no idea there was a ticket involved, etc., that I left him a bit confused. (However, while at Alaina's none-session, I'll point out that her table was next to James Marsters, so I got to look at him for half an hour). After seeing Milo, I went down the line and found Chris Judge. Alas, it wasn't in my budget for $40 to autograph, but I walked up and said hi, but he was going off for a photo session.
Oh well. I then went over to the main room – the huge crowded this-is-what-it-must-be-like-to-be-in-a-cattle-herd – to check out the "Falling Skies" session at Dark Horse and even though Noah Wyle and others were slated till 4pm, the line had begun! So, I sighed and got into it. Best thing about lines is talkling with other fans. At one point a woman tried to jump the line, she was spotted and summarily ejected by the line monitor who came down to make us all get into single file. The thing with NYCC lines at booths is that there are only so many people who can be on that line, so her cutting in would have cut someone else out. Tsk tsk. There were five folk at the "Falling Skies" session, and there were no name tags or anything, and as I got closer to the front, I noticed the folks just signing and signing and fans generally talked to the two actors (Noah and Moonglow, er, um, darn, Moon and blood are in her name). So when I got to the first guy, he starts signing and I go "who are you?" and he explained who he was (forgot name already!) but he wrote the comic and the guy next to him, also wrote the comic. The first guy had his name written on his badge across a strip of masking tape. The other guy did not. We all agreed the badges should have room for people to write names. The third guy, who I also asked 'who are you?' turned out to be the producer! Fun guy to chat to. This was his 30th(!) Comic Con. He's done the San Diego ones since day one. Then I moved onto the actress, and since I did not know her, chatted about Toronto, where the show is being filmed. I asked if they'd filmed at Casa Loma (she didn't know and suggested I ask Noah) and then I asked if she'd seen Niagara Falls (No, but they plan to before they leave). I said if they're there in the winter (she hopes NOT!) to see the Falls – chunks of ice the size of trucks go over it!) But did suggest she see it at night as it's all lit up.

Next was Noah, who is a great guy. I said I'd watched him in "ER" since it began and he said I wasn't old enough for that (yeah, sure, but I like the flattery) ;) And yes, they did film at Casa Loma – we chatted about the tunnel – hope they filmed in that. I said at least he'll make it through the series, being the lead, and he said his son said the same thing. And if he did die, they could always clone him. He said year six, I thought year five. WE shall see ;) Can't recall what else I said except I was happy to see him in another series, and a scifi one at that!
I think after that I decided to actually finish the rest of the dealer's room. It takes HOURS to go through it, and I was probably half a dozen tables short of finishing it but I was in the anime section which was packed beyond belief, and I was like "flee! Gotta flee!" I just needed to get somewhere not so packed.
Somewhere in all this I went back, oh yeah, to the autograph area. I'd won some prize at the Intel booth. Alas, not a techie thing but a flashing pen. It's pretty. I'm okay with it. Maybe I can hypnotize the cat…
And then went back to the autograph section and spied Chris Judge pretty much by himself. AH, I thought, I'll just go down and say hi. NYCC line warden comes up and says ticket is needed but I said, I just want to say hi, no autograph, no picture, so was let through. Chris was nice about it, and we chatted about his projects – "The Saint" to film in New Orleans next year, and "Rage of Angels" starts up for Starz mid-year 2011. He's not on Twitter, doesn't plan to do so, and oh yes, he does text with Jace Hall, so maybe he'll do another short video for Jace

J

Anyway, he called me "Sweetie" when I left (gee, I can get used to him and Noah!)

Never did get Adrien Brody's autograph cuz his line was packed. However, did see him and that was okay.
Chatted with the folks at the Riese the Series table and glommed on to several buttons they handed out.
Oh yeah, the Fox booth was promoting Avatar, Predator, Aliens and they gave out these facehugger masks on a stick. They're tough to carry around unless you're holding on to them. I had mine latched to my backpack but somewhere in the crush, it got lost. Oh well.
Well, geez,…. Apparently Chris Meloni (L&O SVU) was spotted at con. Darn. Missed him! Found out via google today it was announced he'd be there on a twitter thing run for him. Oh, if they'd only used the #NYCC hashtag, I could have been running around like a squirrel trying to se ehim.
Overall, it was massive. With two conventions crammed into one space, it's no surprise it sold out. The sides (well, about two of them) had food carts. Real help if you never want to leave the area, which I'm sure some never did. They had some massage folks there and I went "yeah!" cuz I'd seen this at the Big E in Mass. and it's a godsend if your shoulders slump under weight of all the stuff you buy.

Tried to hook up with a fellow co-moderator from the Joe Flanigan Yahoo group, but technology conspired against us, with dead phone batteries etc, so we will meet next year. Maybe I'll wear something incredibly brilliant so I can be seen a mile away. Or maybe not…

Purchase-wise, I could have bought a ton if I'd brought the cash, but as usual, on a budget and I like to window-shop. Some stuff I would have bought had already sold out, like the cute little sharks. The Doctor Who table attracted me, but didn't have the Dalek keychain I was looking for. The adipose squeeze toy really was adorable, but the $40 tag made me shy away. However, my purchasing has a disturbing trend. I bought the devil bacon from the mistertoast.com table. It's cute. Then I bought the Jersey Devil plushie from the AngrydrunkGraphics.com table. It's sooo cute. It will go well with my stuffed octopus toy. Must keep it away from the dog…
I got Bubba, the Happy, of the Emotes! Collectible figure (www.emotes.com) . This little toy looks way too happy. He's cute.
Got "The Lonely Little Monster, a Worrywoo tale" book by Andi Green. It's a child's book, one to help kids with problems (loneliness, indecision, etc.) and it was the artwork and simplicity that drew me to it. (www.worrywoods.com)
Lastly, a crocodile keychain. You squeeze him and his eyes pop out! He reminds me of the dumb gators in the Pearls Before Swine comic series. Awwwww…

The con folk need to work on blending Comic Con and the Anime Festival into a more cohesive event. I have read a bunch of blog entries, tweets, etc. and some would prefer two different events, but many do agree that Saturday was definitely too crowded. The staff also need to know where their guests are. An "I don't know" doesn't reflect well on the show itself, but overall most volunteer staff were pretty helpful. And signage. Better signs! Utilize color folks, and figure out a way to better do autograph lines around booths in the main area.

Overall, had a GREAT time. Only way I could do all three days would be to stay. Commuting in each day would just kill me, I'm sure. It's fun, and next year I'll do a bag instead of backpack, as I was always taking the backpack off to put stuff in it, and I don't expect any big time purchases. I mean, I'm just buying cute little stuffed critters and toys. More things I don't need but they're there and I have cash… and oh yes, no more Hostess cupcakes. They don't do well in a packback. However, Snoballs are a definite. You can squash 'em and they bounce back.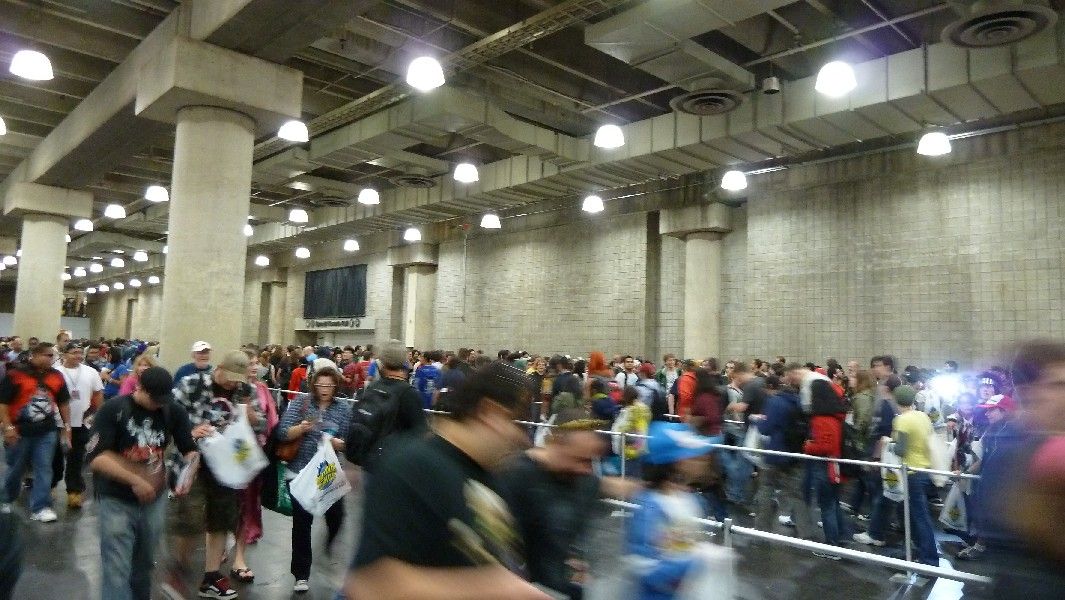 The cattle call lines to get in.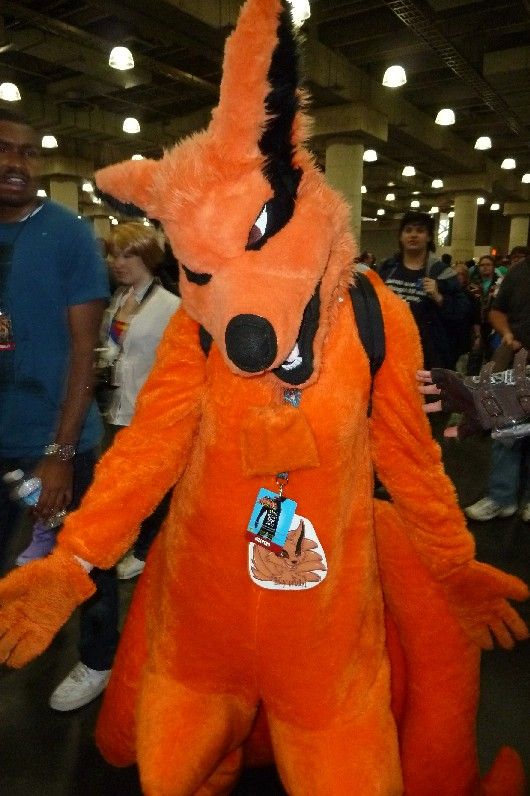 Kyuubi, anime character



The 'Third Assassin"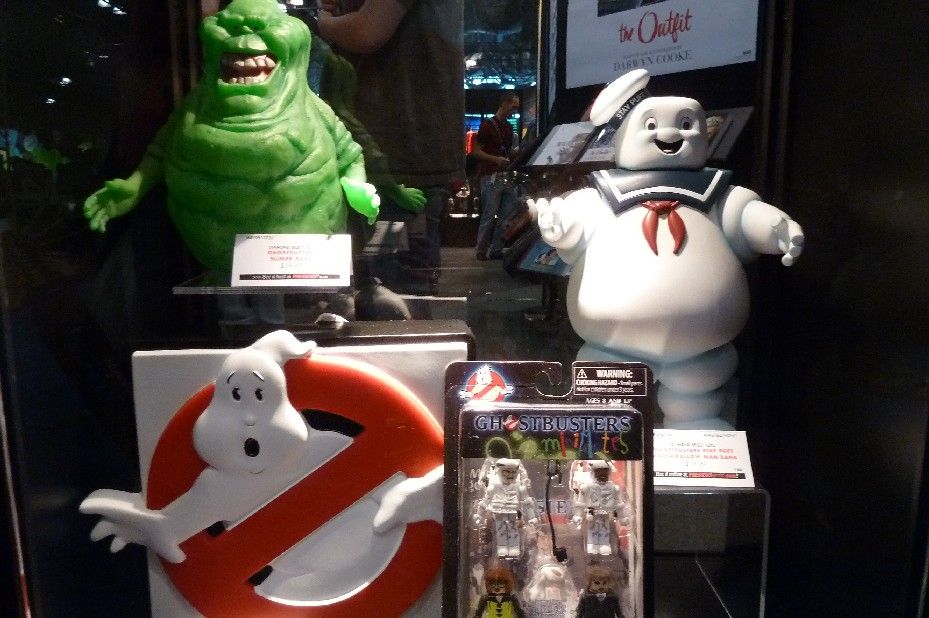 Ghostbusters display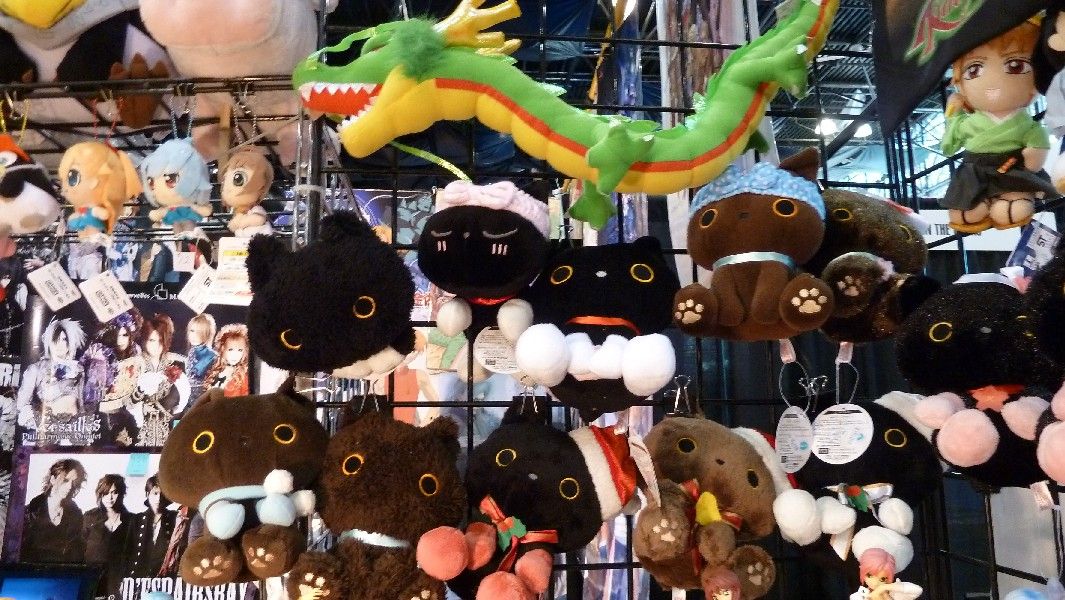 Anime fuzzies



Superheroes!



Cosplay outfit



The IGN theater. HUGE!!! To think it gets packed to the gills…



James Marsters. Not the best shot, but I was busy just gawking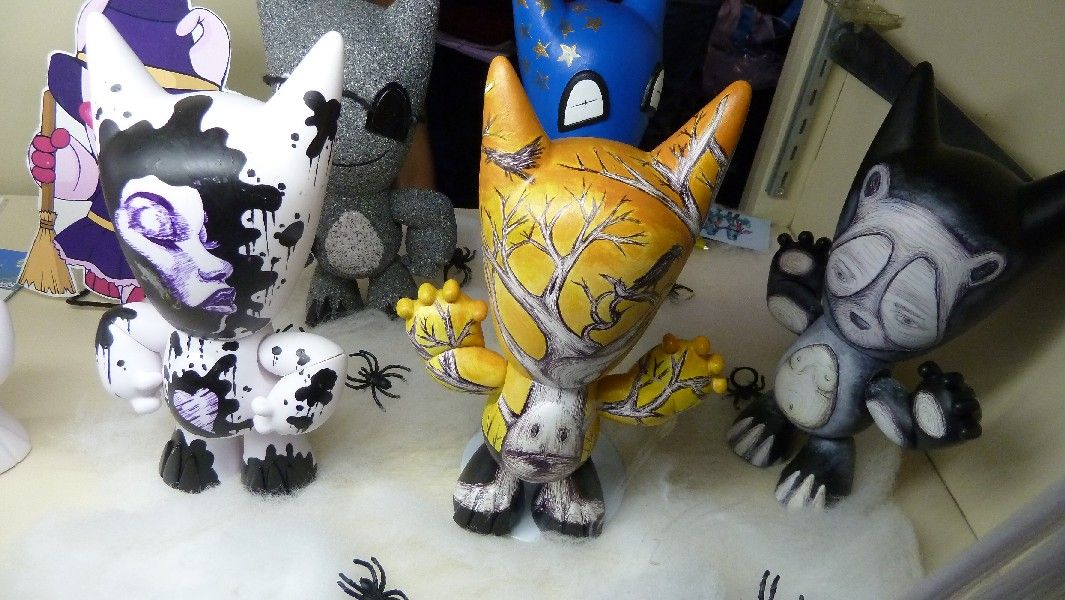 Critters



Domos. They're oddly adorable



The view from the floor. Now I know how my dog feels… oh, and those things in bottom right are my now-lost facehugger mask from "Aliens". Darn.



Noah Wyle, right before signing for "Falling Skies"



Great sculptures by honecksculpture.com



This is like Bugs Bunny on steroids ;)



I like. They're warped.



SOLD OUT! Okay, um, it wasn't until I got back home & looked at photo that I went, "oh, OH…." Not kid's toys, apparently!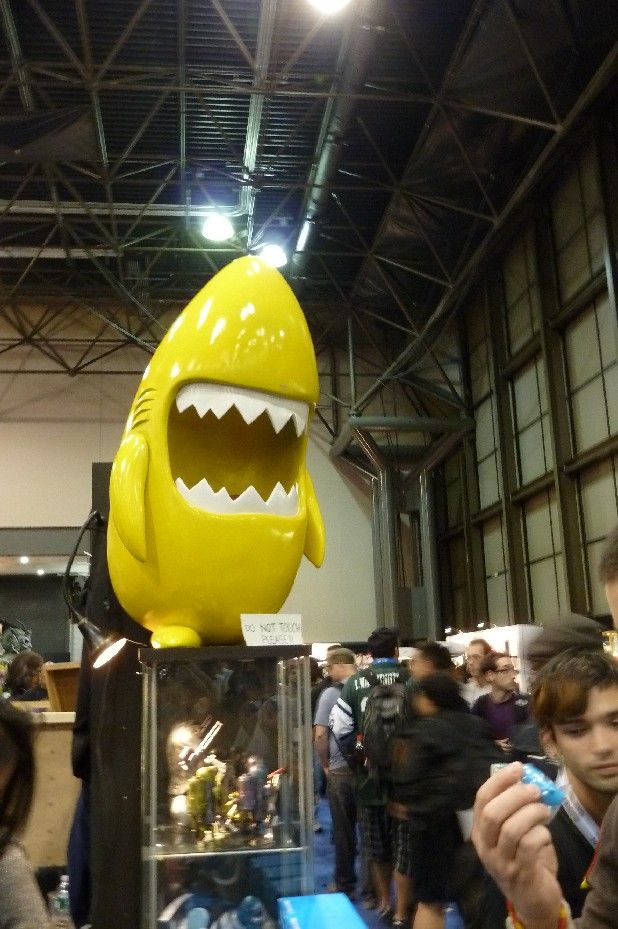 Landshark! Sharktopus would be jealous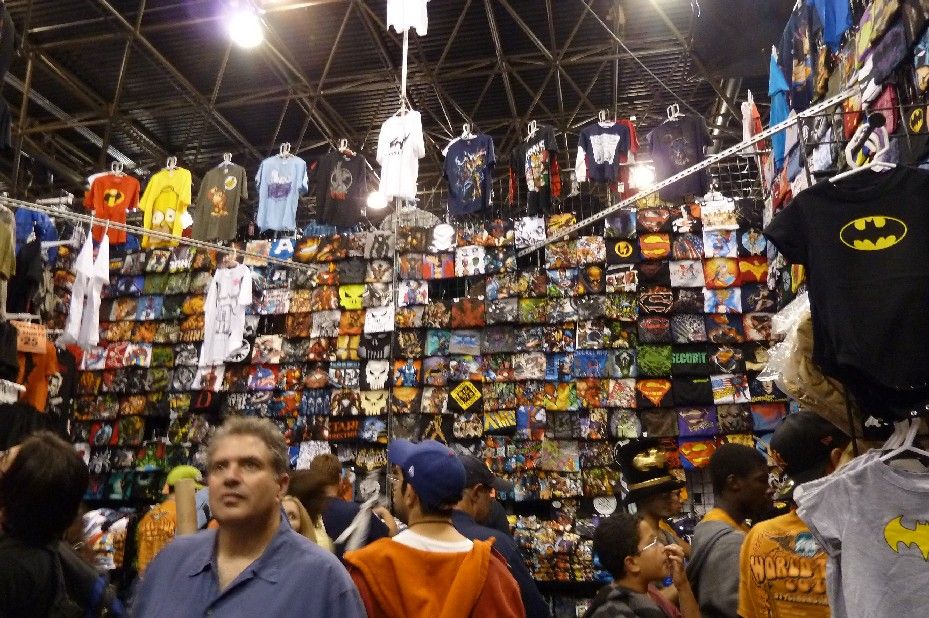 This is a MASSIVE 'room' of t-shirts. So friggin big that my mind just implodes and I run away to regroup.



Zats from Stargate SG-1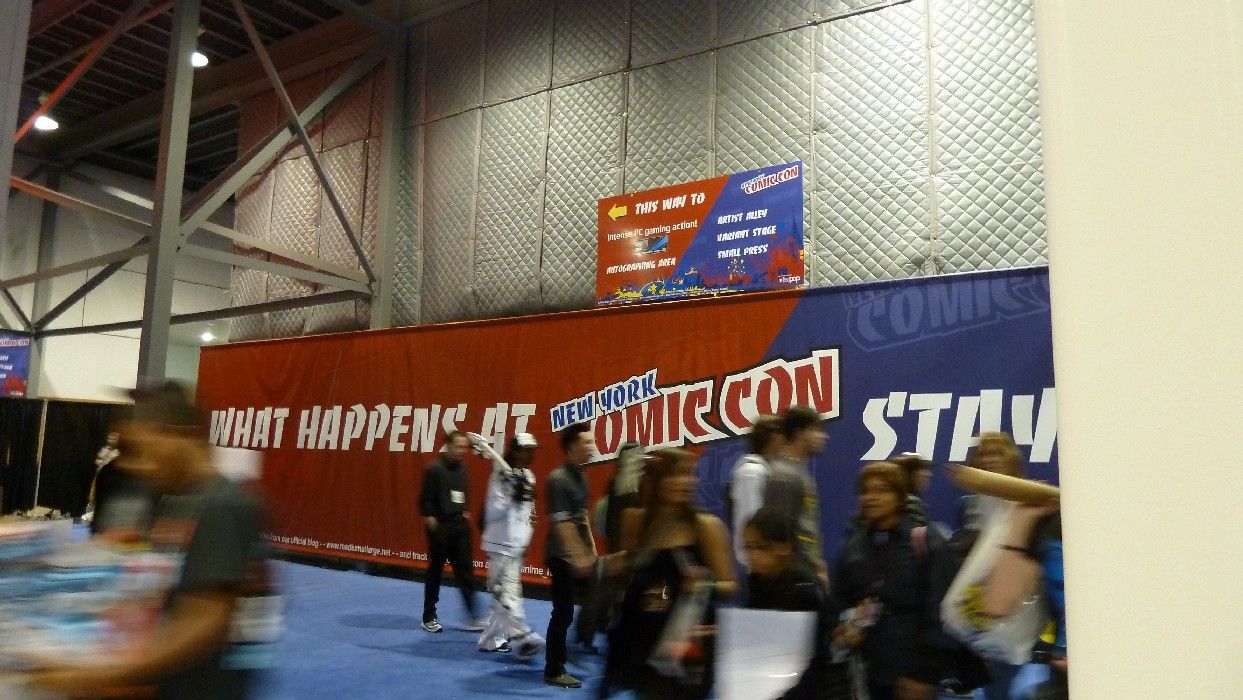 What happens at Comic Con stays at Comic Con. Oh, ha, with the internet, cellphones, twitter, and video streaming???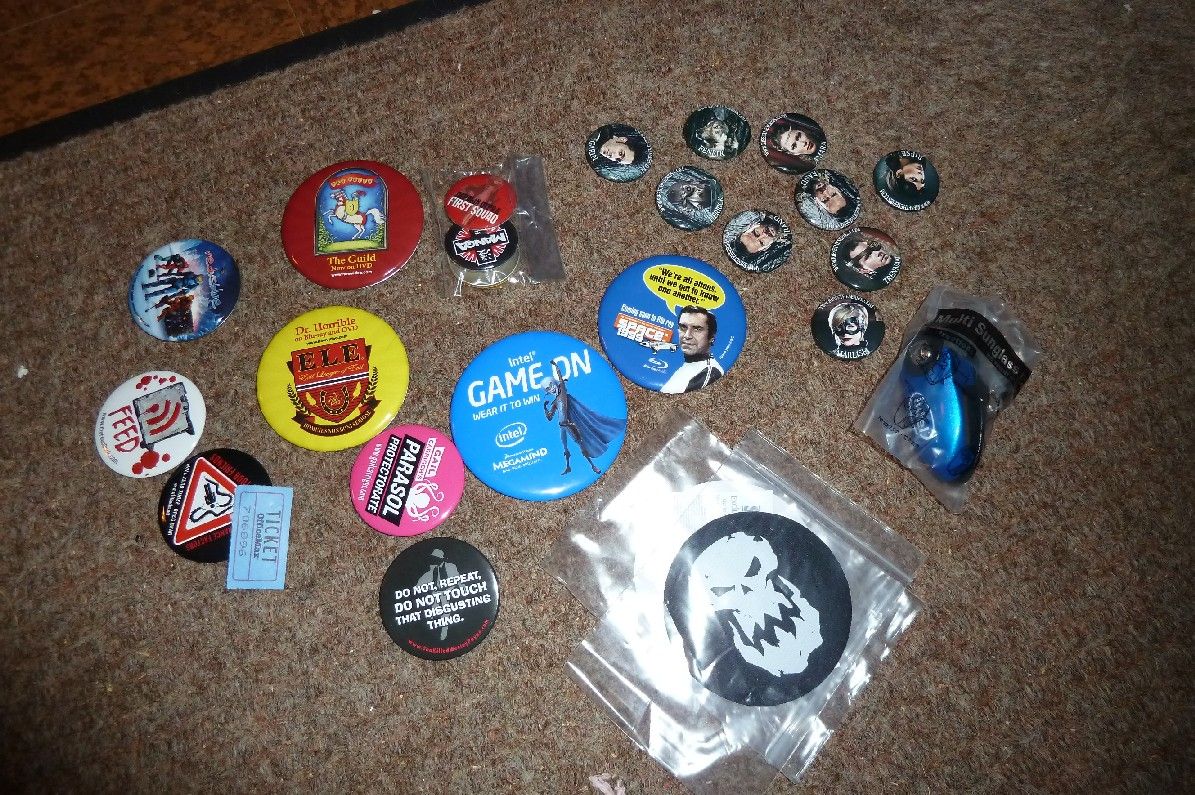 Swag



Swag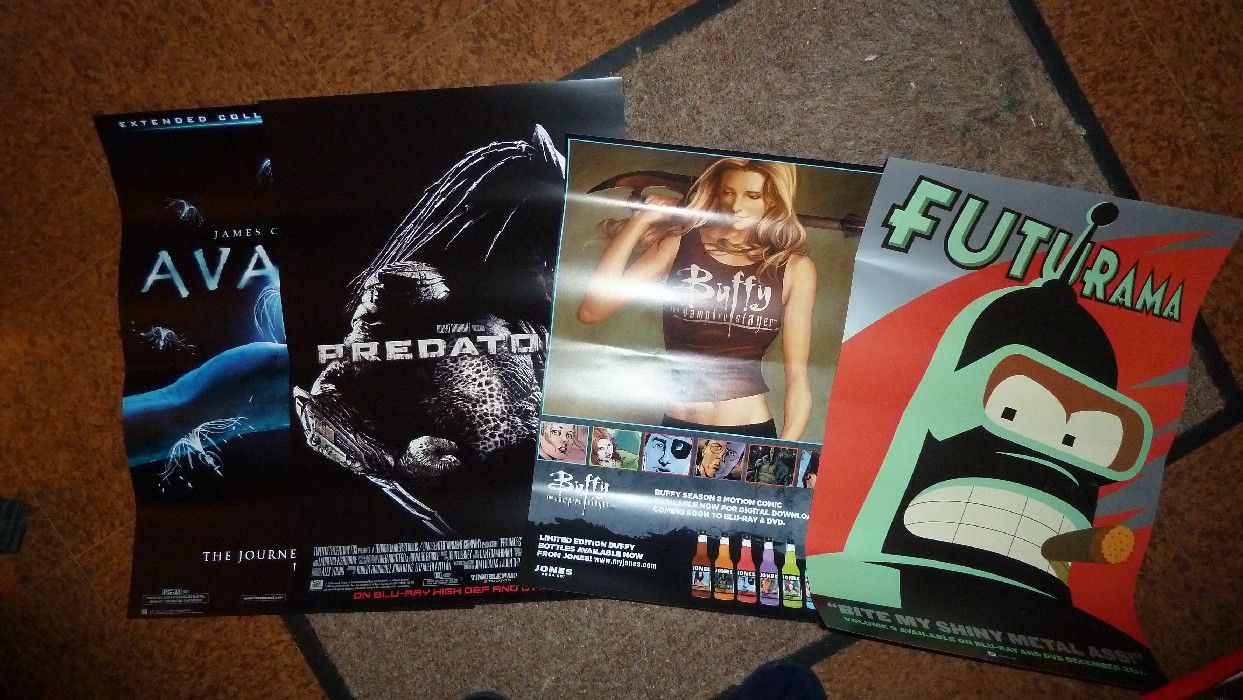 Swag

-end-