Here's my con report, complete with photos, videos, etc. from everything I could l remember or decipher from my shorthand notes. If anybody has anything to add, comment away in the Comments section below. Enjoy! Oh, and it will be at least two entries, as the door decorations are gonna taken up a LOT of space.


Wed, May 25th - The first thing I do when I go to MediaWest*Con, which I've been attending in its various incarnations for a long time, is pack. Well, it took a week to pack, due to reality intruding (elderly parent with dementia). Then I do a spreadsheet and know how much I can spend, and how much has to be set aside for each purpose. So once we got the rental car (and next year, we're going to do our best NOT to drag along a ton of stuff as we could have gotten a hybrid!), I yanked $125 out for my share of the gasoline bill.

And we really do the same trip over and over each year, stopping at the same rest stops even (just cause well, it works out that way). This year, however, began with the mysterious "we have no donuts" stop at the local Dunkin Donuts. Ack! So, had to wait for food till we hit the Snow Show Restaurant, which is predominantly a truck stop, but has great, inexpensive food. We love this place and have been going to it every time we go to MWC on that route.



PIC: Breakfast at the Snow Shoe Restaurant


PIC: We found this stuck to the front bumper. Anybody missing it?? ;)

We leave around 3:00 a.m. to beat the commuter rush hour, so we do several hours in the dark, then encountered fog. It was overcast, then sunny, then overcast. We hit an Ohio truckstop and found the humorous "Ohio SUV" shotglass for a friend who was coming to the con as well. I picked up the Ohio SUV coffee mug. I don't need any more coffee mugs, but I thought, hey, what if they don't have them next year, or for some reason I can't go next year… So, bought it. Once we got near Toledo, the sky got dark, and then it rained pretty heavily (Video #1)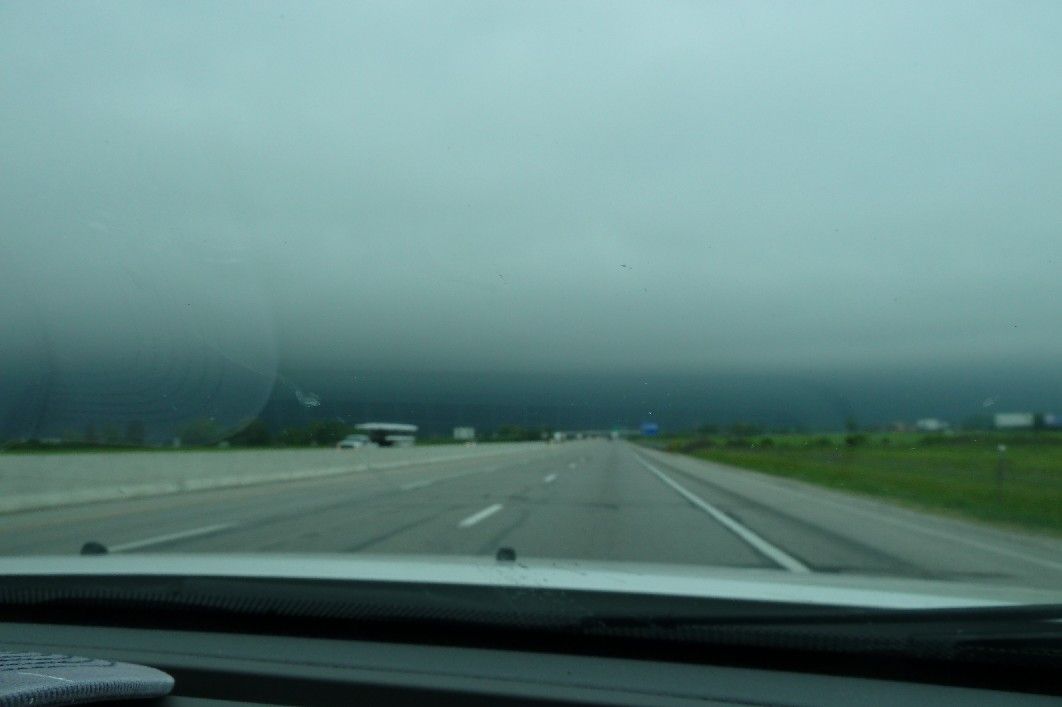 PIC: Dark skies ahead in Ohio.


PIC: Heading into Ohio and storm appears to clear. Octopus spent entire roadtrip on the dash.


Video #1: Rain storm on highway in Ohio

But then it all sorta went away and was gray and spitting rain. As we wound through Toledo, the rain picked up and after we got through the big toll, I turned on the radio to see if we should be aware of anything. We drove a little bit and then… TORNADO WARNING! Of course, we're like "What the heck county are we in??" and I'm getting out the maps and trying to even find the friggin' counties on the map! By the time we figured it out, we realized we missed the golf ball-sized hail and rain and possible tornadoes by about 20 minutes. Phew! (Video #2)


Video #2: Tornado warning just as left Ohio; yeah, aimed camera at car door speaker

We pulled into a rest stop in Michigan and talked to a guy who worked there who said the weather was crazy! He'd never seen anything like it before. We arrived at the hotel just before 6:00 pm and then spent half an hour wraggling with the front desk staff who put us in the wrong rooms. We have historically gotten the same rooms (333/332) ever since being in that hotel but someone (on hotel staff?) decided that since we were in charge of the party suite, we should be right next to. Next year I'm writing letters to guarantee us our rooms as we choose that so (a) people find us, (b) we can get downstairs to fix programming issues, fast, and (c) one room has mobility problems. Grumble, grumble, grumble.

And half our roomies were there; mine was still somewhere in between Chicago and Lansing. As the rest of us were starving, we went down to Steak and Shake (http://www.steaknshake.com/) which has good, inexpensive food.

I think we just spent the rest of that night hanging in our rooms chatting J

Thursday, May 26th – Got up early (6/7 a.m.) cuz my body is just conditioned to it. However, since Connie was rooming with Riff-Raff this year, I didn't have to worry about disturbing another body in the bed. We (me, Dawn, Linda, Martha) all went over to Flapjacks (http://flapjacksoflansing.com/) for breakfast. I'd have eaten there every day but had the budget to consider, and if I ate pancakes/waffles/French toast/eggs every day like that, I wouldn't fit any of my clothes!



PIC: Area outside atrium, near the bar


PIC: The atrium


PIC: I called this the zen fireplace. Three chairs facing glass 'painting' with sand in it.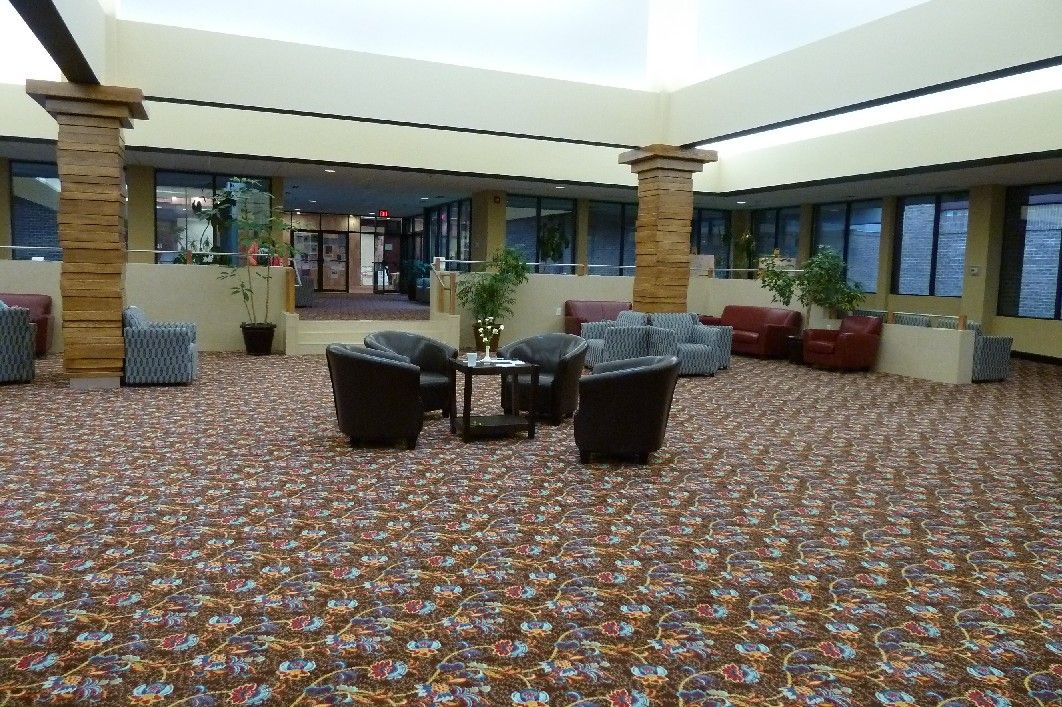 PIC: The new atrium area, still being worked on.


PIC: Koi pond in hotel

[You can check tags mediawest or mediawestcon for past con reports and photos to compare]

We then on the annual run to Meijers (http://www.meijer.com/), a large food/everything-else store. Since I had hauled out a lot of food with me, I didn't need to buy much. Next year I plan to bring very little food with me and buy at Meijers and Kroger (http://www.kroger.com/). And we did a quick stop at Radio Shack for something. Oh yeah, a wifi amplifier. I could only receive wifi if I sat in a chair in the hall. Fortunately, it improved by Friday, but I did meet a lot of fans that way, sitting in the hall ;)

But anyway, we hauled our food and stuff back to the hotel. I also realized that if I was going to throw the "Giant Claw" movie (http://www.youtube.com/watch?v=hOj0nXpRqX8) showing party the next evening in the party suite, I HAD to make a jello brain. I brought my brain mold and mixed up the jello. Oh yeah, those cheap plastic bowls that fruit come in? NOT good for boiling water. It literally just melted down. Oops. Luckily I had some tuppaware type bowls with me that could handle hot water (which I made in the coffee maker). Mixed in milk to get that brainy consistency, and some gummi worms. Alas, I went off to Martha's room and we watched a movie, and I went back and the brain was pretty gelled, so I had to mix it up a little and squash in the worms. I think this was the evening I was selling stuff, or maybe it was Wednesday evening (it all blends together) and anyway, had stuff laid out on the bed to sell. A businessman (obviously not with out group) asked if he could come in, as he was curious, so sure, why not? MW*C is a very open door convention, which is what I really like about it. Anyway, he asked about the con and I explained it. He found it fascinating. Also found out he'd been in the town next to mine just the week before for a wedding. Small world! The only thing he was interested in buying was my stuffed toy octopus, which wasn't for sale, but I gave him the web site where he could buy it if he'd like.

Went to CiCi's Pizza (http://www.cicispizza.com/_template.php#Scene_1) in the mall up the street. Alas, we went up (in the rain) and it was empty, and then I saw the Sheriff's seizure notice on the door. So much for that! However, just a stone's throw up the parking lot was Pizza Hut! So we went there and I had a small pan pizza with pineapple and ham. Yum.

Ended up at some point going to the pool/Jacuzzi. I brought my new pool toy, a pink squishy squeezy squid thing that lit up inside when you shook it, along with the two 'alien egg' toys from last year. The bright pink squid thing was a hit, and we used the alien eggs to lob at the fans who were in the pool. We kept tossing them back and forth for a while and had a ball (har har, bad pun). Afterwards, I realized that well, while the alien 'eggs' did fine in the hot Jacuzzi, the squid thing is now permanently sticky. Oops.

Friday, May 27th – Did breakfast in the room, and I think it was today I discovered I could get reception in the room for wifi. Yes! So I could check the MWC mail, plus twitter and catch up on my mail. Did my door decoration. As I'd had no time, and no real idea, for a door decoration but the thought of a naked door was just horrible, I went through my Argyle Sweater (http://www.theargylesweater.com/) daily calendar and made little categories from the cartoons and posted those. Although I know it wasn't worthy of winning anything, as I didn't write it, I did want to amuse fellow fans, which I ended up doing, judging from the laughing I heard outside the door during the con. I also got my badge, and because I'm staff, I got into the dealers room a bit early and just perused the items. I'm not a big buyer. My primary reason for going to the con is meet all my friends but if something really catches my fancy, I buy it, and I found a will-play-in-my-DVD-player copy of Joe Flanigan's "Thoughtcrimes." Yes!!!

Oh, did the Stargate Atlantis paperback panel. Where we talked about the future of the books and the show.

Now, the hotel renovated the lobby and that meant they took out the walls surrounding the sitting area, walls we always papered with flyers. Eek! I appropriate one section by the elevators and put the official MW*C notices and the programming grid up there, and judging from people I talked to, that worked very well as to get to your room you had to walk by it to take the elevators or the stairs.

Sorta did dinner on the fly in the room from all the food we had, then took my jello brain and a party dish of veggies and dip down to the party suite. Even if the party ended up being just 3 people, I'd have considered it a success as it was a non-fannish flick, and it was against the Friday Night Videos. As it was, we had about 8 people. Wow, a crowd! ;) The brain was pretty much devoured (one person said it was too pretty to eat). Because we had no party booked afterwards, we started running the classic "Atttack of the Crab Monsters" (http://www.youtube.com/watch?v=0emuNT8F0-g) which has to be seen if nothing else for the beginning credit. Hysterical! Next year, think we'll do "Fiend Without a Face" (http://www.youtube.com/watch?v=xQNflAwCm8A)



PIC: Jell-O brain, view #1


PIC: Jell-O brain, view #2

Saturday, May 28th – I apparently did a lot of panels, more so than I had at previous cons! Did the Stargate Atlantis where are they now cast panel, but because of reality, doing the programming, I wasn't as prepared as I'd hoped to be, so apologies to the folks who attended. Had two people attend the Infested/Monsters Inside Me panel on parasites, and that was more than I thought would attend due to the icky topic, but we also had favorite icky episodes to share. Then did the We're All Doomed! Panel about end of the world flicks, and everyone shared their favorite movies, books, etc.



IC: Dog on carpet. A very busy (visual) carpet!



PIC: The art show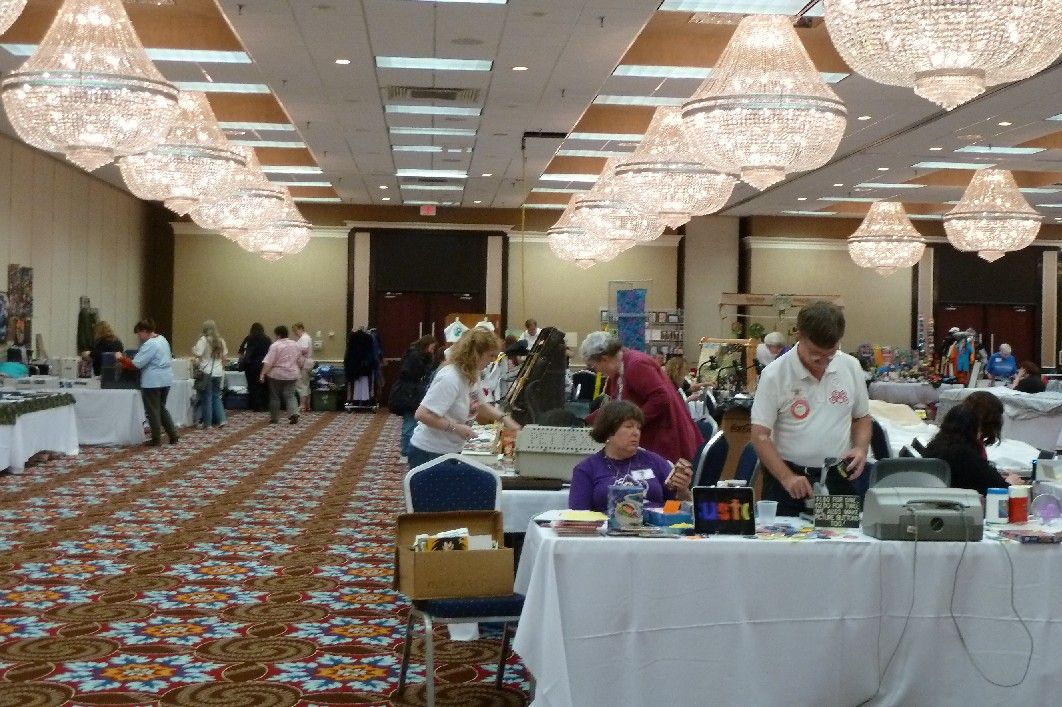 PIC: The dealer's room

Think it was Saturday when I was in the area in front of the dealers room and they had all this chili set out. Apparently we (the con attendees) got to taste test a variety of chili for a local festival. Cool! Luckily I checked with other fans first in order to avoid the chili that would burn out my mouth.

Went down briefly to the Jacuzzi, where I got parboiled like a lobster. There was a family down there, whole bunch of kids, and the kids said it was hot, and after ten minutes, yeah, I agreed. Turned a bit red from it! Also in the what-the-heck category, a woman was sitting there, while another woman frosted her tips (hair). Bizarre. I figure they had to watch the kids so decided to do hair at the same time, but in the pool area???

I was checking my twitter account when a friend said "Chaos is on in ten minutes" and I went, wait, Chaos, the great CBS tv series with Eric Close? Yes, one in the same, and they were showing TWO episodes that night from 8-10pm, so I sat through those. Fun show. CBS is idiotic to cancel it.

Afterwards, I decided that since I brought my motorized Dalek, he needed to go for a walk. First, I sent him across the hall to attack Gena and Connie. Bwahahahah! Then I just roamed around and sent him into rooms with parties. The Hawaii Five-O party was winding down, so I went around the corner, stuck the Dalek on the floor and sent him in squawking "Exterminate!" The poor little fellow didn't stand a chance against all those women. He got leid. Not laid (cough) but he came out with colorful Hawaiian leis all over him ;) Awwww…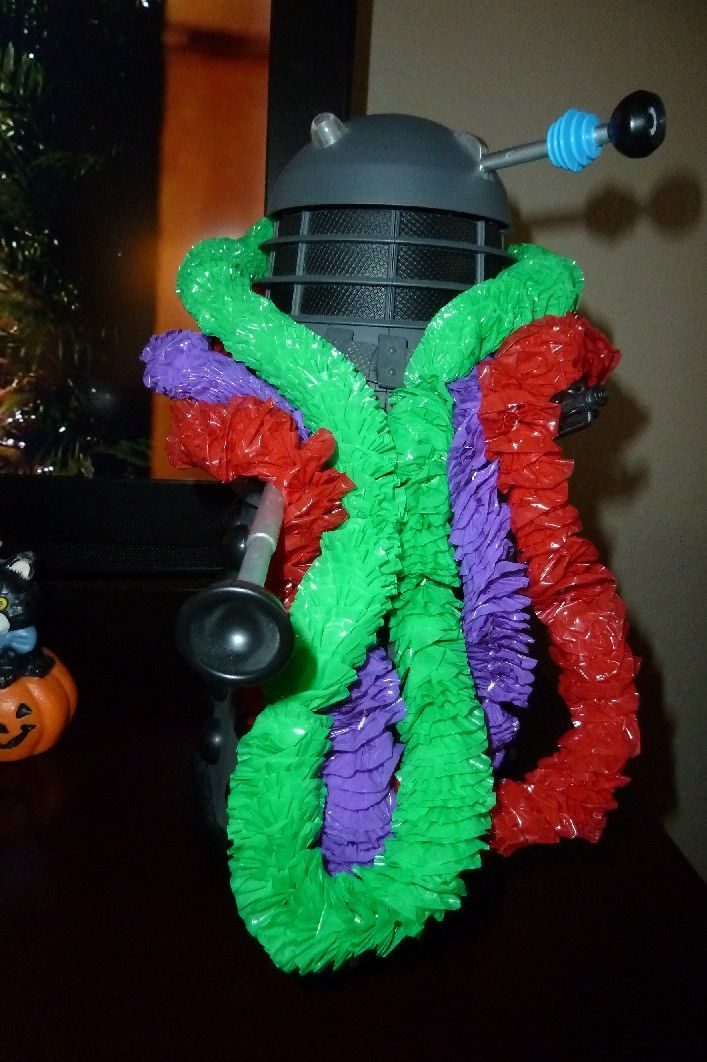 PIC: And the Dalek got lei-ed, get it? Ha, well, yes, bad pun.

Sunday, May 29th – The annual breakfast with Scott & Becky! (http://cannellfan.livejournal.com/) at the newly opened (literally, it opened on Thursday!) Hummingbirds. Did the buffet, which was half the price of last year's and pretty decent, mostly because they made your French toast or pancakes to order. We talked about fandom, the future of the convention as it was noticeable the attendance was down. The aging of fandom, the economy and high gas prices conspired to keep people from coming.

Then off to the Comic Con panel, which had a lot of people show up to offer advice on attending the cons, but primarily the big San Diego event. Eegads, the hotel rooms start at $200 a night!! Did the Stargate Atlantis H/C rec panel, and had to go back to my room to get my laptop, which confused a couple fans who are like 'why are you leaving the panel?' I have to get a netbook I can easily carry. Laptop is HEAVY! That panel went well, and everybody had netbooks, etc. and shared story links. Did the TV commercial panel, and we shared commercials we enjoy, like the sharks doing the focus group ad for Snickers. Check YouTube if you haven't seen it. Funny! Attended the No, You Can't Reattach His Head with a Stapler, a panel on medical accuracy in fandom. I must admit I'm glad folks jumped to do that panel as I proposed the title ;) It's always nice to have folks who actually work in the medical field to answer questions about 'whumping' characters. Had a quick break of an hour, then went to the Whose Line Is It Anyway? 2-hour fun-fest improv hosted by Scott Clark. It was going along swimmingly, until… TORNADO WARNING! Yes, the weather channel had been predicting bad weather all days – heavy thunderstorms – but this now turned into a tornado warning. We were advised to go into the service corridor, which we did, and all I could think of was 'darn, my laptop is in my room'. Well, at some point people came in and out and I went out just to see what was going on. Lots of folks were still in panels, many were sitting in the lobby area (good grief, skylight and lots of windows!). They pretty much got most people out of the upper floors (2-5). I ended up in the stairwell that led down to the pool area, but there's glass down there, so I found a place in between of pure concrete and stayed there for a while. Then after about 15 minutes, the coast was clear. Found out later the tornado had touched down in a neighboring town ("Storms swept through the state Sunday, leaving damage in its path. An EF-1 tornado — which is mild — hit a couple miles south of Perry, Mich., in Shiawassee County near Lansing" said The Detroit News) Guess we were lucky as Lansing is in Ingham county, and part of that county, as well as Eaton and Clinton and Mason counties, suffered power outages. Apparently as I type this, some folks are still out of power.

Video #3: Storms at hotel doors while tornado warning is going on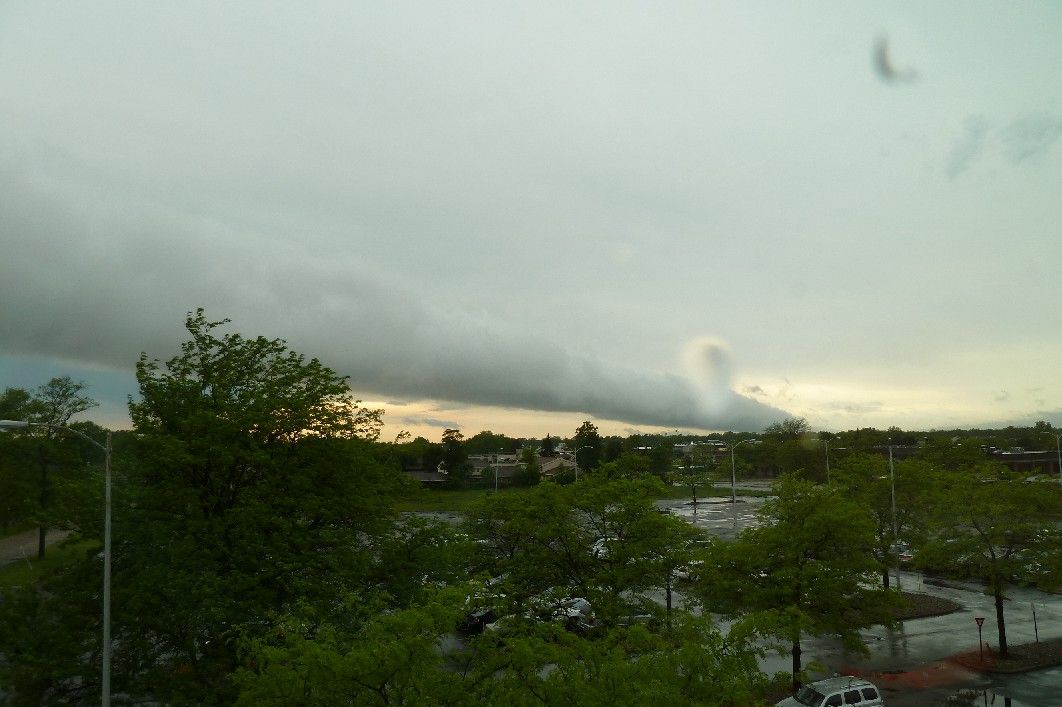 PIC: Remnants of the storm that engendered the tornado warning in Lansing, MI

A bunch of us (Dawn, Linda, Deb, Martha and myself) went off to Steak and Shake for a last meal. Got a hamburger and splurged on the limited edition Key Lime milkshake. Gaaahhh, that was good! I'd brought that back to hotel and ate it slowly. When you go to conventions, you don't look up the calories of the stuff you eat. However, I did make it a hamburger and not cheeseburger since I figured the shake had to be pretty high in calories….

Spent the rest of the evening packing up, chatting with friends, roaming the halls for last minute deals. One friend, Jeanne, who'd left earlier suddenly came back. Airport had grounded all flights and she figured rather than stay at the airport all night, or Detroit airport all night, she'd come back to hotel and see friends again. Awwww….

Monday, May 30th – Sob, we have to leave!
Got the room payment settled (it's always such a joy). We packed up the car, and on the way back up to room, I encountered a fan with a cart. On top of the cart was a Chihuahua, in a sorta regal pose right in the middle of the cart. It was easier than having the little dog run to catch up and he was enjoying it. We said all our all goodbyes (sniff) and despite trying to leave early, we didn't, so put in a few minutes at the Dead Dog panel, where it seemed everybody there was pretty happy with the programming.



PIC: Chihuahua hitching a ride on a luggage cart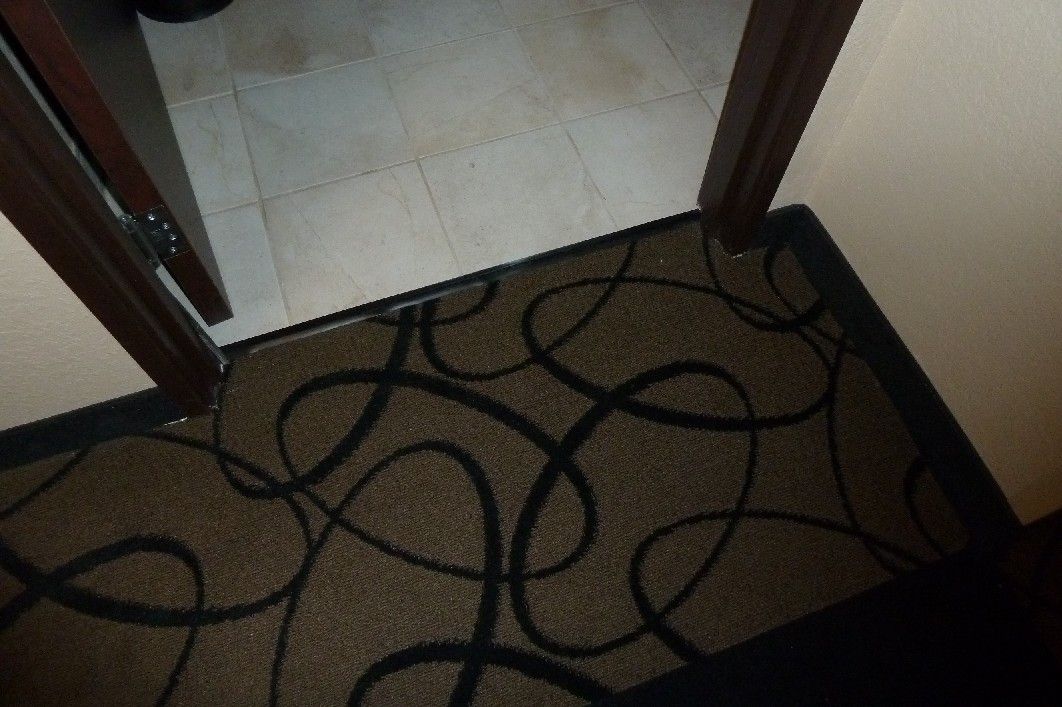 PIC: The less busy (as in eye-boggling) pattern on carpet in hotel

We departed, went to Tim Horton's which was packed with people and no donuts. Apparently the nice folk were from Mason County, which had no power due to tornadoes. Went to the Tim's up the road, which had some donuts (but apparently the other store took some of their stock!) Hit a MacDonalds along the way and I got a free strawberry lemonade drink (saved the coupon). Great stuff, but… sucked it too fast. BRAIN FREEZE! ARGH!!! After 5 hours or so, we drove down to Columbus, Ohio, where we stayed halfway overnight with a friend there. Their cats were duly informed I was coming. At first they'd hide in terror, but now the black cat is mellow. White cat is still skittish.



PIC: Truck went by loaded with tons of these empty red crates. For chickens, perhaps?



PIC: Pioneer Sugar! Darn, should have taken photo of Budweiser plant too.



PIC: The black cat is actually sorta bored with. He's mellowed J



PIC: The white cat may look bored, but he did not want to be held. Gah, I got coated with cat hair.

Tuesday, May 31st – We left our friend's house at 2:00 a.m., well, more like 3:00 a.m. by the time we said all our goodbyes, got gas and hit Tim Horton's, who did not have glazed donuts. It's a conspiracy!! It was 70 degrees. It made up to the mid-90s on the trip back. Yech. The drive back home was pretty much uneventful, and we hit Snow Shoe again just in time for breakfast. We did see a truck with lots of huge white tubing on it. I asked the driver and he said it was irrigation tubing for the 'farm down yonder'. Seriously, nice Southern gentlemen was driving the truck and I asked him about it.



PIC: Crow sitting atop light at rest stop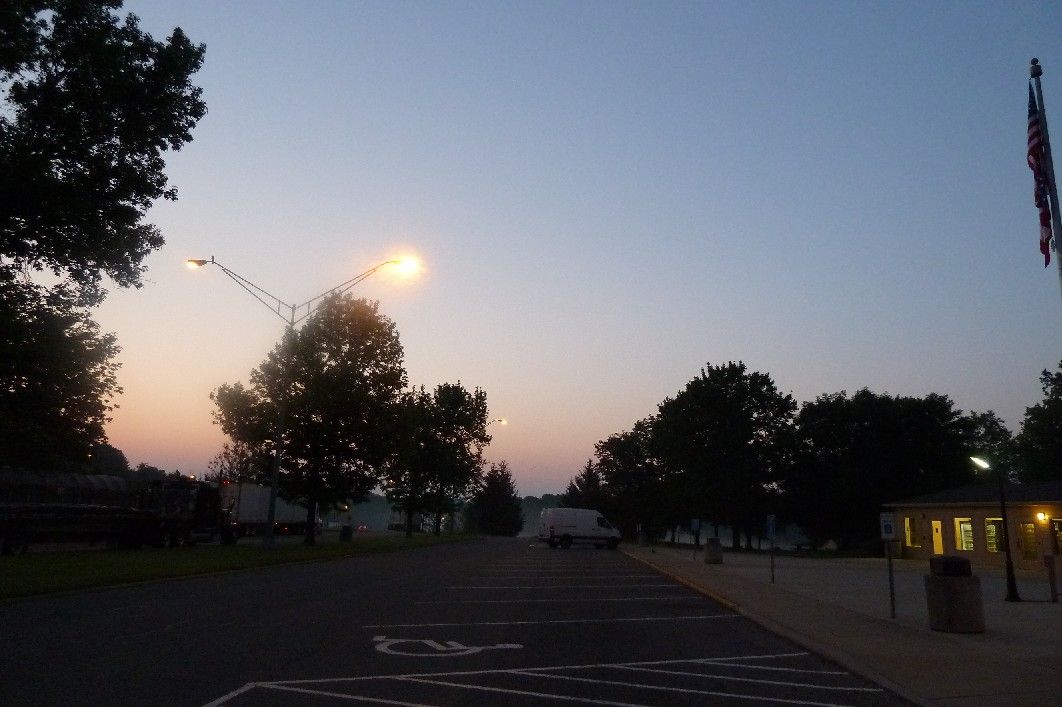 PIC: Slightly misty rest stop



PIC: The camera didn't pick it up, it was a nice red sun.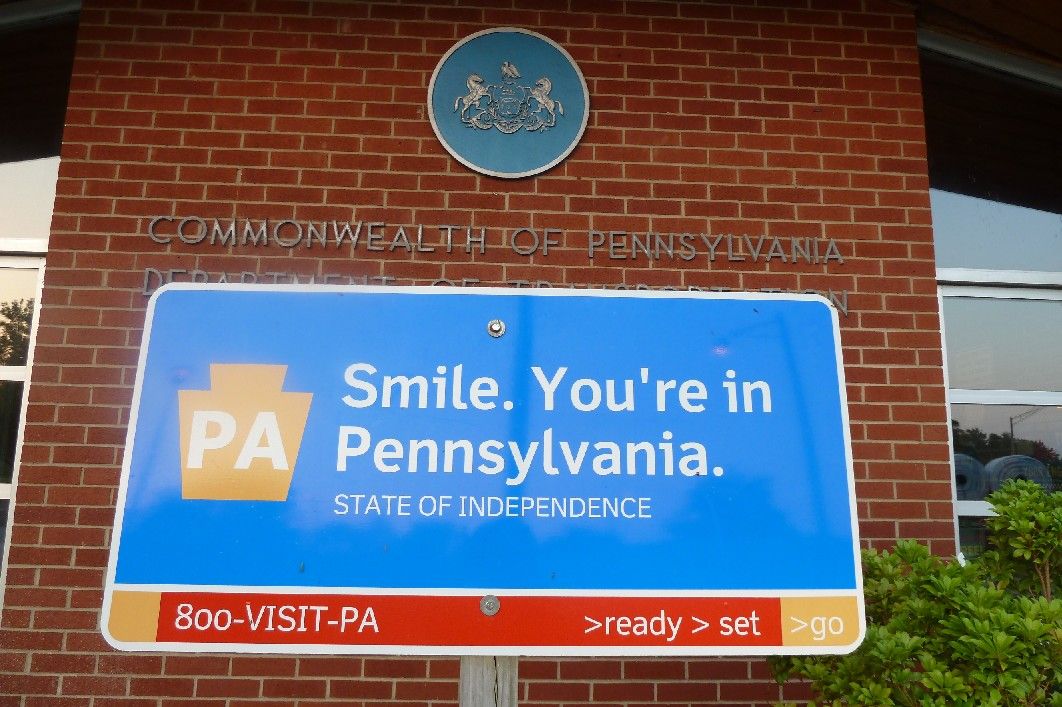 PIC: But it's way too early (5 a.m.) to smile.



PIC: Obviously, he did not read the sign above



PIC: A truck full of irrigation tubing heading for the farm 'up yonder' ;)



PIC: Pennsylvania rest stop. Very nice!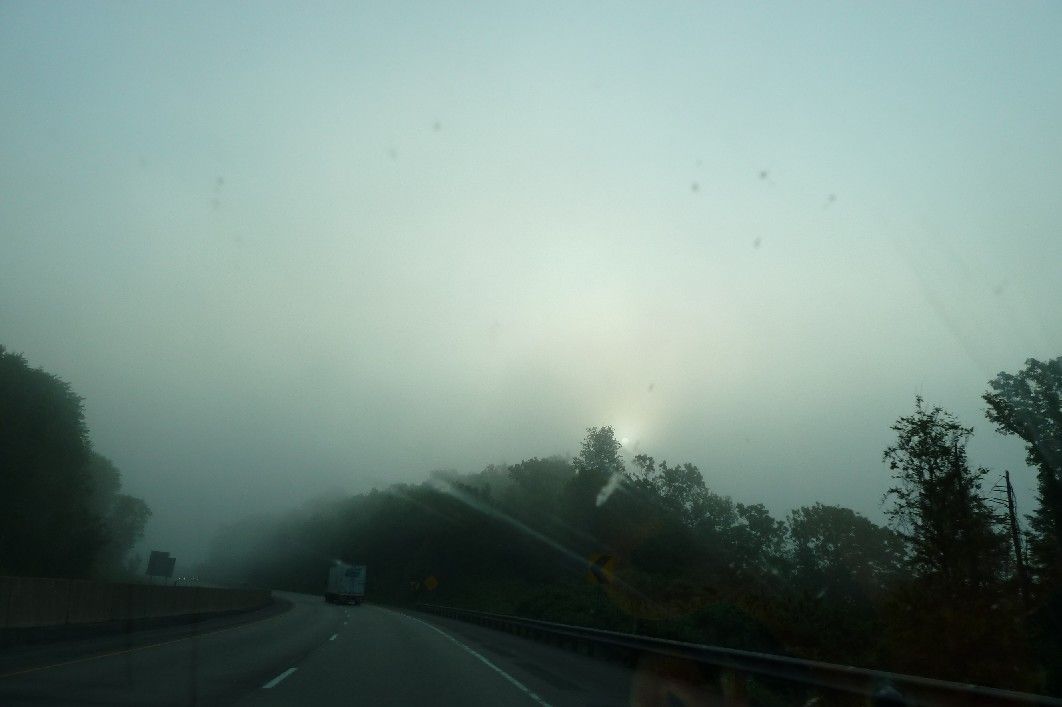 PIC: Foggy highway



PIC: Foggy highway

Once we got home, well, our home area, the whacko drivers were all over the road, as usual. Nearly got nailed by an idiot who was too busy brushing his teeth while driving. ARGH!.

Overall, we drove over 1,600 miles roundtrip. And you kill time on the trip by counting critters that didn't make it across the highway. One year we counted 150 roadkill. This year was pretty high as well:

1 bird
5 raccoons
5 possum
15 groundhogs
35 deer
39 URKs, aka Unidentifiable Road Kill. Either bits and pieces, chunks, or nasty 'smears'. Sometimes we discovered that an URK was actually a deer when we drove up a little further and found the head. Ouch.

Driving from the Northeast and going as fast as legally possible (obeying the speed limits, which topped at 70 in some parts), we used 53.84 gallons of gas, paid $15.75 in tolls and $206 in gasoline (an increase of $50 over last year's gas expenditures). So I got some change back, which instead goes toward paying my half the rental car, the Ford Fusion (nice car, by the way, but would be too big for everyday use around here). Think we got around 29.97 mpg overall.

What else? Well, the stuff we programming people found out worked was a) the colored grid by the elevators, b) the alphabetical list I put up near the dealers room, and c) the listing of the entire weekend's panels, by room, listed by each room. If anybody went to the con and has any kind of comments, suggestions, etc., just send them to mwcprogram@yahoo.com. Thanks!

Oh, and let's see, got the Stargate Atlantis gen zine, Jumper Four, as well as a cute Ohio SUV coffee mug, and a Tim Horton's coffee mug. Yeah, I was on a limited budget! And a few Powerball tickets. Darn, got one number on each which means zip.

Check next entry for door decorations from the convention.