Sticking it under the cut to save my sanity in typing ;)


"What do you mean you can't drive?" I croaked. You see, for the past, oh, 20 years, we've driven to Mediawest*Con, but my driving partner/friend had had back surgery back in the fall and only now the doctor told her, no driving. Oh, great news, a month before we had to go. Flying was out of question ($$$) and well, that left the train. We cancelled the rental car and then booked Amtrak, which meant oh-my-god I can't bring all the crap I usually drag with me, nor can I buy junk to haul home. Curses. So much for cheap birdbaths stuffed into back seat of car. However, it wasn't so bad. Plusses of the train are: if you fall asleep, you don't crash the car. Only real minus is the time factor. 24 hours vs. 14 hours in car, plus, there was no way to visit our friend in Ohio. We ended up taking the Lakeshore Limited out of Penn Station (NY). Penn Station isn't so bad once you get your bearings and it has lots of food. (This I recall as I'm packing snacks and stuff and my brother, who has taken Amtrak, said "They have food. You're overpacking".) I'm able to resist the lure of the plastic Krispy Kreme donuts (but can't say the same for Dunkin Donuts, but fortunately didn't find one of those). As my friend uses a cane, that got us in the disability section and also we were one of the first on board. No rush or stampede to find a seat. Sweet.

We also did coach seats. We thought about the sleeping car thing, which was twice the price, but neither one of us was going to sit 24 hours facing backwards. My friend can't do it well and I hate it because it would make taking pictures pretty much useless. And our friends Amtraking out of California do two days via coach and survive, so hey, why not try it? Plus we get to meet more people that way.

Visited Flickr, YouTube and general Google searches to acquaint myself with Amtrak. Pillows, blankets, snacks were necessities, said some seasoned travelers. Fortunately I read a bunch of blogs/forums and brought a little sprayer bottle of alcohol, which came in handy. Apparently some folks (MEN!) can't use the toilet properly (graphic description not supplied). Next time I may bring disposable gloves too! I dread to think what their own bathrooms at home look like. Uck!

Highlights of 24 hour trip to Lansing. The Hudson River. Pretty, especially with low-lying gray clouds. The train is not incredibly fast so you can relax. The seats recline back nicely and you have real leg room (plus a leg support). I had planned on getting through the entire 22-cd audiobook of "A Prayer for Owen Meaney" by John Irving read by (the incredible) Joe Barrett. However, I found myself spending most of my time looking out the window at the view, listening to various music (such as Chris Botti's Italia and K.D. Lang's Hymns of the 49th Parallel (love her rendition of "Hallelujah", which I first heard on an Olympics broadcast).

Other things I remember:
* Seeing scattered bones along the tracks. I'm assuming some poor animal got whacked by train and that's what left after the scavengers are done. "Bones Along the Hudson" is what I called it; hmm, would make a good murder mystery title! ;)
* Also saw the Domino Sugar Factory, more train stations, LOTS of trees.
* Junk food. Yes, brought junk food (and some healthy food). I managed to NOT squash the Twinkies or the Snoballs during packing, Penn Station, etc., but inadvertently sat on Snoball when putting stuff in my seat. Since they were mortally wounded, we put them out of their misery by eating them. Note: We ate the two-pack of Twinkies later, and agreed that they just don't taste as good as I remember, and I'm sure they shrunk quite a bit since the 60s. Sigh.
* Oh, I'd read on one blog about dirty Amtrak windows. Since I wanted to take photos, I brought along some alcohol wipes (meant for computer monitors) and cleaned my window. Did help, although I do think the person griping in their blog was talking about the outside window…
* Liked all the 'dead' pilings sticking out of the water as the Hudson continued. Lots of driftwood too, littered along the shore banks, like bleached dinosaur bones.
* All the Amtrak employees were nice.
* Be careful how you go through train aisles if you've got a large bag. One young woman behind got bonked in face by an errantly swung bag. No damage we noticed, but she might have a shiner later on down the road.
* Next time, inflatable pillow only. I'd brought a small 'moldable' pillow but was never really able to get it in the proper position. Thin blanket, however, is a necessity. Oh, and a fleece cap as that way I can leave my glasses on.



Somebody's dog ready for travel!



Cloudy river



Sunset coming

This train had a dinner, and my friend did the 5pm dinner and I did the 8pm dinner. That way we could watch each other's stuff (yes, we both brought too much I suppose) and could meet new people, as you're seated with other train passengers at random. But before that, we had the first incident on the train around 6/7:00pm . An elderly man experienced a medical problem, which, when the train stopped for the 'smoke break' (and to add on more trains) he was taken off by medics and off to the hospital. Hopefully he's okay. Then after I had dinner (herbed chicken, which was tasty and so much I couldn't eat it all), another situation arose (around 8/9pm). This time a passenger was removed by the train (think it was in Syracuse), and when I looked out the window, he was surrounded by five cops. The train then left. Two down. Around 11:30PM, in Rochester, Border Patrol came on board, staring at the overhead racks, or rather, the luggage in them. To my knowledge, no one was dragged off.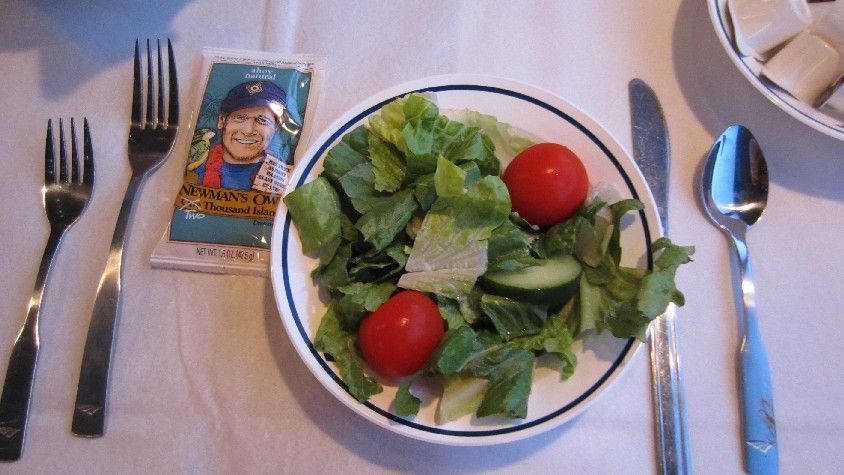 Salad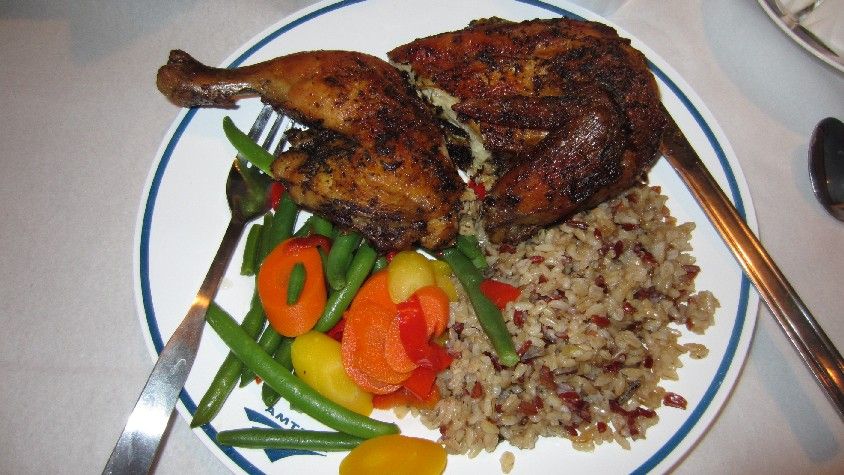 Herbed chicken dinner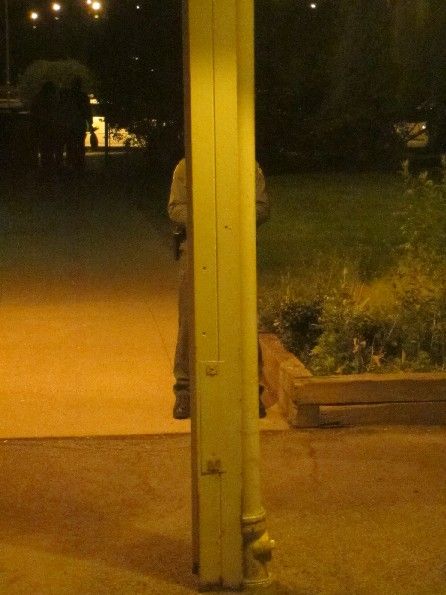 Border patrol officer. Really, he's behind the post :)

Sleep was somewhat fleeting, as two people behind us kept yammering on until 2am. I was too polite and didn't turn around and go "I'm trying to sleep!" Maybe next time I will if it happens again. Almost asleep when at 3am a baby starts crying. Aiee. 4am? The guy in front of me – his frigging cellphone goes off! Next, wait, no, we'll find the QUIET car (which I heard about on the way back) and avoid these folk. I gave up on sleep and as the sun rose, we were going through PA/OH and we went past farm houses, then fields that were covered with fog. It was rather neat.

We arrived in Toledo around 6 a.m. Snack car not yet open, but we had some food on hand. We boarded the Amtrak bus (almost immediately, as our train was late due to the aforementioned incidents). We also had to get our luggage, drag it to bus and it was stuffed underneath. Since the bus had already started elsewhere, we got stuck toward the back. We'd been spoiled by Amtrak's generous legroom, extended leg rests, reclining backs. Busses are tighter. Darn. I decided that would be a good time to get out my audiobook so I did get to listen to some of it, plus music CDs.

We had had the option of taking the train to Chicago, then Chicago to Lansing, but we paled at the idea of a six-hour layover at the train station. Yikes! So 3 or 3.5 hours in a bus was not bad. We got to the Lansing Amtrak bus/train station and it was surrounded by construction/torn-up roadway which also made it impossible for any busses to park/drive right by the station, so they had to go around in back. We got off the bus, got our luggage and the bus left. It made me think of some tiny deserted warehouse district. Luck! We spied a fan with pink luggage who'd been on our bus, and who obviously knew where she's going (unlike us) and followed her. ACK! Steps, no railing. My friend will have a tough time with this. (Cue horror music) But... then a white panel van drives up. It's the Best Western Plus Lansing van, and they've been looking for us. PHEW! We get in, then we go after fan #3, who had already booked it over to the actual station. The drive to the hotel was nice. The driver was very personable and all of us chatted about, um, er, I cannot remember what. Did spy a ram's head on the wall of some building, forget which, and of course just as I snap the shot, the cab moved.



Ram's head

Go to next post for the continuation :) - http://wraithfodder.livejournal.com/488190.html