I made it to New York Comic Con for Saturday, which of course, was the most jam-packed day of the weekend (at least I'm sure - read that 106,000 fans attended and I'm sure most were there Saturday!). My friend Dawn and I went in very early - had to wake up at 4 a.m., then drive to her place, pick her up and we caught a 6ish train into NYC. There was that side trip to Dunkin Donuts of course as I needed caffeine and sugar to keep me awake. Fortunately NYCC supplies a shuttle bus between Grand Central and Jacob Javitts Center. One year it was obvious - ads on the side. This year, alas, just a piece of paper in window signifying it was the shuttle bus. Once we got there, we had to go to the blue entrance, where the press, exhibitors and any handicapped folk went. Since Dawn was using a walker, she qualifed and I was her helper. I noticed several chilly anime fans on the way to that door. Chilly not in attitude, but in they looked half-frozen as this was the coldest day of the Fall and some anime outfits are, um, skimpy. So we were hanging around with several dozen other fans, while the horrendous throngs of fans were at the other door, and there were probably lots of freezing zombies as The Walking Dead is a very popular fandom.

My goals at the con were to see the Person of Interest panel, get to the Person of Interest signing, see part of the Haven panel as I had to leave it early to get to the POI signing, and hopefully buy something in the massive dealers room. I didn't see the germ keychains I got last year, so will check online as I wanted a MRSA one. Worrywoos weren't selling at the con this year, but they're online. Didn't see any Godzillas that screamed BUY ME! but did get a great t-shirt of an adult teaching a trio of little Daleks how to exterminate humans. Adorable! I saw lots of Doctor Who stuff but didn't need it and as often happens at cons, it's a tad bit overpriced as well.

At 10 a.m., I went to the IGN theater., which holds a LOT -for the Haven panel. It was half full, and at least 1/3 was there for the 5pm Walking Dead panel. The con doesn't empty rooms between sessions. Sigh. I stayed about 30-45 minutes and the cast was entertaining. Emily Rose (@EmilyRoseLA), Eric Balfour (@ERICBALFOUR) and Lucas Bryant (not on Twitter) were there, and the chemistry definitely shone. Another new cast member was there - a former wrestler - and my brain has forgotten his name. They talked spoilers and episodes I haven't seen, but fortunately I have forgotten then. I have to catch up.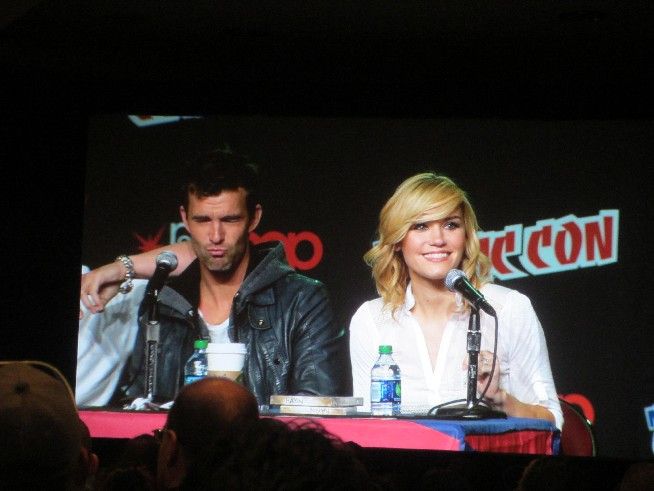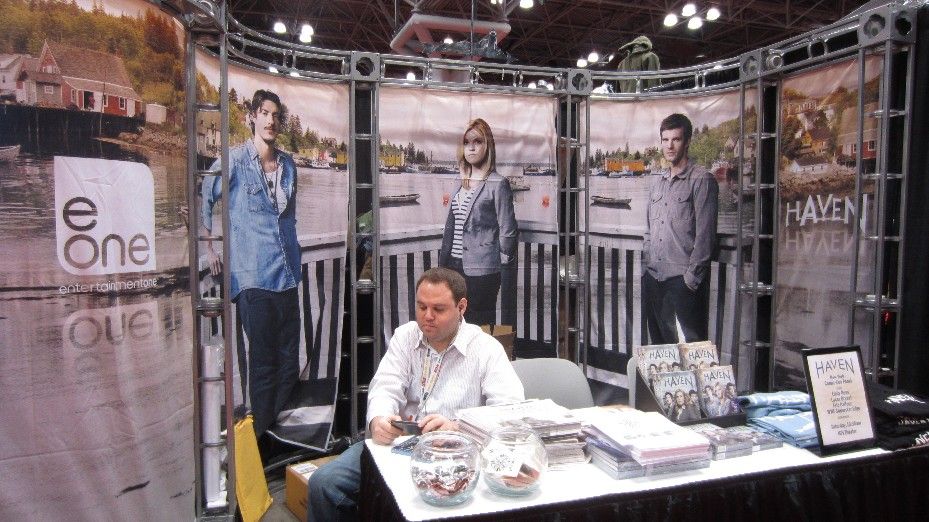 Haven booth in main dealer's room, before the hordes descended.



So I left that panel early and headed to the Lego booth, which was in the center of the dealers room. Once you found that, you could get your bearings and then I found where the Person of Interest (POI) signing was. I was there over an hour early. However, I then discovered, much to my frustration, that there were only a limited amount of autographs being done and they handed out wristbands earlier. Nowhere did I read that anywhere. SIGH. But I came back when the signing took place, hanging behind the line, just to see the cast. Spoke with a fan from somewhere other than the U.S., judging by his accent, who also ran afoul the wristband policy. In fact, a number of fans showed up unaware of it as well. The POI actors showed up - Michael Emerson (Finch), Taraji P. Henson (Carter), and Kevin Chapman (Fusco). Creator/executive producer Jonathan Nolan was at first listed being there but he wasn't, but he was at the panel. So after taking a few pictures, I went to the panel, only to discover the chaos of disorganized lines. There ended up being two lines for POI, but it didn't matter all that much as they didn't empty out the room, and half of it was hanging out through the whole day, no doubt, to see Stan Lee. I ended up in the back in the nosebleed seats, half behind a concrete pillar, so the actors looked like ants up on the stage. Darn. There were huge screens though so we folk in the back could actually watch, although the camera guy got lazy at one point and focused more on the interviewer than the actors, which was annoying. At one point they brought out the newest cast member - Boker, a Belgian Malinois who plays Bear (the dog). Then a bit later, Jim Caviezel (Reese) showed up, to thunderous applause. It was an interesting panel, and at the beginning of it they showed a cool trailer they made for the con.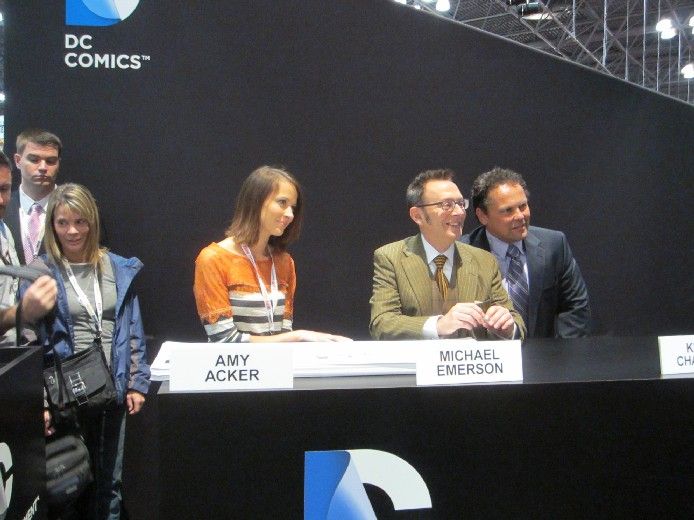 Autograph session which I missed out on :(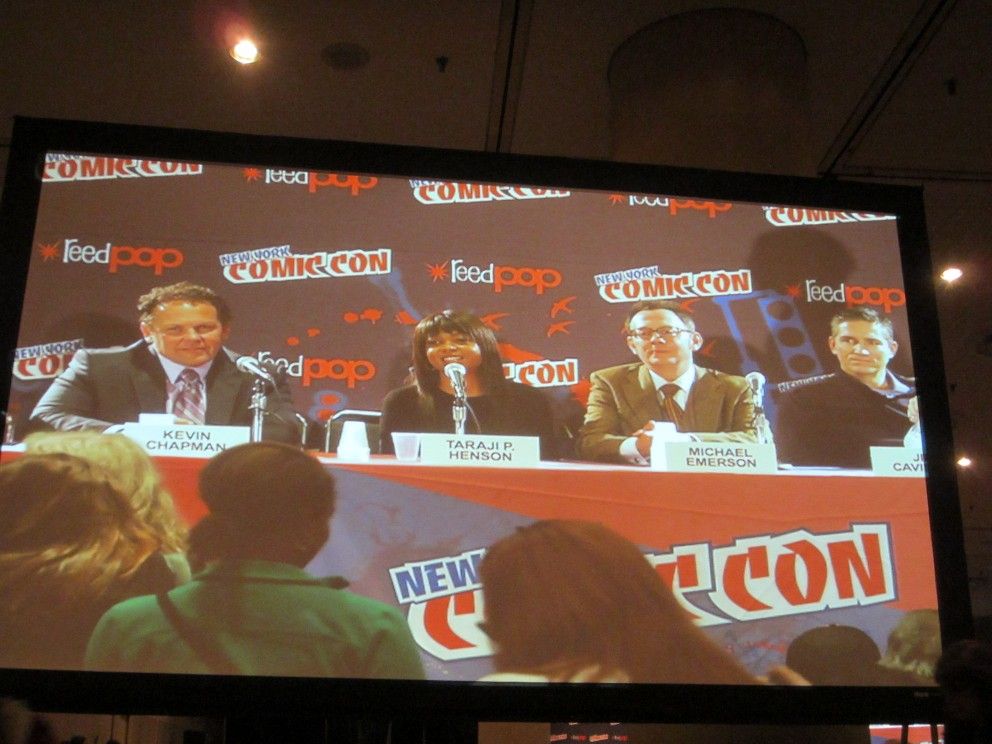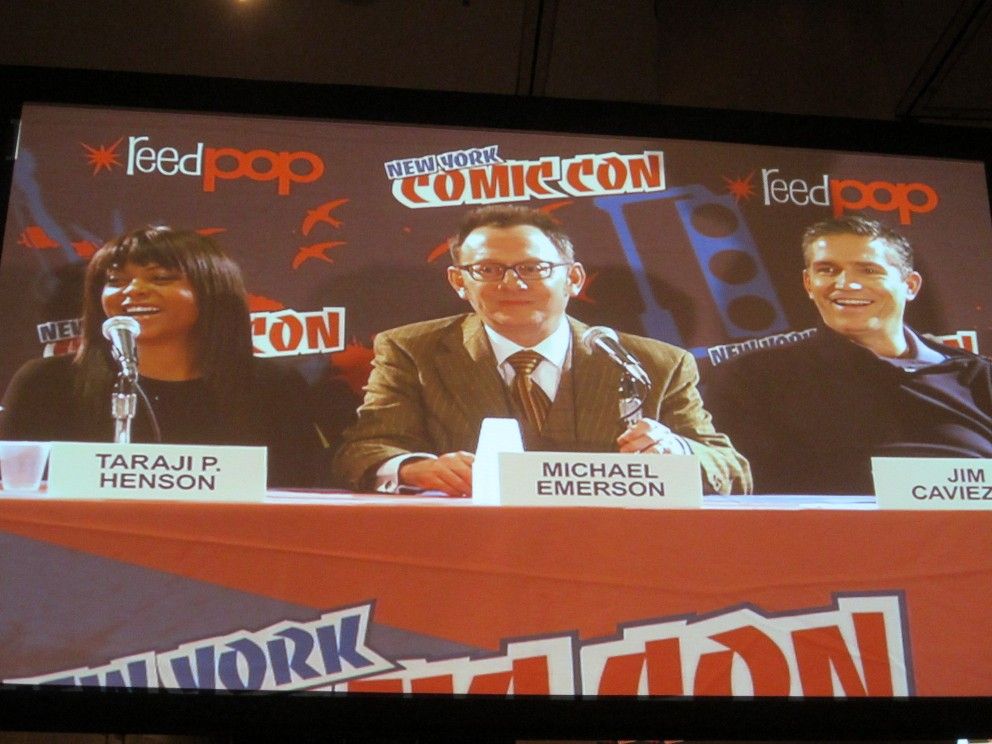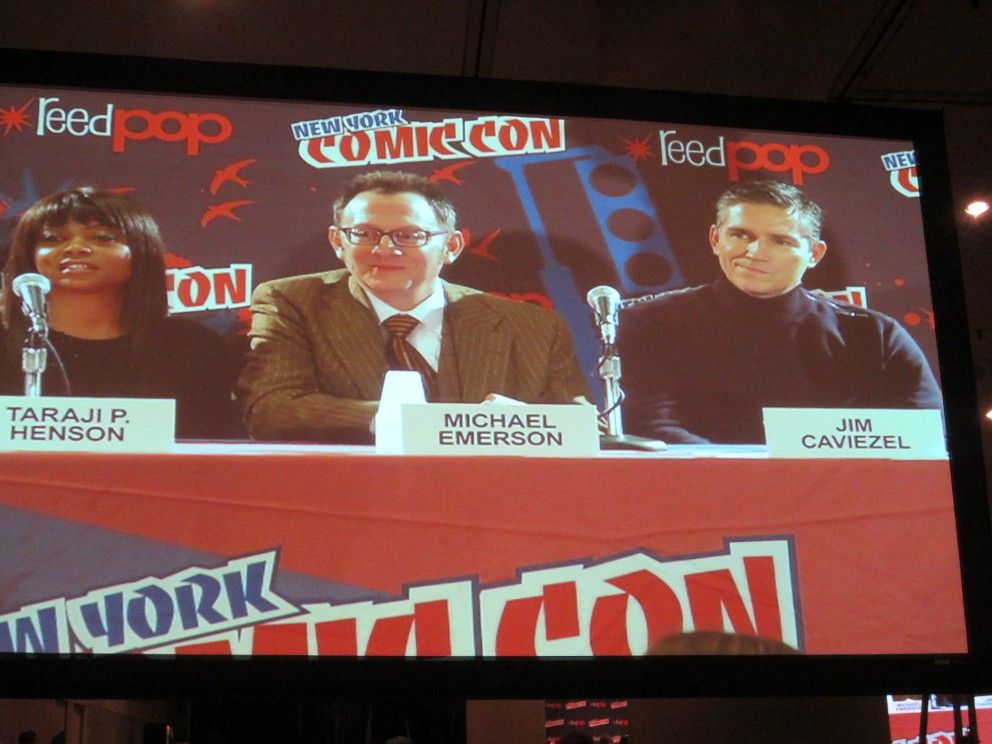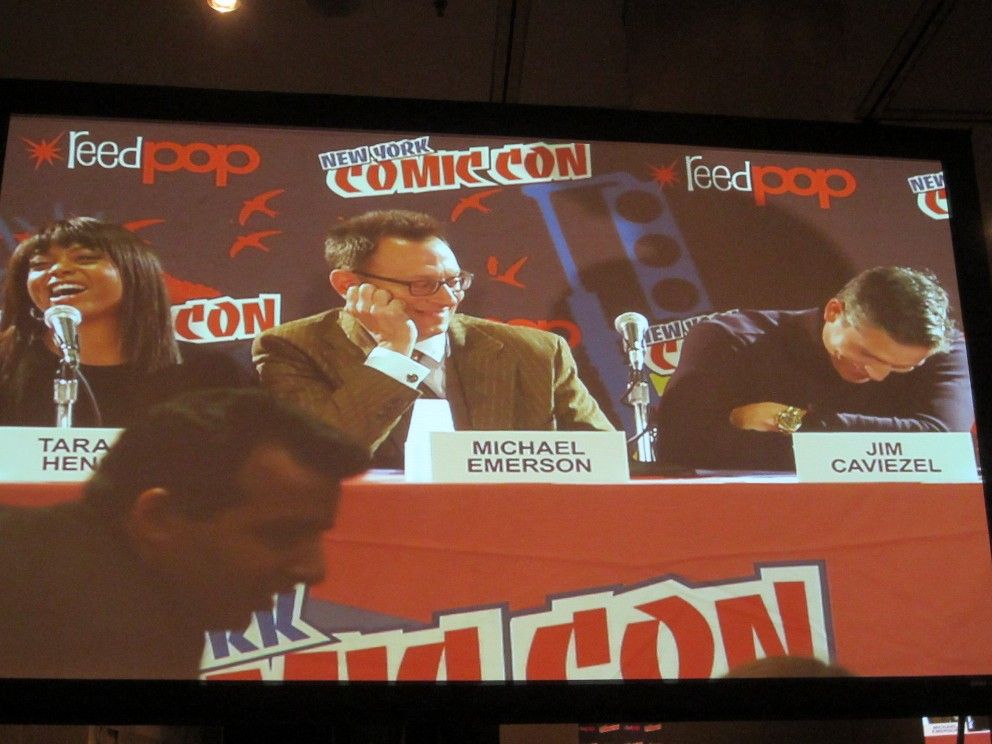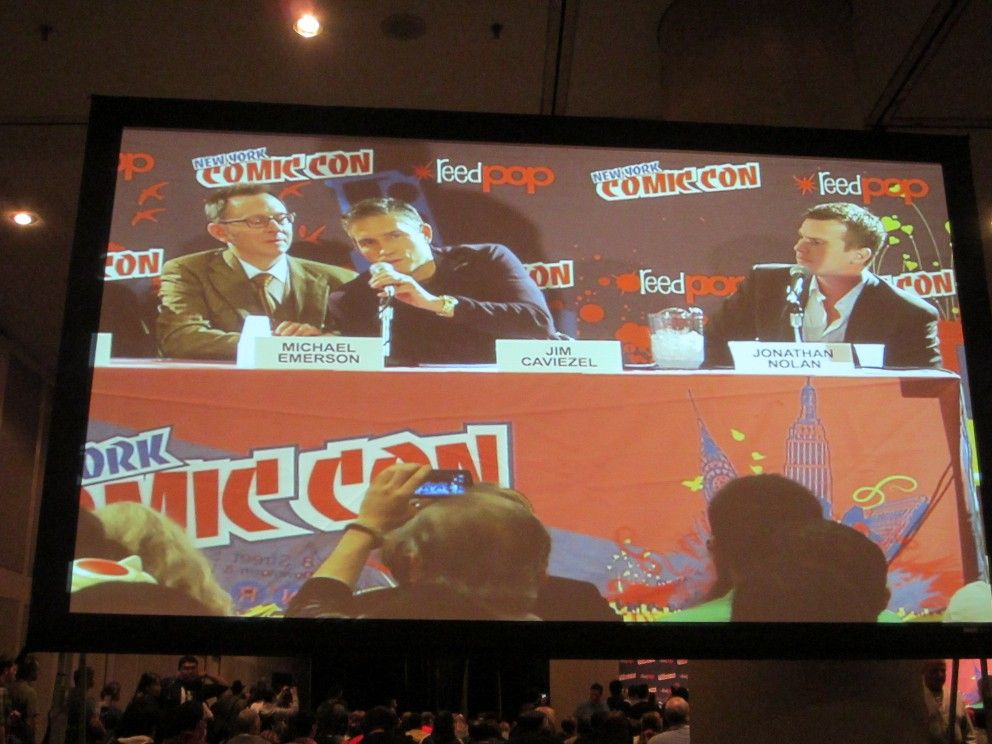 More in the next entry.