Although somewhere along the way, it got named "Superstorm" Sandy. Tough to tell when, as I had no power for six days. The storm came in on Monday and we lost power probably just about the time I was standing the garage, watching the row of 50-60' tall white plines (hate white pines, hate 'em) wavering back and forth violently and hoping they would NOT fall and hit the house, the car or me. Then the wind died down. Phew. An enormous gust roared in and KER-RACK! the huge pine at the end of the driveway snapped in half, and oh yeah, there went power. Luckily, the next day a neighbor came by and wondered if I need help and came back with chainsaw and cut out a portion so I could get car out. I did manage to get to work on Wednesday, drawn more by power and heat than the desire to work ;) Everything was covered in pine needles, the car, the house, the gutters, the entire yard. I still have to clean up the front yard.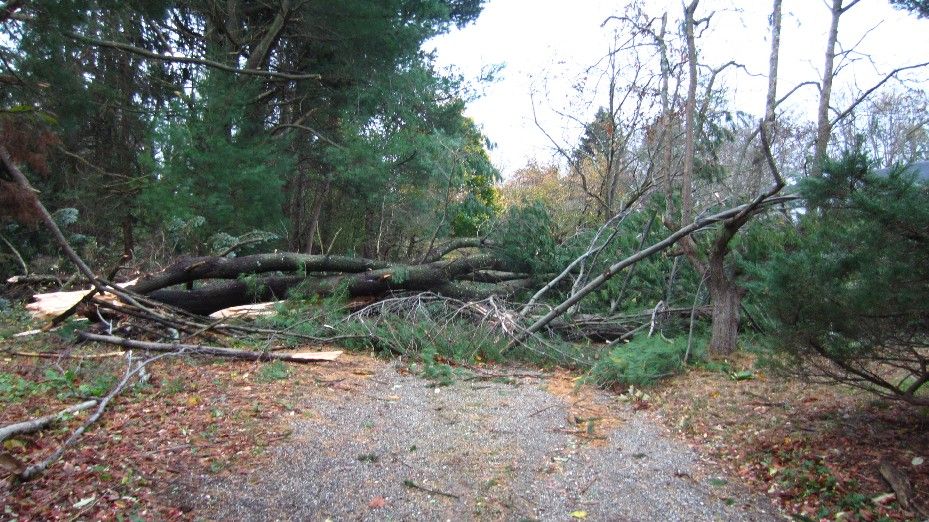 Yes, VIrginia, there is a driveway underneath the wreakage...



Freedom!



But, we got a nifty blue sky out of it.

So, no power, no heat (that was the worst), no internet as a big tree in neighbor's yard uprooted and took out all the power/cable lines. LOTS of trees uprooted. Fortunately for all the falling trees, no one's house nearby got nailed, but there's a ton of useless wood (pine isn't good for much) in big piles in yards. But we had water, our Y2K candles (they will outlive us, I'm sure), pizzza and I kept the cat warm by going to work and microwaving his Snuggle Safe pad each day so he'd be warm at night.