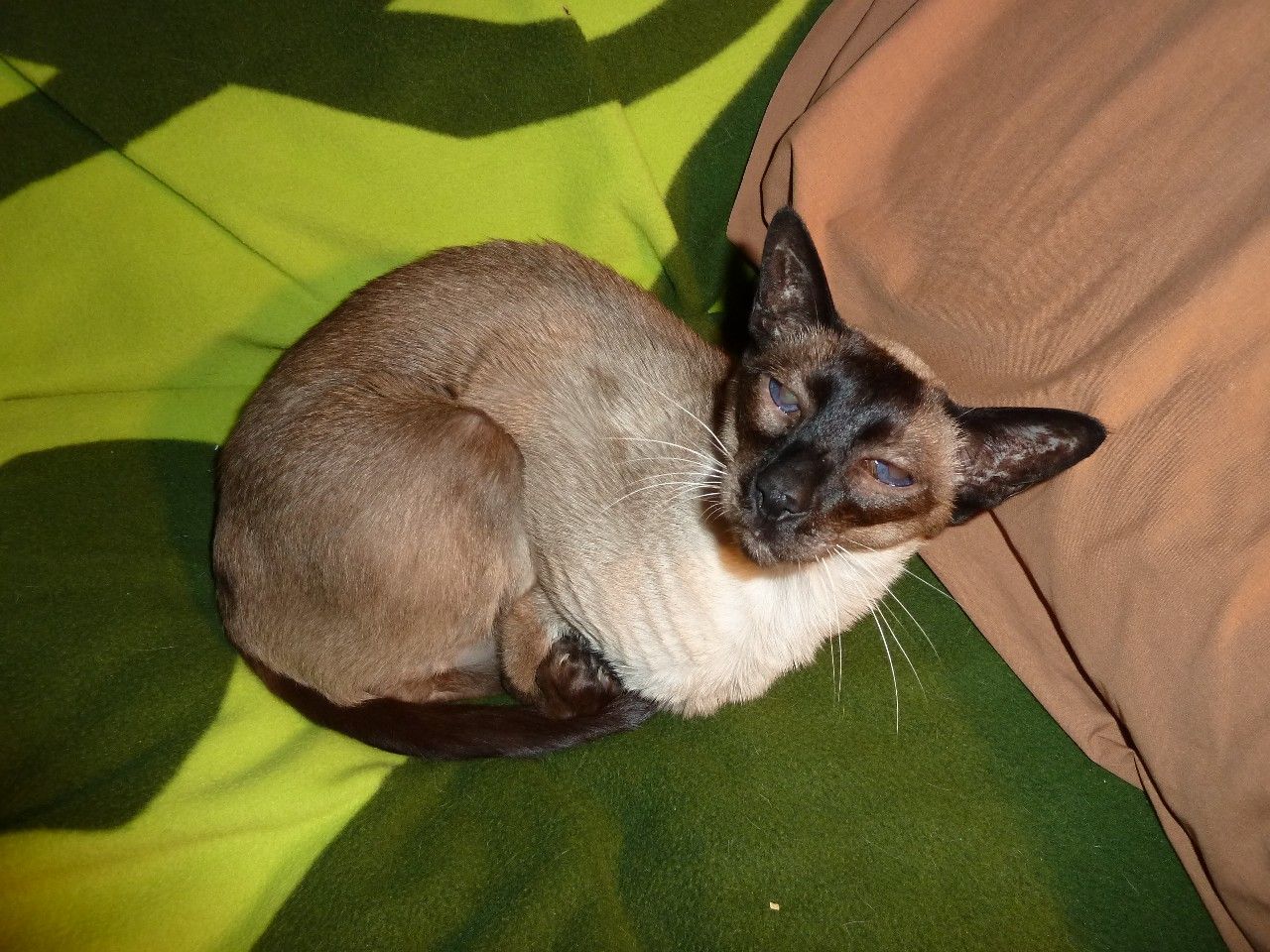 My little Ian is gone :(

He'd been diagnosed with feline CRF (chronic renal failure) earlier this year [ed: sorry, meant 2012], and this past Fall, it began to accelerate. He got really sick, then spent two days in kitty ICU but came home much better. Over the following weeks/months, we did our best to help him but he refused all pills (violently). He finally got accustomed to daily SubQs (subcutaneous injections in the back) but he still dehydrated. Despite eating, he was losing weight. Then he began to unrinate in 'inappropriate' places, i.e., he peed on me while I was sleeping! He had a scheduled vet visit but I took him down a week early. I had the feeling he was in the end stage, and the vet confirmed it and recommended that we let Ian go. He would not make it until tomororw Saturday, but yesterday then inflated him (what we called it, they refilled him with fluids as well as more drugs) so we could have one more night with him. I fed him Stouffer's turkey terrazzini, which he ate part of. It's salty, so not good for him, but it didn't matter right now. We took him back to the vet this morning and because he still had an IV port, he didn't have to endure more injections. The anesthetic to make him sleepy and unaware of the final injection knocked him out in seconds. He'd lost half his weight in one year, so the drugs were potent. The final injection took quickly. We're having him cremated, and his ashes will go next to Rory's ashes, who we had put to sleep a little over two years ago.

I'd like to think I'm cried out, but I know I'm not. I came home and just did wash. He peed over a lot of blankets last night, so I just washed, and put away the kitty litter boxes, because they're too difficult to look at. I expect to hear him, see him on the couch. I know it will be a while before I'm over that.

And to just make it all so much worse, when I drove to the vet last night to pick him for his final night with us, I was waiting to turn when a car rear-ended me. I got out and discovered the SUV that whacked me had been pushed into me by a hybrid that had sped rightt into him (there were no skid marks, so was the guy texting??!). I ran up to the vet, told them what happened and they promised someone would wait until I was able to pick up Ian. Over an hour later, I was able to escape - the car is driveable but the trunk is crunched and now held together with green duct tape). The other two drivers were carted off to the hospital.Nothing life threatening. This the third accident on the road in the last two weeks (first accident had a fatality and the second, a severed limb). A firefighter at the scene told me I got the best end of this accident as the hybrid is totalled, and the SUV has a mushed in rear and cracked up front). I needed that like a hole in the head. I told everybody I had to get to the vet so they accommodated me as best they could). The vet's aide told me this morning they were picking up pieces of the hybrid off their driveway as it spread shards everywhere...

So much for my nice not quite two year old car. Sigh... but still, losing Ian hurt a lot more.