Yup, another Mediawest*Con has come and gone and for the first time in a long time, Elvis went to the con. Since our third roomie roomed with two of her friends, Elvis shared the bed with me, at least for two nights, until I realized he was always deflated in the a.m, so I booted him and brought in the snake instead. Not to mention, the mockingly sarcastic comments from friends of "she's giving him another blowjob" accompanied all my rescuciation efforts on poor Elvis.

Before your mind goes into the gutter, please click below.


And here is Elvis.




In his deflated stage. Should have done a picture of him fully inflated at the con (he looked cute in bed, with the blankets up to his neck), but I took him into the pool and a few bubbles started appearing, then a rude noise and he blew out a toe. I'd glued together all his toe webs except, of course, that one. Elvis, for those too young to remember, was Sonny Crockett's gator on his boat on the NBC series Miami Vice from back in 1984, so Elvis Jr, as I call this one, is pushing 30 years old. I would have brought big Elvis, the 10 foot inflatable gator, but Amtrak derailed my plans.

A commuter train collision effectively took out the first portion of our Amtrak trip, which meant we had to - ack - take the commuter train into Grand Central Station, then catch a cab to Penn Station (as my friend is disabled and can't negotiate the subways anymore). That necessitated catching a 7:00 a.m. train as the rest were connecting, so we spent 6 hours in Penn Station killing time. (Oh yes, big Elvis would have come but that would have meant second suitcase - too cumbersome to deal with).

Anyway, indigenous critter flying, walking, begging in Penn Station:




Yup, pigeons fluttering around INSIDE the building. No one paid any attention. Anyway, the Amtrak trip progressed pretty well (The Lakeshore Limited) until we hit Utica, NY or thereabouts. Train stopped. People got out. Something was afoot. Nice lightning storm not far away, some thunder. Here's a picture I managed to catch, but there were more spectacular bolts.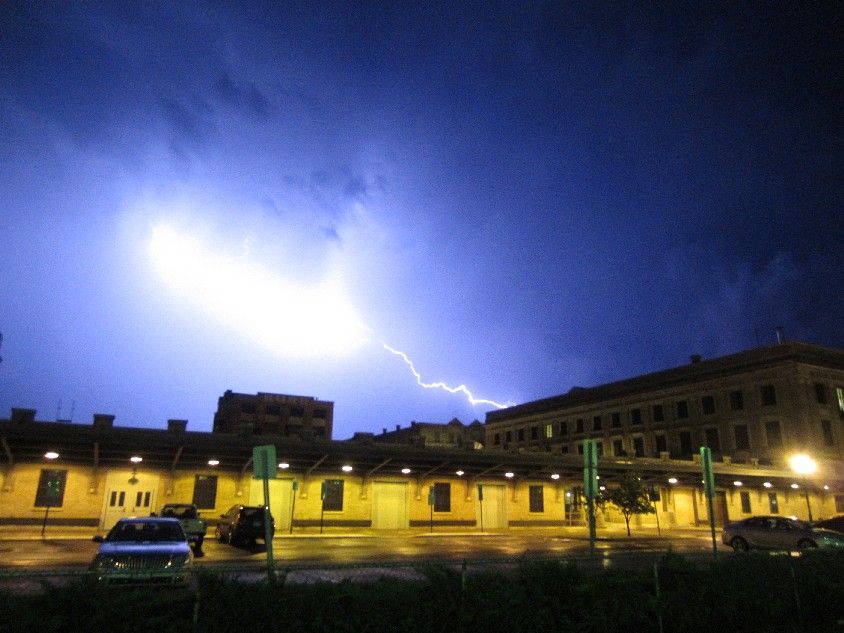 Neat, eh? Anyhoohow, after an hour or so, we're told there's a tree across the track and it ain't moving. I called my brother, told him to turn on the Weather Channel. A massive storm system (with some icky tornadic overtones) was rapidly approaching. So, all aboard and they backed up the train. Eventually we ended up on another line (commuter?) were on our way. Alas, by the time we arrived in Toledo for the next connection, it was long gone. We were supposed to arrive at 6a.m., we got there at 8a.m., and the bus left at 6:30a.m. No fear, Amtrak got us a car. When they realized there were four of us headed to Michigan, the driver said "I'll get a bigger car" and we thought, oh, minivan. Instead...



We were "is that for US??" and yup, a stretch limo with a bar! (No drinks, alas) but lucite bar trim that blinked blue, red, and green and the ceiling had lights too and neat leather seats and I could stretch out (something I couldn't do on Amtrak). And we were taken all the way from the Toledo bus station to the Amtrak bus station in Lansing, MI. And only 15 minutes late, because it was direct. Our hotel shuttle was waiting for us and that was cool, and even cooler, when we got there, a fan who came with us paid the $20 pickup fee. THANK YOU!

Our friend from Wisconsin arrived. She'd just graduated from computer tech school so brought her cap and gown for us to see. Neat! And she gave me this great little shot glass: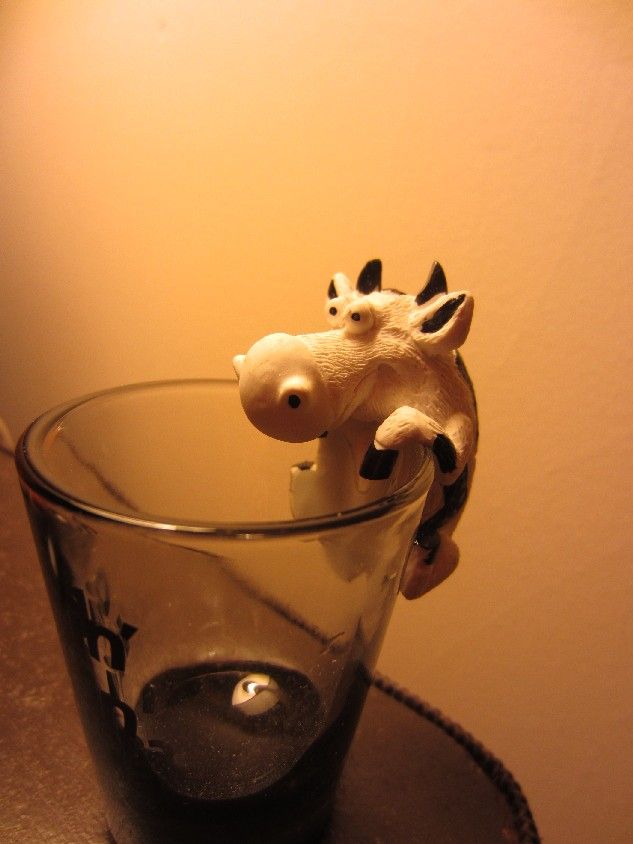 Now the rest of the con is a blur of food, zines and the pool. Finley's was attached to the hotel, which meant we never really had to go outside. Now, despite the fact that we thought the pool was smaller than when the con was in the hotel about 20 years ago, I don't think so. Found some old photos and it looks the same. Maybe it's because the pool isn't smaller, but the fans are *cough* bigger ;)



The stairs in upper middle of picture lead to the jaccuzzi, which I used almost every day. The pool goes from 3 feet to 9 feet, but since most of my swims were at night, I didn't dive to the bottom, in case I didn't come up (who needs headlines "fan dies in pool; found at breakfast"). Oh, if you look in the middle of the pool, you can just make out the painted-over pothole. Yup, it had a pothole and definitely needs repair. Our shuttle driver told us the pool was being renovated in July. Otherwise it was clean and nice.

And the area that once had a fountain (long story about drunken softball players and beer bottles floating in it at one con many eons ago) was now a platform area, complete with games for kids, and also doubled as the free breakfast area, which most fans in the hotel took advantage of: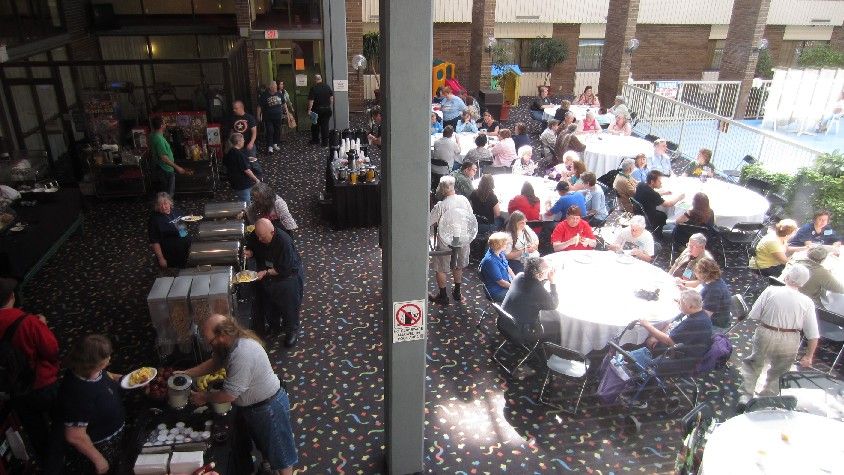 The first day had make-your-own-waffles when it was in the smaller alcove, but alas, not in this big function space. There was a Dennys across the road, which took AARP ("Sure, you can have the senior discount!" said the chipper had-to-be-20-years-old waitress). I'm not THAT senior yet but if someone is offering 20% off, I'm not squawking. An advantage to say "goodbye" to the repetitive dying of my hair and letting the gray I've earned since I was 20 just go, well, gray.

Okay, end of this post. Will do another directly after.