Various bits of news....

First, Joe Mallozzi finally posted a picture of Joe Flanigan, series leads on SGA, thus laying to rest rumors that Flanigan was simply a CGI creation (well, I thought I"d start a rumor and see how distorted it would get) ;) So, you can visit his blog for the bigger picture.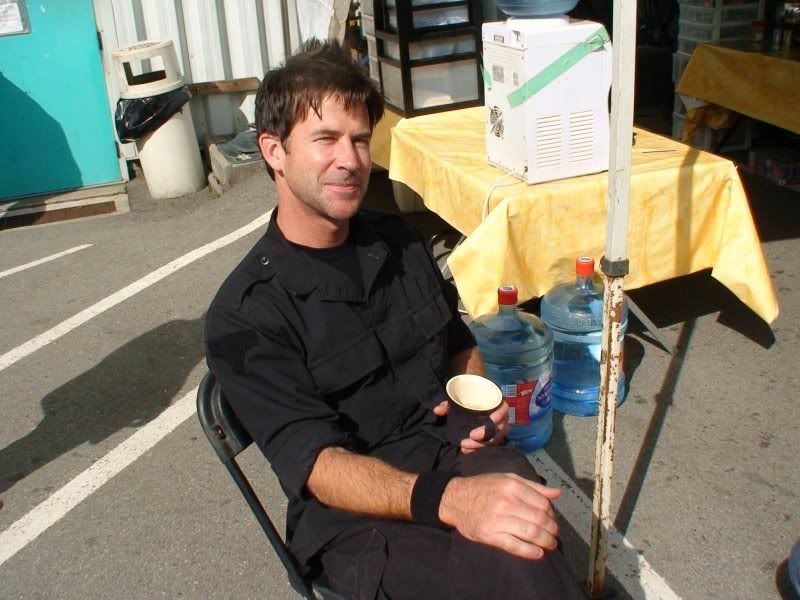 Next, a fan posted an article over at GW, no source cited at first, so impatient person that I was, so did some quick Googling and found the source plus more.



CARD #13

http://www.sublant.navy.mil/html/24%20Mar%20Postcard.htm

Greetings from APLIS, adrift in the Arctic Ocean.

The first is a production crew from the television series "

Stargate SG

-1". They will be using APLIS as a base for filming part of an upcoming made-for-TV movie. We've got two of the series stars here -

Ben Browder and Amanda Tapping

- and quite a few of the production crew. So far, they have shot a couple scenes out on the ice and generally prepared for some bigger shots late in the week.

CARD #15

http://www.sublant.navy.mil/html/26%20Mar%20Postcard.htm

All of the residents have customized their hootces to their own tastes. Most have shelves (to keep supplies and toiletries off the ground where they would freeze) and coat hooks (for parkas). "New York, New York" used to be our equipment shed but, with the recent population boom, has been taken over by the ladies from

Stargate

. It's rumored to have carpeting, curtains, and other luxuries. I have no idea where they would have gotten those things up here.

CARD #25

http://www.sublant.navy.mil/html/25%20Mar%20Postcard.htm

photo of

Ben Browder

CARD #27

http://www.sublant.navy.mil/html/27%20Mar%20Postcard.htm

Not as cold as yesterday but the wind still has us isolated to the area immediately surrounding the camp. We've had to postpone a surfacing we had planned for ALEXANDRIA today but have a couple more days to fit that in. Meanwhile, the Stargate people are shooting here near camp, allowing me to turn this over to somebody else again. From Stargate, here's Amada Tapping:

Hello there everyone! I am so thrilled to be here and to be able to tell you about my experience so far. I am in love with the Arctic and have decided to buy real estate up here. It's going cheap!

CARD #28
http://www.sublant.navy.mil/html/28%20Mar%20Postcard.htm

Everything went very smoothly today. The big event of the day was a surfacing by ALEXANDRIA which the Stargate people wanted to film. We set things up on the ice as usual and had their cameras in place. ALEX took a little extra time to get it right and surfaced right through the center of the X. With that accomplished, the Stargate crew went on to film the final scenes they needed and will depart tomorrow. ALEX has dived and only has a few more test runs to finish before she too departs - probably tomorrow as well. The students from Naval Postgraduate School have wrapped up their research and departed this afternoon as did the NUWC engineer conducting the communications testing.

FULL ARTICLES, PLUS PHOTOS, at links above.

Oh, and this photo popped up on various boards. Reportedly it was found on TWOP (Television Without Pity) but I rarely go there due to the nastiness of some posts (they call it snark, I call it rude), but anyway... a shot of RDA, Amanda, Ben B, and above 'em, Martin Wood and N John Smith.