Was perusing Amazon and Fandemonium...

Dates to bookmark!

August 2007 - Stargate Atlantis 2008 Calendar (Square Calendar)

Sept 25, 2007 - SGA Novel: Casualties of War by Elizabeth Christensen

Snippet from site: One person wrote on Amazon: "Lt. Col. John Sheppard submits his resignation following a mission in which two of his team members were lost, while Elizabeth Weir negotiates with two warring tribes who have traces of the Ancient ATA gene." The author also posted "Casualties of War, due out in the fall, is my first full-length solo effort. The plot centers on a planet whose bitterly contested natural resource may provide a weapon against the Asuran replicators -- if the Atlantis expedition is willing to make some tough choices to obtain it. It's also a bit of a character piece about both John Sheppard and Elizabeth Weir, which was an aspect I really enjoyed exploring. Often, because of time constraints and the pace of the TV series, we don't get to see the personal repercussions of the characters' difficult choices on screen. I've tried to dig a little deeper into that concept here, and I hope I've done it justice."

Oh, picture of cover too.




November 25 2007 - Blood Ties by Elizabeth Christensen & Sonny Whitelaw. One person wrote on Amazon: ""The Atlantis team returns from the Pegasus Galaxy to investigate a Wraith sighting on Earth. Teaming up with members of SG-1, they soon discover that the Wraith aren't the only monsters stalking human prey." Author's notes say "I'm still working with the amazing Sonny Whitelaw as well; our third tag-team effort, Blood Ties, is set for a winter 2007 release. This book takes some members of the Atlantis team on a mission to a planet they don't investigate very often: Earth. Ever wonder about the similarity of the Wraith to various Earth legends such as vampires or succubi? We dove into that idea headfirst, and it's been a blast. One of SG-1's primary members will be tagging along for the ride as well -- since we're talking about mythology here, SG fans shouldn't find it too hard to guess which one ..."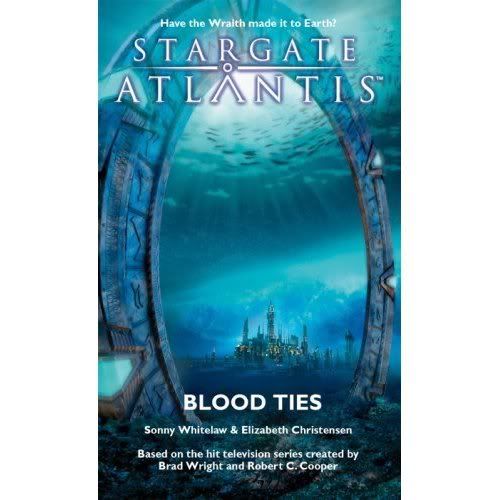 Novels are $7.99 each.

Can't wait!!