Just tidbits on the Stargate panels at Comic-Con. So far, not a lot of news coming out. Hopefully tonight or at least tomorrow!



A Chris Judge Comic-Con mention!

http://cinemadave.livejournal.com/196260.html

My biggest thrill was standing near Christopher Judge of "Stargate."
I didn't win the lottery for an autograph (yet) so I stood gawking. I was taking a picture of him when he looked up, smiled and waved at me, and my daughter had to pick me up off the floor.

SciFi finally put up something today (but most of their blog is more like PR spin and marketing).The Stargate Atlantis event at 1:15pm should be a real eye-opener. This year marks the first time ever that Amanda Tapping will be joining the Atlantis panel. Former Firefly / Serenity star Jewel Staite will also share her excitement about joining the SGA team…. AND don't forget about some of our favorite Atlantis veterans, Joe Flanigan & David Hewlett, who will also be on hand.

Ah sigh, they're pushing the 'shiny new toys' and oh by the way, yes, Joe F and David H are there, too. Sigh. Those two guys are one of the reasons a LOT of fans watch the show. Does Skiffy not realize this?? Probably not. Bangs head on keyboard.

Skiffy probably won't update anything on their site on SG1/SGA until tomorrow, or Sunday, or Monday. I guess since they're so slow to update news on the 'gate portions of their site, I expect it will be the same for CC stuff.

But wait, I went to eBay, figuring that that many of the fans who attend Comic Con snatch free stuff to sell at exhorbitant prices on eBay. I thought I"d find a Stargate Atlantis bottle of water, but instead, wait, they had publicity buttons for Stargate Atlantis. One with Rodney, one with Carter. What? No Sheppard? No Ronon? No Teyla? Big sigh... Here's a picture I snerched off eBay.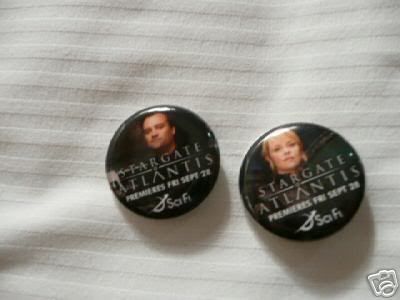 I'd love to get my hands on these buttons, but don't feel like going broke on eBay. If anybody has 'em and doesn't want 'em (hint hint) :)

Meanwhile, David Hewlett was twittering about arriving at the hotel, getting room service, riding in a stretch limo and then interviews, and then, eegads, dead silence. Ack, yes, he's doing the panel, then autographs, so his next twitter will probably be "I'M SOOOO TIRED." ;)


Here are some generic Comic-Con links. NO mention of Stargates yet, but if you want to see what's coming out of the con, check 'em out.

http://www.movieweb.com/news/archive.php

http://www.comingsoon.net/imageGallery/imageGallery.php?id=21968 - photos

http://www.thepunishercomics.com/comic_book_conventions/san_diego/2007/2007.htm - photos

http://www.cnn.com/SHOWBIZ/blogs/marquee/2007/07/comic-con-08-day-1.html - CNN actually covered it! At least for the first day.

http://www.joblo.com/index.php?id=16995

Ah, G4 is starting their two hour special (which fortunately ends just in time for DOCTOR WHO, with a great Daleks! episode.).