Okay, a whole of links relating to Comic-Con - with Stargate Atlantis and Stargate SG-1 links
Not a Comic-Con panel, but an interview with Torri Higginson from Polaris, which took place over the July 4th timeframe in Toronto. at http://skyscans.blogspot.com/2007/07/of-klingons-and-quasars_30.html. You can download the 10 minute video from that site. Torri appears at the 8:16 minute mark. Interview is about 2-3 minutes talking about science fiction concepts.
Gonna put all the newly found links, etc. under the cut as I'm posting photos too.
\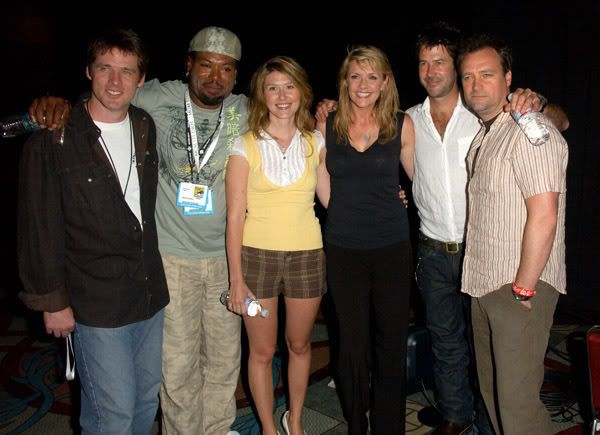 (L to R) Ben Browder, Chris Judge, Jewel Staite, Amanda Tapping, Joe Flanigan and David Hewlett
and
the Stargate SG-1 panel folk


(L to R) Gary Jones, Martin Wood, Ben Browder, Robert C Cooper, Amanda Tapping and Chris Judge

SWAG (aka freebies):
After searching eBay, it seems lucky fans got to glom onto Stargate Atlantis/Stargate SG-1 freebies from the SciFi or MGM booth or both, whatever, and some folks are making a quick buck on eBay…
Buttons
: SG1 team (season 9 shot),
Joe Flanigan, David Hewlett, Amanda Tapping
Baseball cap
: Stargate Atlantis embroidered in blue
Keychain/flashlight
for Stargate Atlantis
Poster: Stargate Atlantis
(approx 13x20)
Poster: Stargate SG-1 Ark of Truth
(approx 13x20)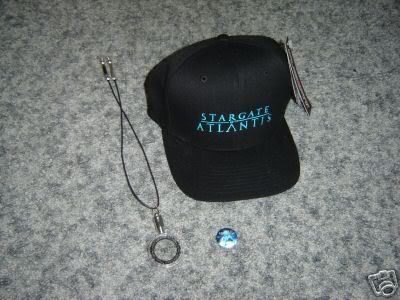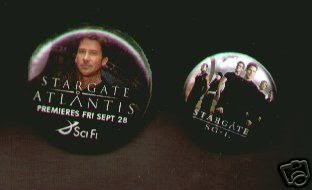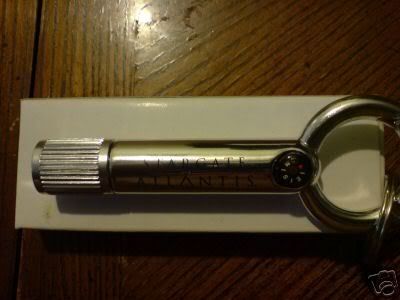 http://www.savecarsonbeckett.com/2007/07/29/carson-fans-make-waves-at-comic-con/
- excerpt from the
Save Carson Beckett
(aka
Paul McGillion's
character) folk: "The Stargate panels were scheduled for 12:15 pm in the huge, 5000-seat Hall 20 on Friday. We had several hours in the hall before things would get underway, so we had time to hand out our 100 "See You Jimmy" hats and 700 Scottish flags adorned with Carson stickers. We worried we'd have to do some hard selling to get people to wear the hats, but in truth they were snapped up in 5 minutes." - click on
http://www.savecarsonbeckett.com/gallery/index.php?cat=10
for their Comic Con photo gallery with photos of Joe Flanigan, David Hewlett, Amanda Tapping, Jewel Staite and more.
http://flickr.com/photos/dancer2die4/sets/72157601012911033/
's gallery contains shots from the Stargate
Atlantis
and
Stargate SG-1
panels.
http://flickr.com/photos/chris_wass/sets/72157601020170462/
's gallery has several shots from the
Stargate Atlantis
panel (on page 3, so far, of 300+ gallery listing)
http://flickr.com/photos/_madolan_/944259284/
- The Stargate bus!
http://flickr.com/photos/23054120@N00/946064332/
- Full shot of SciFi's
Stargate Atlantis
display.
http://www.autospies.com/news/The-show-where-the-people-are-more-interesting-than-the-cars-Don-t-miss-this-gallery-18273/
covers the con, and has photos (lots of cars and women in costume) - mentions some of the
Stargate
guests, but predominantly costume/car photos.
http://www.tvsquad.com/2007/07/29/comic-con-reflecting-on-the-con/
- Comic-Con:
Reflecting on the Con
. Excerpt: "Early information about film and television projects is treated like a state secret despite the fact that the admission of those secrets has been carefully orchestrated to increase their value and transform them into the stuff of viral marketing dreams." No, nothing on SG but interesting to read.
http://www.critictoo.com/fabien/?p=88
- relevant portion of his French blog translated via Babelfish: "As regards the
Stargate
frankness, nothing of nine. The new series is quite in hand, there would be a history of ninth rafter, but there still, nothing precise. It is a little as usual with the producers of these series, they still did not understand that to give a little information, it was not badly. In any event, one learns some more on Internet than while attending their press conference." But, check out the two photos - 1)
Jewel Staite, David Hewlett, Amanda Tapping
, and 2)
Ben Browder, Amanda Tapping, Chris Jud
ge! Also, Sanctuary coverage at
http://www.critictoo.com/fabien/?p=5
http://trends.co.kr/1551
- a foreign site (Chinese?) has up several photos of
Jewel Staite
.
http://tv.ign.com/articles/808/808151p1.html?RSSwhen2007-07-28_222200&RSSid=808151
- Overview of Stargate
Atlantis
and
Stargate SG-1
panels.
http://kalquessa.livejournal.com/443757.html
has two paragraphs on the panels.
Oooh,
big fat report
at
http://liketheriverrun.livejournal.com/15104.html
- photos of the SG1 and SGA folk, the MGM booth and lots of text! And it's only part one! And yes, this one talks about the SGA season 4 that-must-not-be-discussed trailer, so
SPOILERS FOR SEASON 4.